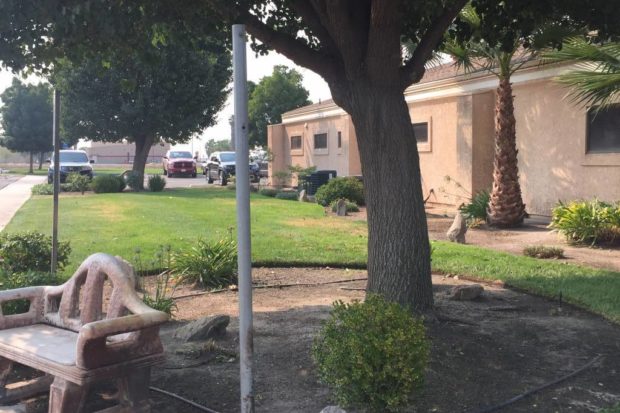 By Estefania Avalos
Communities such as San Joaquin and Tranquillity are in need of medical assistance. San Joaquin is located about 45 minutes west of Fresno, and other small towns surround it. Fresno has the nearest hospital. These small town residents should not be forced to drive 45 minutes for basic emergency medical assistance. It is hard, frightening and expensive to have to travel such a distance for these needs.
The San Joaquin Valley Health Clinic is open Monday to Saturday on a short extent[?]. The accompanying photo of the clinic shows an empty grass area where a pharmacy was located a few years ago. The pharmacy was removed because "there weren't enough funds." Residents must now drive to Kerman, which is the closest city at a distance of about 15 miles, and only for medicine.
People do not have emergency assistance besides paramedics after 5:30 p.m. Nothing guarantees that someone can make it to the nearest hospital in time during a serious crisis. What happens if someone has a heart attack? Imagine the necessity of a closer hospital or simply nearby urgent care help; 24-hour medical assistance is needed. These are things that people shouldn't have to worry about. Emergencies can occur anytime, and that is why closer assistance is necessary.
State Senator Kevin De Leon, a candidate for the U.S. Senate, visited San Joaquin on July 31 and discussed his goals for rural communities. He realized that San Joaquin is an isolated town where the closest resources are about 15 minutes away. He was surprised to hear people talk about their needs.
One of De Leon's biggest concerns is healthcare. He believes that everyone should have equal opportunity for receiving medical support. A few elder people mentioned that it is hard for them to get their weekly or monthly medicine because there is no pharmacy. Many of the elderly find it hard to move around because they cannot drive, whereas others do not have family members available for medicine pickups.
Students are also concerned for their parents. I have heard students mention that their parents have to miss a day of work to pick up medicine. A day of work is valuable. A day of work could pay for the medicine.
We believe that part of the reason for the lack of opportunities is that we are unknown. Most people  do not know where we are located, and that makes it hard for us to grow as a community. San Joaquin and Tranquillity are the biggest towns in my area. However, Cantua, Three Rocks and Helm are nearby as well.
Everyone was thankful for Sen. De Leon's visit. Most people felt that his visit was made because "we have finally been noticed." Everyone in that room had concerns that were finally heard. De Leon promised to share his experience when he is working for the Capitol representing people like us. We know there will be a change in our community, and that is all we are asking for.
*****
Estefania Avalos attends Tranquillity High School as a graduating junior. She will also graduate from West Hills Community College in Coalinga in May. She says that her amazing family and community have inspired her to enact change. Contact her at estava1234@gmail.com.