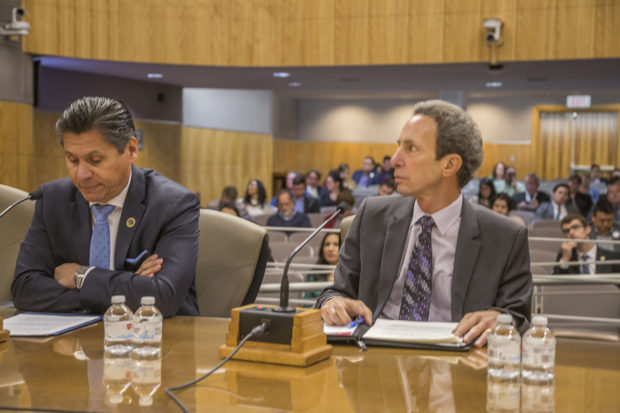 By David Bacon
It might have taken more than two years, but the Calbright online community college has apparently lost any support it might have enjoyed in the state legislature when the California Federation of Teachers (CFT) first warned about the potential for failure.
In December 2017, Jim Mahler, president of the CFT Community College Council, sent a seminal letter to Gov. Jerry Brown, Calbright's main promoter, pointing out key flaws in its proposed structure.
The project would duplicate what existing community colleges can provide and are already providing, Mahler cautioned. Its enrollment plan would concentrate on those students who most need support, pushing them into an online environment where there is much less support than on a "brick-and-mortar" campus. Many of Calbright's online courses wouldn't be accredited, and therefore credits wouldn't transfer to other institutions.
"If the governor is truly interested in increasing the success rate of our community college students," he wrote, "then he should include additional funding in his next budget earmarked for the system to hire more full-time faculty and classified staff."
By the time the Senate Education and Budget committees held a joint hearing on Feb. 13, the misplaced funding priorities had grown so glaring that Sen. Richard Roth (D–Riverside) couldn't hide his skepticism and mistrust as he listened to Eloy Ortiz Oakley, chancellor of the California Community Colleges. Roth repeatedly pointed out that the Calbright project duplicates online services already offered by existing community college districts.
After two years of preparation, Calbright opened in October with 450 students, far from the enrollment goal its promoters projected of 22,400 students by the 2025–2026 academic year. One of Calbright's three programs of study had only 38 students enrolled.
Already, the school has absorbed $100 million in startup funds and another $40 million for two years of operating costs. In contrast, the 117 campuses in the California community college system currently serve more than 2 million students, and its existing Online Education Initiative serves 99,000 students in hundreds of programs.
Calbright offers only three certificate programs: information technology, medical coding and cybersecurity. In his response to the committee, Chancellor Oakley admitted that medical coding jobs are likely to be eliminated by automation in a few years, but claimed that students who got those jobs through a Calbright certification would at least be "in the system" and able to pursue other work requiring a higher degree of skill.
In his testimony, CFT's Jim Mahler called out problems of course duplication with existing brick-and-mortar colleges, lack of in-person support for students who most need it and a faulty accreditation scheme.
"Calbright was never supported by the legislature," Mahler explains. "It only came into existence because the governor put it in the budget [rather than introduce it as a separate piece of legislation], and there were no policy committee hearings."
Calbright was a pet project of former Governor Jerry Brown, who used his political clout to establish the online college as part of that year's state budget passage.
"Calbright's three programs duplicate courses that we're offering in different colleges," Mahler charges, as did other witnesses at the February hearing. "We offer exactly what it offers—different lengths of time, short semester, full term, open entry, open exit, continuing education—everything it does we do."
According to Mahler, "Calbright gets a thousand times more funding per FTES [full-time equivalent student] than community colleges. There is no moral way to excuse these misplaced priorities, and no need to spend this level of resources on a project that completely duplicates what we're doing.
"How can you spend so much money on this when many community colleges are struggling themselves, with annual budgets that are often smaller than Calbright's?"
Mahler points out that Calbright is seeking accreditation by a federal agency rather than the accreditation agency that accredits all other California community colleges. The lack of transferable credits is only one aspect of its lack of student support.
"The student demographic they're targeting," he says, "is the demographic that needs the most support services, not the least support services. When you create what's more or less a correspondence course program without any support services, the demographic you're trying to reach is never going to succeed."
Mahler's critique was echoed by many community college faculty, who traveled to Sacramento to testify at the hearing. "We cannot afford to throw good money after bad by continuing on this path," said Michael Sheetz, executive director of the Ventura County Federation of College Teachers AFT Local 1828.
"I currently teach both online and hybrid courses, but spending the outrageous amount of money necessary to support a redundant and inefficient program is legislative malpractice."
Sheetz continued, "Our district budget hovers near $180 million annually, and every year we struggle to meet the ongoing financial burdens of delivering the quality education our students deserve. Instead of wasting the millions of dollars that Calbright community college requires to stay viable, reinvest the money where it belongs."
Nicky Gonzalez, a Peralta faculty member, pointed to the lack of Latinx students in the Calbright population.
The president of the Peralta Federation of Teachers, Jennifer Shanoski, accused Calbright of directly competing for students with the Peralta district, noting that its main office is in Oakland. "We heard that charter schools were a great experiment in providing education to underserved people, and look what happened," she warned. "We don't need to do this again."
Other faculty came from DeAnza, Gavilan, Coast and Antelope Valley community colleges, and from other faculty groups.
Raymond Brennan, from the part-time faculty association at DeAnza, told the committee, "I agree with Jim Mahler's suggestion that what the committee heard should be enough to see that Calbright is not the way to go, and that the existing system can and has been doing what Calbright purports to do."
John Stanskas, president of the Academic Senate for California Community Colleges, testified, "The fact remains that the programs themselves are already offered at existing California community colleges. The $100 million enterprise has greater resources to explore, which places Calbright in a position of unfair competition with other colleges in the community college system."
Bill Scroggins, president and chief executive officer at Mt. San Antonio College, described the programs at Mt. San Antonio and made the same point.
The senators at the hearing were clearly moved by the testimony. State Senators Connie Leyva (D–Chino) and Maria Elena Durazo (D–Los Angeles) closely questioned Chancellor Oakley.
State Senator Richard Pan (D–Sacramento), a former professor, noted that the online-only model didn't adequately meet the training requirements for most jobs. "Don't most certificates for job skills require some hands-on experience?" he asked Oakley. "That's not something you can get just sitting at a computer."
Roth criticized Calbright's sponsors for asserting that existing community colleges weren't adequately serving students without any studies that supported their conclusions. "The real issue," he declared, "is whether this product is needed or duplicative."
Many faculty present were particularly outraged at the announcement that Calbright's former president, Heather Hiles, abruptly resigned in January. "She was given a salary of roughly $385,000 a year to oversee a maximum student population of 450 students," Sheetz charged. "In my district our chancellor is paid $275,000 to oversee three colleges, 1,200 faculty, and nearly 30,000 students annually."
Hiles also will receive a lump sum payment of about $32,000. She never worked in higher education and instead was the founder, CEO and managing partner of Imminent Equity, an investment fund.
Hiles' replacement, Ajita Talwalker Menon, was a higher education policy adviser to President Obama and later to Oakley. She will earn about $285,000 per year. Both salaries are more than that of California's governor.
"They're supposed to be spending 50% on instruction like all other districts," Mahler said, "but there's no way they're going to do that because they're paying their top managers nearly half a million dollars each."
The CFT is planning to sue over Calbright's violation of its own obligations under the California Education Code. Those were outlined by CFT President Jeff Freitas in testimony to its Board of Trustees last July.
The online college is duplicative of existing programs, Freitas charged, diverts critical taxpayer resources, recruits students from other districts, doesn't tell potential students about the implications of taking courses that aren't accredited by other colleges and hasn't met the deadlines in its own governing regulations.
"There will be a legislative audit hearing at the end of the month, and we hope that our new sponsored legislation will kill it," Mahler predicted at the end of the hearing.
"We're working to make sure it's not included in the budget. Things are lining up to get rid of it, and I'm hopeful that this is the year. The sense I had in the hearing room was that there's still no support in the legislature for Calbright."
*****
David Bacon is a California journalist and photographer and a former union organizer. His latest book is In The Fields of the North/En Los Campos del Norte (University of California/Colegio de la Frontera Norte, 2017).
Advertising