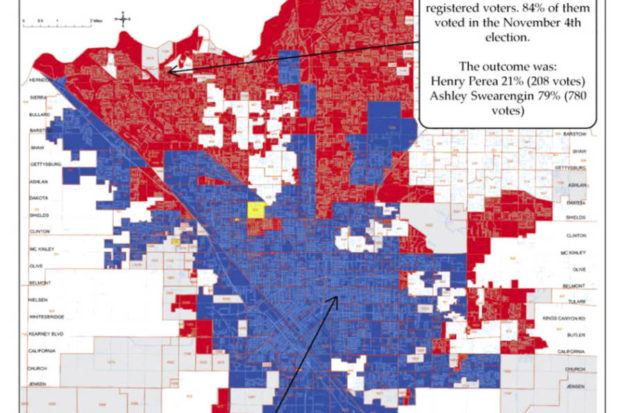 *** The content in this section is paid for by the Central Valley Progressive PAC ***
By Mike Rhodes
Fresno and the Central Valley has a reputation as a conservative stronghold in a state that is otherwise controlled by the Democratic Party. Even the Democrats we elect to local, state and federal office tend to be conservative—usually referred to as "Blue Dog" Democrats.
Former Fresno City Council and State Assembly Member Henry T Perea was not only a conservative Democrat but also a leader in Sacramento who advanced a corporate agenda by uniting Republicans and like-minded Democrats. Some progressives saw Perea as being particularly dangerous because he could build a coalition to block organized labor and environmental justice efforts to pass legislation. Without him, the Republicans would have been dead in the water.
Henry T. Perea's name came up as a potential candidate in the Fresno mayor's race recently. Sources told me that Perea had raised close to $1 million and because he was termed out in the Assembly, the race for mayor looked like a logical move. His name recognition and financial backing made him an extremely viable candidate. And that could have put CVPPAC members in an uncomfortable position. Support a conservative Democrat for mayor or let the Republicans win again.
Fortunately, we managed to dodge that bullet. In a surprise move, Perea announced that he was leaving the Assembly early and would announce his next steps soon. Most observers expect him to take a well-paying lobbying position with one of the corporations he worked with while in Sacramento.
That leaves only two declared candidates for mayor, and they are both Republicans. If a viable progressive candidate entered the race, could that person win? It would depend on voter turnout south of Shaw Avenue, if the candidate could motivate and inspire potential voters and if enough money could be raised to get that message out. Most CVPPAC members believe there are enough progressive votes in Fresno for a good candidate to win the election for mayor, but only if the right person steps forward and voters, who have been traditionally disenfranchised, turn out to vote.
Given the dynamics in the mayoral race, many progressives are now arguing that we focus on other races, like the Fresno City Council or Fresno Unified School Board races. With the FUSD race, progressives could unite with the Fresno Teachers Association, which is developing a strategy to elect a worker-friendly school board that is better tuned to the needs of students.
In an e-mail sent to CVPPAC members, Dillon Savory, political director of the Fresno-Tulare-Madera-Kings Central Labor Council, suggests we consider something a little different. Savory wrote that he is "proposing that we step away from traditional methods of campaigning, and focus on education, for both candidates and voters. Instead of interviewing candidates, we should invite them to educational workshops that focus on local, progressive and practical issues. Instead of endorsing candidates, we should collectively endorse solutions to local issues and educate our voters on those solutions. If we treat every candidate equally, provide nonpartisan education on local solutions and use our PAC dollars to inspire turnout in crucial neighborhoods, then 'we the people' can be an effective body for change without needing a progressive in every political race."
Savory's message received a lot of support from CVPPAC members. It is too early to say for sure what strategy and/or candidate(s) the CVPPAC will support, but we would like you to be a part of the discussion. If you are progressive and want to help us develop an electoral strategy for 2016, you should become a member. For more information about becoming a CVPPAC member, visit www.cvppac.org.
Also, you are invited to join us on Saturday, January 9, 2016, at 5 p.m. at Howard and Chris Watkins' home at 1785 W. Dovewood Lane in Fresno for our holiday party.
**The content in this section is paid for by the Central Valley Progressive PAC**