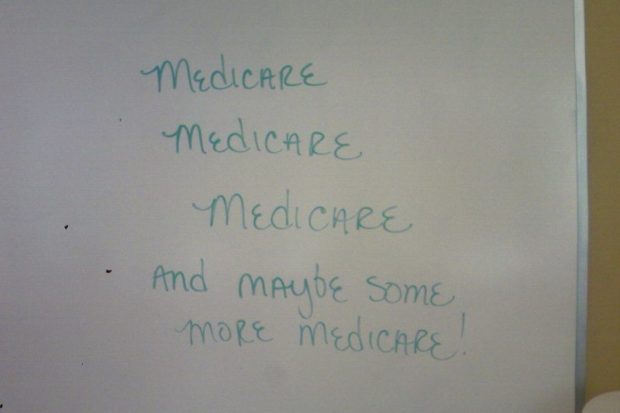 By Dan Yaseen
Across all political, social and economic strata, Medicare is one of the most popular government programs in the United States. Almost 90% people on Medicare are very satisfied with the program. Without Social Security and Medicare, growing old would be horrible for many Americans. Before Social Security and Medicare, millions of Americans spent their retirement years in poverty and illness. Social Security cut the rate of poverty for the elderly by half; Medicare doubled the number of seniors covered by health insurance.
Medicare, a single-payer health insurance program, was enacted by the Social Security Act Amendments of 1965 and signed into law by President Lyndon B. Johnson on July 30, 1965. The Amendments established both Medicare and Medicaid for seniors and poor Americans. Later, people with long-term disabilities, people suffering with end-stage renal disease and ALS, also called Lou Gehrig's disease, were added to Medicare. Medicare is funded by a tax on employee wages and matched by employer contributions.
Medicare will not be directly affected by the Affordable Care Act (Obamacare). Medicare benefits will stay the same, and Medicare beneficiaries do not need to contact Covered California, Obamacare's health insurance exchange for California.
Original Medicare
Medicare is administered by the Centers for Medicare and Medicaid Services. Originally, Medicare consisted of only two parts, Part A and Part B.
Part A, also called Hospital Insurance, covers inpatient hospital care, skilled nursing facilities, hospice and home healthcare. Part A is free if you, your spouse or your former spouse have paid Medicare taxes for more than 40 quarters. If you paid 30–39 quarters, your 2013 premium is $243 per month, and if you paid less than 30 quarters your premium is $441 per month.
Part B, also called Medical Insurance, covers doctors' services, hospital outpatient care and preventive services. For 2013, the Part B premium is $104.90 per month. Beneficiaries with income greater than $85,000 and married couples with income greater than $170,000 pay a higher monthly premium.
Medicare Supplement Insurance
Original Medicare (Parts A and B) provides a lot of coverage, but it doesn't cover everything. There are deductibles, co-pays and co-insurance that you have to pay. Medicare Supplement insurance, sold by private insurance companies, helps cover expenses Medicare does not cover. You must be enrolled in both Medicare Part A and Part B to purchase a Medicare Supplement insurance plan.
There are 10 standardized plans (Plans A, B, C, D, F, G, K, L, M and N). Each plan provides different coverage.
Medicare Modernization Act of 2003
President George W. Bush signed the Medicare Prescription Drug, Improvement and Modernization Act of 2003 into law on Dec. 8, 2003. The long-awaited and historic changes to the Medicare system made the biggest improvements in senior healthcare in nearly 40 years and provide seniors with prescription drug benefits and more choices in healthcare.
Medicare Advantage Plans—Part C
With the passage of the Balanced Budget Act of 1997, Medicare beneficiaries were given the option to receive their Medicare benefits through private health insurance plans instead of through the Original Medicare plan (Parts A and B). These programs were known as Medicare+Choice, or Part C, plans. After the passage of the Medicare Modernization Act of 2003, these plans became known as Medicare Advantage (MA) plans. These plans cover everything that Original Medicare covers. Medicare Advantage plans may also offer Part D coverage.
Prescription Drug Coverage—Part D
Beginning in 2006, a prescription drug benefit, called Medicare Part D, was made available. Coverage is available only through insurance companies, either as a stand-alone plan or as part of a Medicare Advantage plan.
Even healthy seniors who take no drugs should enroll in a Medicare Part D plan. There are substantial penalties for adding Part D after a person has had Medicare Part B for several years.
Annual Election Period (AEP)
This year, the AEP will run from Oct. 15 to Dec. 7. You can do the following during the AEP:
Change to a Medicare Advantage Plan from Original Medicare and vice versa
Change your Medicare Advantage Plan
Join a Medicare Prescription Drug Plan
Change your Medicare Prescription Drug Plan
Medicare beneficiaries should evaluate their coverage during this period because the insurance products change annually. Also, Medicare Supplement insurance rates increase with age. After a review of your current healthcare needs, coverage and available insurance plans, you might discover that a different plan meets your needs with a much lower premium. Or, a different plan might better match your anticipated needs for the coming year.
I realize that Medicare is a complex subject. Understanding Medicare can be a daunting task. This short article can't answer all the questions that you may have. For more information or if you have specific questions, call the author at 559-251-3361.
*****
Dan Yaseen is an independent insurance broker who has specialized in senior health and life insurance for more than 30 years. He is on the editorial board of the Community Alliance newspaper and can be reached at danyaseen@comcast.net or 559-251-3361.