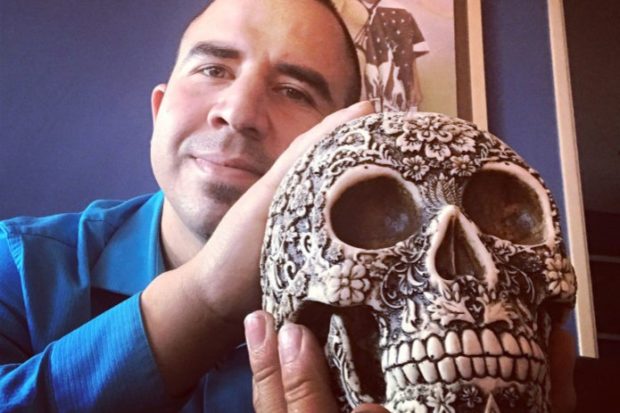 By Art Rodriguez
The U.S. Department of Defense (DOD) sold out our jobs.
By spearheading the American Competitiveness Act, the DOD became the responsible party for the biggest job-killer in our democracy. As a result of an all-out corporate blitz, America gave away its jobs.
Compared with hiring non-guest workers, it is financially beneficial to hire guest workers. The problem is: We still need jobs. California has been uniquely affected by this issue. California's housing crisis is at its worst point today. In my travels around California to build relationships with fellow activists working at all levels, both private and public, I ask myself: Why do we have an ever-increasing difficulty finding jobs? Our country is one of great wealth and good-hearted people.
It is also clear how Wall Street has accelerated the gentrification of communities, and this process is being perpetuated in large part by the tech industries' excessive use of the H-1B guest worker visa program.
In 2016, under the H-1B program, a total of 345,262 visas were granted. These are high-paying jobs requiring more skill and some formal education. On Oct. 2, 2017, Rep. Bob Goodlatte (R–Va.), chair of the House Judiciary Committee, introduced a new guest worker bill that would give 1 million American jobs to other countries and remove protections such as the H-2B forestry guest workers legal defense.
We have heard countless stories of abuses still happening to the guest workers just as we did during the exploitive guest worker Braceros program that the federal government shut down in 1964. A common suspect of those abuses is the broker or intermediary. In most cases, an employer does not do its own recruitment but rather pays a broker from the country providing workers. This system removes employer accountability and has left our country open to outside influence.
This brings us to the question, how does a federal agency such as the Forest Service give away American jobs to guest workers? Just this month, The Hill reported that "the Trump Winery in Charlottesville, Va., is hoping to hire foreign guest workers for the coming spring and summer, according to a file with the Department of Labor." Under the H-2B guest worker visa, guest workers were able to file a lawsuit against a Forest Service contractor.
A comprehensive investigative report was published in 2013, Close to Slavery by the Southern Poverty Law Center (SPLC). After H-2B workers represented by the SPLC filed a class-action lawsuit against the U.S. forestry company Eller and Sons Trees, Inc., for massive wage violations, the SPLC reports the company took advantage of the workers' fear of retaliation to coerce them into withdrawing from the case.
The forest guest worker visa oversight agency is the Department of Labor. To prevent those forestry guest workers from filing another class-action lawsuit, several industries came together and introduced the Farm Act. This will now be called the H-2C guest worker visa. Some notable differences include the addition of new industries allowed to hire guest workers such as dairy and processed food production.
If the legislation passes, the proposed new oversight agency would be the Department of Agriculture, and the addition of more forest guest workers is leaving some conservation organizations worried. Alison Sheehey, programs director for Sequoia ForestKeeper (Kernville), says that "when American loggers are freed from the mundane tasks of cleaning up the mess they make while destroying the forests, they become free to wreak havoc on more of the ecosystem.
"Of course, non-merchantable trees don't matter to them so the hue and cry that logging will prevent fire is a wholesale lie. The guest worker program is just another way to abuse immigrants who end up having less protection under OSHA and other worker protection programs. If the wage is good, then people will do the work. Heck, unpaid citizen volunteers do restoration all the time, so the work is not the problem."
When Donald Trump became President, immigrants became increasingly targeted. One school of thought is that America needs to have the best minds in the world to continue to stay competitive. The H-2 guest worker visa program was created to address an acute need for an unplanned labor shortage, not as immigration reform. It is apparent that this is a move by "bad" business to cut its labor cost.
Why aren't we making those investments in our future? Why is our president holding our Dreamers' future (DACA) as a bargaining chip while stalling immigration reform? Why aren't we fixing our education system and rewarding those companies that actually put American jobs first, not just campaign lies? The issue here is that those "bad" companies have been able to position themselves at the upper echelons of world politics.
The reason we still don't have comprehensive immigration reform is because industries that also are the major polluters of Mother Earth, such as is the dairy industry in California, drastically increase their profit margins by hiring guest workers. With the U.S. DOD completely missing the mark and the prevailing conservative belief that deregulated industries would help guarantee a more secure mainland, along with the introduction of Citizens United, we've allowed outside governmental agencies to have influence in our political field. It's time for those good companies to come together with the people and take back democracy.
*****
Art Rodriguez is a Central Valley activist, son of farmworkers, son of immigrants, father, first Latino elected to his community's governing board, and dedicated to defending the Giant Sequoia National Monument. Contact him at artrodrigleon@gmail.com.