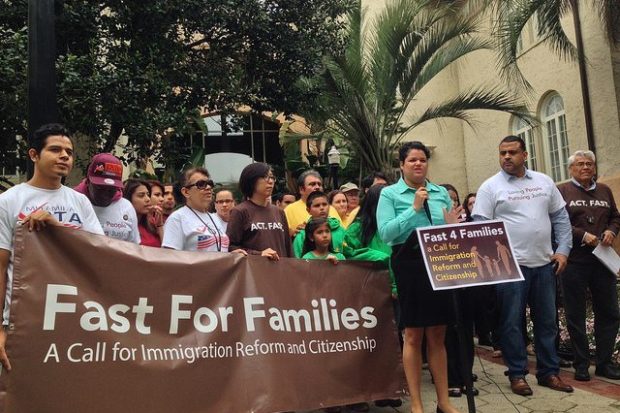 Interview by the Community Alliance
In April, the Community Alliance interviewed Samuel Molina, the California deputy director with Mi Familia Vota, a "national non-profit organization working to unite the Latino community and its allies to promote social and economic justice through increased civic participation" about the importance of voting.
Q: In your opinion, why is voting important, especially for the Latino community?
A: Well, voting is important in any community, especially in the Latino community. Most of our families are first or second generation and are trying to become accustomed to the American culture; part of that culture is voting/ civic participation. Latinos are vastly affected by immigration policies, poor water quality, air pollution, bad living conditions and so much more. Voting can help resolve the issues that our community faces. Political officials have the power to regulate over-producers of bad air and those that contaminate our water, change immigration policies and implement policies against slumlords.
Voting also has an impact on the safety of our communities because education and crime are hand-in hand, and when educational resources are available to the community less people will commit crime. The fact of the matter is that elections have consequences no matter what type of election it may be. The individual citizen has so much power; they decide who will represent them and the decisions that will ultimately affect their family and their community. Politicians listen to voters; the best way to make them care about the needs and demands of our communities is through the ballot box. Let's help our community be treated with dignity and respect. Vote!
Q: Are there specific ballot initiatives or political positions people should know about for the upcoming election?
A: People should know that next year we will be electing a new President and this president will have the power to uphold the Deferred Action programs (DACA and DAPA) proposed by President Obama. They should also begin paying attention, for example, to what is happening in their local schools and which school board members they want to vote for, because school board members have an influence over our children's education.
School board, city council, a new mayor, State Assembly and Senate seats will also be up for grabs in the next election and some might say the local officials have more of an influence on our daily lives than those in national seats. Elections have consequences; this is our time to show politicians we are paying attention and we will vote them out if they're not listening.
Q: What would you say to people who have no desire to vote because we seem to be given limited choices on what to vote and sometimes voting doesn't seem to change anything?
A: Voting for a candidate, a proposition or a measure is a must! No matter what! Every citizen should ensure their voice is heard because when you vote you show your community that you care. The saying goes, "if you don't vote, you can't complain," and how can you? When you don't show up to make your voice heard you have no credibility in the eyes of your community if you do not vote on their issues. Voting changes everything. We have to remember that our vote has an impact on: education, healthcare, water, crime, jobs, the economy, the military and much more.
Remember in 1994 Prop 187 passed, which would have kept much of the immigration population out of California schools under the premise that it would save Californians millions of dollars by not providing the undocumented community with an education. Fortunately, a federal judge ruled it unconstitutional so the law was never enforced, but it would have ruined our community and many of our DACA recipients would not be allowed to have Deferred Action because of Prop 187. If we are serious about protecting our communities and defending all that we have fought for, we must vote.
Q: Is there anything else you would like to share?
A: I was born here in Fresno and am a graduate of Fresno City and Fresno State. I work here in the Central Valley as the California state deputy director of Mi Familia Vota. We encourage our community to volunteer, to learn how they can get engaged and help their community become a better place. If you should have any questions about our citizenship workshops or how to vote or would like to volunteer, please contact me at 559-473-6096.
For the reader: What are your thoughts on voting? Let us know by commenting on this article on our Web site at www. fresnoalliance.com and/or emailing your thoughts to the editor at editor@ fresnoalliance.org by June 15 for possible inclusion in our July issue.