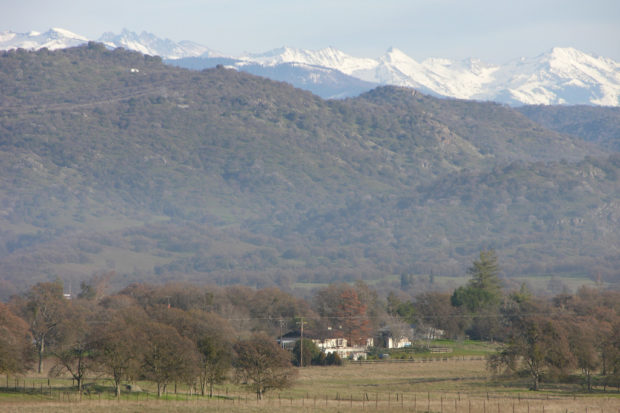 By: Vic Bedoian
Jesse Morrow Mountain is a unique local landmark. Standing 20 miles east of Fresno, along with its neighbor, Campbell Mountain, it forms the gateway to Kings Canyon-Sequoia National Park. It's also an important part of the traditional homeland of the Choinumni tribe, who named it Wa-Ha-Lish. The mountain is now the site of a proposed aggregate mining operation by one of the world's biggest companies, CEMEX. To the Choinummi people, the mountain remains a sacred and historic cultural area. On April 17, they held a run to honor their mountain and bring attention to its plight.
As runners and support crew gathered in southeast Fresno on a bright spring morning, traditional Choinumni member Rick Osborne explained that running is a part of their tradition going way back, "Runners for Indian tribes were used to send messages, and these young people who are running today, they are the messengers to people in the community to bring awareness that this site is sacred to us and for everybody else in the community."
Historian of the traditional Choinumni Audrey Osborne is familiar with the history, culture and geography of her people. "For generations, long before the coming of the Europeans, those sites (on Wa-Ha-Lish) were untouched." She described some of the many ways the mountain was – and is – important to them, "That was where prayers were done, fasting was done, doctors did their healing. They had big gatherings there to thank Mother Earth for letting our people live another year." She emphasized that Wa-Ha-Lish also contains places where ancestors are buried, making it especially sacred to the living.
CEMEX is the second largest building materials producer in the world, operating in more than 50 countries. The Draft Environmental Impact Report for the proposed aggregate mine is being conducted by the consulting firm Resource Design Technology. A draft EIR released by Fresno County in January concluded that there will be significant negative impact on air quality, water quality, traffic, scenic values and on Choinumni cultural resources. The mine will also negatively impact local farms and businesses. Fresno County staff expect to complete the final EIR by the end of this summer.
In an attempt to blunt the concerns of the traditional Choinumni, CEMEX is using a classic divide-and-rule technique by working with another recently formed group claiming to speak for Wa-Ha-Lish. They reportedly received a payment of $10,000 and promises of some mining royalties in return for their cooperation. Osborne feels that the sad arrangement will not work for the advantage Choinumni on either side of the issue.
Osborne also suspects there is more than just gravel in the CEMEX plan, a feeling that has only been piqued by the company's refusal to give the tribe core samples from the site. In talking to former county planners, she reported that in addition to aggregate, "they said there are quantities of minerals such as lithium, gold and silver on the mountain. That's what they really want," Osborne claims. It could be an interesting twist in this ongoing tale of people and the land.