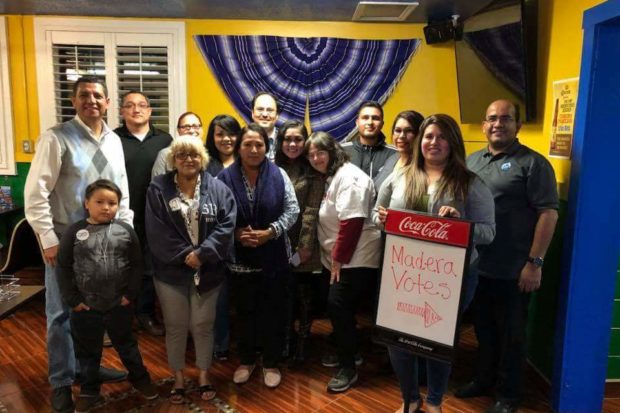 By Marilyn Deleija
An up-and-coming diverse group has emerged in the Central Valley: Madera Votes. Most of the members live in the city of Madera and Madera County. The mission of Madera Votes is "to foster a civically engaged community." Its vision is to enable "a Madera County where residents are engaged in local issues and representatives keep their constituents in mind."
Madera Votes was created in early 2016 when four long-term residents of Madera met to discuss the importance of civic engagement and the potential positive effect on the community being more civically and politically informed. They began working with other residents, now 20 active members, who also cared about local issues.
Members of Madera Votes expressed concerns about their community and agreed that many changes were needed. The group decided to become a sort of "watch dog" for local politics and to inform the people on local issues.
Abundant activism was observed in neighboring counties in cities such as Fresno, Merced, Tulare, Selma and other Central Valley areas. With those efforts bringing about change, Madera appeared to be behind in local activism. If neighboring cities and towns were fighting hard to bring about change, why not Madera?
Madera Votes is aware that many residents care about their community, and once well informed about the political process, many will do their best to make sure the city of Madera and Madera County are places where their representatives actually work for the people and listen and encourage open discussion about local issues.
Madera Votes is a nonpartisan nonprofit group in which the members support the group efforts on their own free time and money. The group encourages everyone who is eligible to register to vote and to be active in the voting process. In addition to voter registration drives in Madera, the group assists those who qualify to become citizens and become civically engaged. People with different backgrounds, expertise and experience are part of the group.
Madera Votes meets the last Wednesday of each month at locally owned restaurants. Upcoming meetings are posted on its Facebook page (Madera Votes), which now has more than 400 likes (and growing quickly). The group's volunteers register voters, attend local meetings including City Council and Board of Supervisor meetings, and keep an eye and ear out for everyone.
Madera Votes focuses on local water concerns, new laws, local measures, immigration, rental laws and many other issues—anything that affects people who reside in Madera. Madera Votes pays close attention to the forthcoming local elections encouraging people to get excited about politics and possibly run for office. It wants potential candidates to represent Madera, to know the community and to work with the community to resolve local issues.
Madera Votes has been active in the community meeting with local officials and having discussions on various issues. It has set up meetings with Madera Mayor Andy Medellin, Madera City Council Members Jose Rodriguez (District 2) and William Oliver (District 3), and Interim Madera Police Chief Police Dino Lawson to speak with city residents and answer questions about their concerns involving the community. Members also met with Madera County Supervisor Robert Poythress (District 3) regarding the proposed privatization of Madera water.
Madera Votes registered voters at the Pomegranate Festival and participated in the Madera Christmas Lights Parade. Members met with Madera County Department of Corrections Director Manuel Perez to discuss California state law regarding immigrant rights. In October 2017, Madera Votes held workshops to help local DACA recipients fill out their paperwork and find funding for the DACA process before a crucial deadline put forth by the Trump administration.
Madera Votes has been busy in the community and will continue to be involved. It has the fire that is needed to make great changes.
*****
Marilyn Deleija, a local community activist from Madera and a member of Madera Votes, is fighting hard to get the community politically engaged. Contact her at marilyngarcia559@gmail.com.