Rest in Power Camarada Ed Castro
BY GLORIA MENESES-SANDOVAL AND SALVADOR SANDOVAL
Eduardo "Ed" Castro was loved by many for his simple ways. He was born in the Central Valley town of Reedley. He rarely said "no" to anyone that asked for his participation or support. He lived a revolutionary life with its ups and downs and ever-changing turns.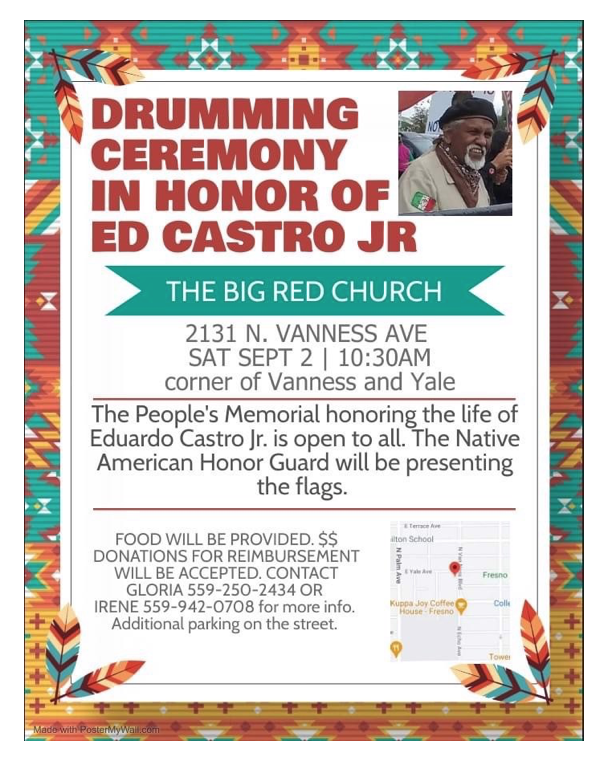 He was a young soldier drafted to fight in Vietnam. After his tour of duty, he studied and earned a master's degree in business administration at UCLA. He wrote for and supported the bilingual Tribuno del Pueblo and People's Tribune national publications and participated in the Zooming to the Border virtual panels that were offered during the Covid-19 pandemic.
Castro fully supported the Poor People's Campaign and attended the June 2022 Washington, D.C., national march representing the Central Valley. He was a founding member of the California Central Valley Journey for Justice and served as its first elected president.
In the early 1980s, he chaired the Central Valley Equal Rights Congress, a precursor to the California Central Valley Journey for Justice. He was a dedicated Brown Beret member and would work as security at countless events. He was active in Veterans for Peace and worked with the Deported Veterans group to reunite them with their families.
Castro took his long journey on Aug. 15 at the age of 78. We will miss him for his compassionate and caring ways. A true and respected community warrior and leader.
Rest in power camarada Eduardo Castro! Never to be forgotten—until we meet again.
*****
Gloria Meneses-Sandoval and Salvador Sandoval are longtime activists for human rights in Merced.