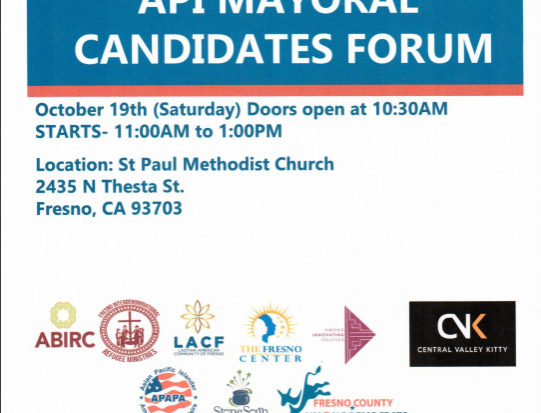 By James Mendez
I attended the Asian Pacific Islander (API) Mayoral Candidates Forum on Oct. 19. Andrew Janz and Jerry Dyer discussed their positions on poverty in Fresno, lack of parks for many of its residents, poor infrastructure, poor air and water quality, poor quality schools, crime, homelessness and diversity in hiring.
They had different assessments of problems and priorities and different recommendations as to how to deal with these issues. Those differences are partly a reflection of their underlying integrity, ethics, transparency and commitment to diversity. Part of those differences are due to who they choose to associate with, who they support and get support from, who they get advice from and who they receive their money from.
My grandparents were from Mexico. My grandmothers had "dichos" (sayings) for almost every situation. One of the dichos I was told and remember best was, "Dime con quién andas, y te diré quién eres" (Tell me who your friends are and I will tell you who you are). This question of "who you are" was raised during the forum when Janz asked about Dyer's relationship with Terra Brusseau.
Dyer is using Brusseau as a fund-raiser. She is the owner of the Central Valley Group, a political consulting firm that worked on Lee Brand's 2016 mayoral campaign as well as Brand and Dyer's "No on P" (proposed parks measure) campaign in 2018. According to the Central Valley Group's Web site, her clients also have included former Rep. David Valadao, District Attorney Lisa Smittcamp, Assembly Member Jim Patterson and Fresno County Supervisors Nathan Magsig and Buddy Mendes.
In April 2018, Mayor Brand disregarded concern by some City Council members about the need for more diversity on the Fresno Housing Authority (FHA) when he appointed Brusseau to represent the City of Fresno as a commissioner to the FHA. The FHA has representatives from both the City and County of Fresno.
On March 26, at a meeting of the FHA, Brusseau voiced her opposition to a 60-unit housing project designated for low- to middle-income families in Clovis on 4.175 acres of land at Willow and Alluvial avenues. "As I even just look today at Garfield Elementary School," she said, "which is what this, um, feeds into, it is a majority White school, that, um, I think there are more, better areas for diversity and our residents to feel like they are in the right place."
After the March 26 meeting, a number of people asked for the resignation of Brusseau due to what were felt to be racist comments that should not be coming from an FHA commissioner who is supposed to represent all the residents of Fresno. Mayor Brand refused to remove her, and Brusseau refused to step down.
At the API forum, Dyer defended Brusseau's fund-raising role in his campaign. Dyer said Brusseau only does fund-raising and, while she works with him, he said she does not advise him on policy. That is probably what Mayor Brand also said prior to appointing her to be an FHA commissioner.
As my grandma would have said, "Dime con quién andas, y te diré quién eres."
*****
James Mendez is a retired physician. He is a supporter of public education, having been a recipient from kindergarten through medical school. He and his wife are thankful for this time of their lives to spend time with their daughters and grandchildren. Contact him at jim_mendez@icloud.com.