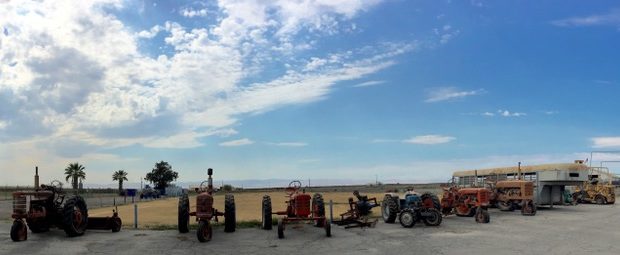 By Halima Aquino, M.A.
Editor's note: "Reaping Democracy in the Valley" is the first in a series of articles from the VEEP Center for Democracy Initiatives following up on a research project completed by the Voter Education and Engagement Project (VEEP). Subsequent articles will describe what the research found, an interpretation of the results and recommendations for improving voter engagement.
Why do people who need democracy the most participate the least and receive the least government services in the Central San Joaquin Valley?
Now, more than ever, we realize that the future of our civil society depends on connecting Americans' voice with their government. Our government cannot serve the people without knowing what they want and need.
We created VEEP, the Voter Engagement and Education Project, in March 2016 to better understand why registered voters regularly do not vote in some the poorest rural and urban neighborhoods in the Central Valley. Although they live in the center of one of the richest states in America, many experience harsh conditions that resemble wide swaths of America's agricultural and industrial heartland. Some live in conditions that could be mistaken for devastated communities in developing countries throughout the world. For decades, they have not reaped the benefits of modern progress.
Despite low voter turnout and weak civic engagement, we reasoned that these voters have more incentives to reach out and shape their government than other influential citizens do. So, we created an exploratory survey with qualitative- and quantitative-based methodologies to describe voters from a psychosocial and behavioral perspective.
In other words, we wanted to know what voters know about themselves and how to access the tools they need to survive in society. We acknowledge that civic engagement is a practical process that exists within democracy. We asked fundamentally practical questions about citizens' goals, expectations, motivations, processes, tools and obstacles to communicating with their government. Ultimately, we sought personally meaningful interventions to improve citizens' happiness through better relations with their society.
Background
We know that without voter participation, our democracy cannot operate as intended. The government is supposed to serve the people. In fact, the American Constitution was written to provide a structure in which the government could flexibly do that.
The Constitution itself is a flexible framework. It does not have an operations manual. Rather, it spells out who the players are and what they are supposed to deliver. It tells the American people that their government will work for them in specific ways to improve their lives and society. How it is used depends on the people involved. Our federal, state and municipal laws further define the parameters in which we are supposed to improve our society.
People communicate with their government to tell them what they want and need through linkage institutions. Elections are one of many ways that people communicate with government. In Fresno County, voter participation rates vary widely, depending on the election, but of those who register, only 30%–40% vote on a regular basis. Poverty in Fresno County is high, and the conditions in which people live relative to voter turnout correlates to those with the least government services being the least likely to communicate with their government. We wanted to know more about this relationship.
Purpose
We conducted our research to better understand the voters from their point of view as well as their behavior and knowledge. The most important question was, why voters do or do not communicate with their government through the voting process on a local, state and national level. We used a mixed qualitative and quantitative approach to give us a more "functional understanding" of our voters relative to our American-style democratic republic. Our primary goal was to develop good strategies for the future.
Most electoral campaigns put a lot of effort into registering voters. Because voter turnout rates among registered, Democratic voters are consistently low, we believed whatever was being done to engage voters simply was not working and we wanted to know more.
Low-pro p e n s i t y vo t ers (LPVs) are often casually described by politically active volunteers and professionals as "disinterested," "unable" or "feeling as if their vote does not matter." We did not want to make these assumptions because the language itself is ambiguous and potentially misguided.
We took a practical problem-solving approach. From a practical behavioral and psychological standpoint, voters must get from Point A to Point B and we wanted to know what lay between Point A and Point B and whether the real points were actually A to Z. We wanted to functionally understand what the voters know about Point B and what, if anything, inspired them to go there at all. We wanted to see how they get there, when they try and what might be standing in their way or pushing them along.
For us, the breadth and depth of our initial interviews was more important than the sample number, but we engaged a representative, stratified sample and statistically controlled for the size of our sample in our analyses. We were developing a new process that would allow us, in the future, to tackle important themes that inspire, facilitate and block voters from engaging in the electoral process. We knew we could conduct more research in the future and start experimenting with interventions immediately.
Who
From March to November 2016, we conducted extensive interviews with a sample of Democratic Latino LPVs ages 18 to 84 who voted 0–2 times in the previous five elections in Fresno County. The stratified sample represented roughly 67% of all registered Latino Democratic voters in Fresno County.
Half of the sample lived in the city of Fresno and the other half lived in smaller towns and rural areas throughout Fresno County.
How
VEEP was funded through a political committee created solely for voter research and education. VEEP had a core team of five and 50-plus volunteers over the eight months of the initial research.
We developed and tested questions that would help us better understand voter opinions, knowledge and beliefs about elections, political parties, neighborhood conditions, civic problem-solving techniques, elected officials, elections and news gathering. We interviewed all our subjects in either Spanish or English, depending on their preference, in their homes around Fresno County. We incorporated demographic information from voter databases along with relevant Census data. In addition, we used research techniques to follow up on questions raised by our survey.
We chose our respondents randomly from the voter database based on our criteria to create a stratified sample of the larger population. We chose neighborhoods with highly concentrated Latino populations including southeast, southwest and central Fresno; Kerman; Mendota; Reedley; Sanger; San Joaquin; and Parlier.
After entering the data from the questionnaires into a database, we coded and categorized voters' answers to open-ended questions and ran statistical analyses to describe the voters and look for patterns.
As we were analyzing the data, we looked for easily implementable strategies that might affect voter turnout rates in the 2016 Primary and General elections. We selected a few implementable interventions and gauged their results.
In the next installment, we will describe some of our additional research and experimental intervention techniques before the 2016 Primary. In the third installment, we will discuss our impressions about the process and start laying out our results.
*****
Halima Aquino is the founder of the VEEP Center for Democracy Initiatives. She received her master's in systems psychology as part of a doctoral program in clinical psychology at the University of Maryland in Baltimore. She grew up in Fresno and recently returned to her roots. Visit the VEEP Facebook page at Fresno County VEEP.