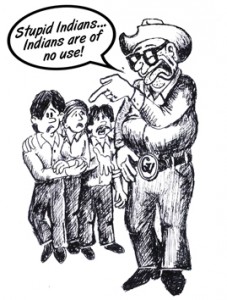 Valley Vineyard Targets Indigenous Workers
"Stupid Indians." "Indians are of no use." "Indians don't understand anything or how to do anything."
According to the United Farm Workers (UFW) union, these are the kind of insults, from supervisors, made to indigenous workers at Giumarra Vineyards in the Central Valley. And you can imagine the treatment that goes along with this attitude.
In January, the UFW reported that a young woman, 17 years old, was harassed sexually by a co-worker at Giumarra. She complained to the company about the unwanted sexual advances, and the company did something.
When she and fellow workers complained, they were fired.
These workers are all members of indigenous groups from Mexico. In a lawsuit filed by the former Giumarra employees who are plaintiffs in the lawsuit, they claim they were the targets of abuse, insults and discrimination by Giumarra supervisors just because they are indigenous.
The Kroger grocery chain is one of Giumarra's biggest customers. Giumarra may not care what you think, but Kroger's will. Kroger has the power to get Giumarra to clean up its act. The UFW urges you to tell the Kroger grocery chain that you, as a customer, will not accept this treatment of the workers who tend and pick the produce that we eat. Tell Kroger to use its power to promote the social responsibility it claims to believe in.
Indigenous farmworkers are doubly vulnerable. Anti-immigrant sentiment leads to serious discrimination. And these workers face additional cultural and linguistic barriers because they are indigenous peoples.
Take a stand for indigenous rights. Tell Kroger to do the right thing.
Note: The Kroger grocery chain includes Ralphs, Food 4 Less, Fred Meyer, Quality Food Centers, Fry's, Baker's, City Market, Dillons, Foods Co., Gerbes, Hilander, JayC Food Stores, King Soopers, Owen's Market, Scott's Food & Pharmacy, Smith's Food & Drug, Smith's Marketplace, Turkey Hill and more.
***************
Homeless People Defend Their Rights
In June 2010, workers from the San Joaquin Valley Railroad Company posted notices that they were going to "clean up" property inhabited by several homeless people near Broadway and Cherry Street in downtown Fresno. The notice stated that "those wishing to reclaim personal property collected during the clean-up project may do so by contacting the SJVR Trainmaster."
Several of the homeless people living in the area contacted the Community Alliance newspaper after the "cleanup" and said the railroad had taken their property and that they were unable to find out where it was being stored. A federal court order makes it a crime to take and immediately destroy homeless people's property. The court order says that any property taken must be stored for 90 days and returned to the homeless upon request.
Michael Scott (not his real name) said that he repeatedly called the number provided on the notice but that he was only able to reach a voice mailbox. Dozens of messages were left, but nobody got back to Scott about what he could do to reclaim his personal property.
After the Community Alliance made inquiries into this incident, the railroad suddenly became more communicative. A representative from the railroad contacted the homeless people involved and worked out a mutually agreeable compensation arrangement. A similar out-of-court settlement was made a year or two ago by the Rescue Mission, which was also accused of taking and destroying homeless people's property. When homeless people stand up for their rights, they can win. If you are homeless and you feel your rights have been violated, contact the Community Alliance or go to Central California Legal Services (CCLS) at 1999 Tuolumne Street, Suite 700, in Fresno. CCLS provides free legal assistance to those who can't afford an attorney.
***************
Homeless Czar Refuses to Help the Homeless
Fresno homeless czar Gregory Barfield is refusing to help the homeless who are living in an encampment at Santa Clara and E streets. The homeless are asking for a trash bin so they can keep the encampment free of garbage, which has piled high and represents a significant health risk.
Instead of putting a trash bin at the encampment and dumping it once or twice a week, the City of Fresno sends in a crew of sanitation workers about once a month to "clean up" the area. The cost of sending in a city crew is more than it would cost to have a trash bin at the encampment. In addition, this newspaper told Barfield that it would pay for the cost of the service. Why then does Barfield and the city refuse to provide the homeless with a public service available to every other citizen in the city?
In a city that is in a financial crisis and laying off workers, why would it spend more money than necessary—only to make life more miserable for the homeless? The streets in downtown Fresno would be cleaner with a trash bin at this homeless encampment, the threat of an outbreak of disease would be reduced, there would be fewer rats in the area, it would save the city money and it is the right thing to do.
The Community Alliance newspaper thanks those who contributed to the homeless fund (from our appeal in last month's newspaper) and encourages you to continue sending us your contributions. We will no longer wait for the City of Fresno to help us set up a trash bin at Santa Clara and E and will instead contract with a private vendor. Checks to support this effort can be sent to the Community Alliance at P.O. Box 5077, Fresno, CA 93755. Indicate that the contribution is to help the homeless.
***************
Fresno's Other Alternative/Independent Newspaper Goes Under
The Undercurrent, Fresno's paper for arts, entertainment, news and political analysis, published its last issue in August 2010. The paper's Web site has been taken down, and editorial board member Abid Yahya says it is not likely to print another issue.
The challenging economic landscape in Fresno made it difficult to get enough subscribers and advertisers to meet monthly expenses, even though it was an all-volunteer project. The Undercurrent reached out to a younger audience than the Community Alliance and included a large section on Arts and Entertainment.
The Undercurrent began four and one-half years ago and printed 5,000 copies a month. Its demise can be seen as evidence of the fragility of alternative/independent media. If you want to see and hear independent voices in this community, such as KFCF 88.1 FM and the Community Alliance, you need to subscribe and support their advertisers. Otherwise, we will be left with only corporate media to tell us what is happening in our community.
***************
NUHW Appeals Court Decision

Judge exceeded court's jurisdiction in jury instructions and barred vital evidence, union claims
Last month, the National Union of Healthcare Workers (NUHW) filed a brief in support of an appeal of the April decision of a Federal District Court in San Francisco in a civil lawsuit brought by the Service Employees International Union (SEIU).
In January of last year, SEIU placed one of its most vibrant and successful local unions, UHW, in trusteeship after a prolonged confrontation with the local's staff and elected leadership over issues related to union democracy and rank-and-file participation in collective bargaining. SEIU then filed suit against NUHW, the union that was founded by former UHW leaders following the trusteeship, in an effort to bankrupt the new rival organization. SEIU fell short of its goal, and now NUHW is appealing the limited damages assessed by the court.
"The verdict of this court was improper because the jury was instructed to find fault in activity that was, in fact, entirely appropriate and legally protected," said Dan Siegel, NUHW's attorney. "Moreover, the jury was not allowed to evaluate evidence that was vital to understanding why this activity was not only appropriate but fundamental to protecting the interests of the union's rank-and-file membership."
In court proceedings earlier this year, Siegel argued that the local union's leaders were accountable to its members, not to then-SEIU President Andy Stern and his Washington, D.C.–based staff. The actions undertaken by the defendants in opposition to SEIU's trusteeship, which formed the basis of the plaintiff's lawsuit, had in fact been authorized by the elected executive board of the union, he explained, and thus were not unlawful or even improper.
However, Judge William Alsup, presiding over the case, did not allow evidence to be brought before the jury that would have demonstrated this. He then instructed the jury to assess culpability for what amounted to entirely lawful activity. Each of these decisions is at the basis of NUHW's appeal.
The ramifications of the appeal filing are profound and far-reaching: If the court's decision stands, it could have a chilling effect on principled dissent within the labor movement.