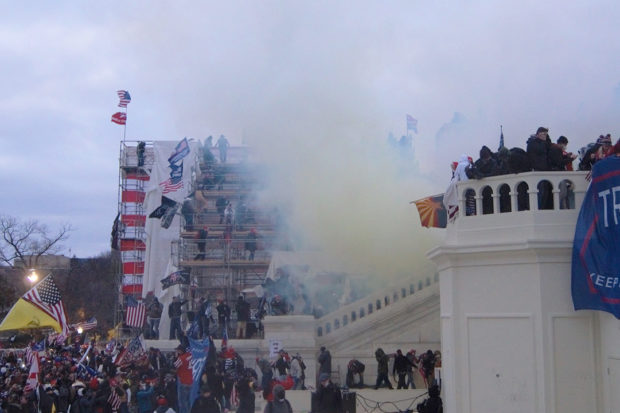 By Vic Bedoian
As federal authorities scour the nation to identify and arrest members taking part in the death and destruction visited upon the U.S. Capitol last week, Briana Calix of the Fresno Bee identified five right-wing activists and Trump supporters from Fresno County as having participated in the insurrection.
In a separate, but associated, development, Ray Appleton, a popular right-wing talk radio host in Fresno, was suspended for suggesting violence against journalists for their truthful and courageous reporting on the storming of the Capitol and assault on Congress, and its incitement by President Donald Trump.
The roots of the violent mob of Trump supporters that attacked the U.S. Capitol extends throughout the nation, and some are here in the San Joaquin Valley. The FBI has now officially designated them as "domestic violent extremists."
At least five local right-wing activists took part in the insurrection in Washington, D.C., on Jan. 6. All are known to have been involved in confrontations and aggressive acts locally.
Asked if these individuals, or others of like mind, were being scrutinized by local law enforcement, Tony Botti, public information officer for the Fresno County Sheriff's Office, said, "If, in fact, anybody local was involved in something that was illegal in Washington, D.C., it would be up to an agency in that jurisdiction to first look at it.
"If they felt there was something more to this person and wanted to find out about them, then they could go back to the local jurisdiction and if it was someone with a Fresno County tie, someone in that office could reach out and try to gain more intelligence about that person. We're happy to work with them, if needed."
The local pro-Trump militants who were in Washington, D.C., include Benjamin Martin, a local realtor who does a podcast. Recently, he aggressively confronted a Fresno Trader Joe's employee over the store's mask requirement. The ruckus required police intervention, and management closed the store.
Another is Ben Bergquam, a well-known right-wing social media personality. He was part of the insurrection, as were Josh Fulver, Jason Phillips and James Hoak, who is a trustee with the Sierra Union School District.
Last year, four of these individuals confronted Fresno City Council Member Miguel Arias at his home over the city's pandemic lockdown policy. After a physical altercation though, it was Arias who was cited by police.
The FBI is now warning of armed actions in all 50 states by insurrectionist groups. Given the presence of an unknown number of right-wing militants in the Central Valley, and with chilling scenes of mayhem at the nation's capital in mind, how secure are we in case of domestic terrorism?
Botti indicates that local law enforcement is keeping an eye out for signs of trouble: "Anytime information comes out, we try and see if it is in fact credible—whether it's a social media post, an e-mail [or] a phone call made to someone. We will use the appropriate units within our office to investigate those."
The Fresno County Sheriff's Office works cooperatively with law enforcement in other counties and jurisdictions to share and compare intelligence and launch investigations.
Botti says that the Sheriff's Office is prepared for emergency situations and rapid response: "Our office does have a mobile field force unit. What that means is a team of about 20 members that can be deployed out in the streets or at a certain building wherever the need is.
"And they basically serve for crowd control [and] riot control, things like that. You know the things you see on the national level on TV sometimes where people have shields and are all geared up and wearing face masks and things like that to really preserve the peace and make sure nothing gets out of control."
There's also another Trump-inspired controversy brewing in the Central Valley. This one involves a local right-wing radio personality, Ray Appleton. As he complained on air about the media coverage of the violent assault on the Congress, Appleton said that some news editors should be "hanged." He was forced to apologize and was suspended for two weeks
His popular talk show on Fresno radio station KMJ, which also broadcasts Rush Limbaugh and other extremist right-wing commentators, has a huge audience. Cumulus Media, which owns KMJ along with more than 400 AM and FM stations, has come under fire in the local community and could face a financial backlash.
Nationally, Cumulus Media has cracked down on its right-wing talk show hosts, warning them to stop repeating incendiary lies about the election outcome or face termination.
*****
Vic Bedoian is an independent radio and print journalist working on environmental justice and natural resources issues in the San Joaquin Valley. Contact him at vicbedoian@gmail.com.