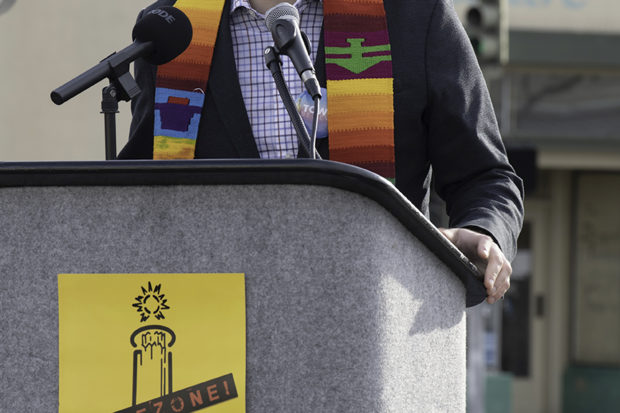 By Community Alliance Staff
Community and religious leaders came together on March 11 to pray for the preservation of the Tower District amid the fight over the sale of the historic Tower Theatre.
Dozens of people gathered at the corner of Wishon and Olive avenues in Fresno for the prayer vigil.
About 20 Valley religious leaders and the Save the Tower Theatre demonstration committee signed a statement asking for the district's preservation. They said it's a safe space for the LGBTQ+ community, and many neighbors expressed their will to keep it that way. They believe the sale of the iconic theater to a conservative church will affect their lifestyle.
Sequoia Brewing Company, located next to the theater, accused Tower Theatre Properties of fraudulent concealment for not notifying it of the potential sale to the Adventure Church, claiming that to be a violation of its right of first refusal to buy the venue.
The neighborhood in which the theater is located, the Tower District, is known as the artsy neighborhood of Fresno and as LGBTQ+-friendly.