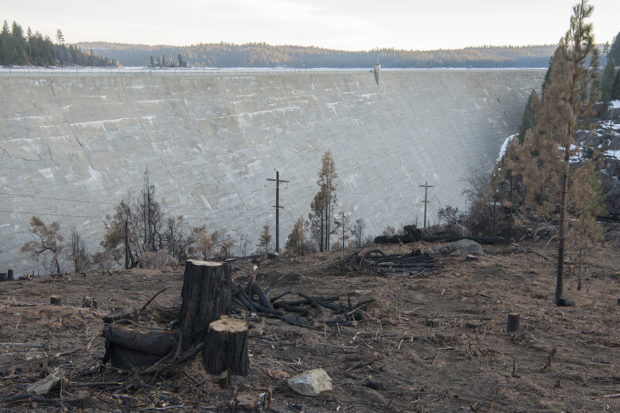 By Janet Capella
Photos by Peter Maiden
The Creek Fire started on Sept. 4, 2020, the first day of Labor Day weekend, in the isolated woodland between Big Creek and Huntington Lake. The final embers died in the high-elevation timberland on Dec. 31 with the onset of cold weather, heavy rain and snowfall. When firefighters were first called, one acre had burned and containment seemed realistic. Then the winds came.
This man-made fire started by carelessness led to devastation. Dry vegetation, brush and dead trees fed the monster, and it moved quickly toward Huntington Lake.
The Creek Fire became the second largest forest fire in the history of California, reducing 375,895 acres of wildland to black ash. Generations of explorers hiked in these wild mountains bringing access via roads, homes, cabins, public facilities, schools and business.
The year 2020 brought fire into these woods, a rollback for untold time and a wait of decades, if not centuries, for regrowth. May we remember the sacred—earth, fire, air, water—revered by a Supreme Being, honored and practiced by Native Americans.
Biodiversity resides in trees, native grasses, insects, birds, bears—all suffered and some rescued. Horses and cows graze in summer mountain pastures; many animals were transported, wounds treated and taken to ranches for care. Still, untold numbers were lost and abandoned in the fire. So many habitats destroyed by human ignorance—the power of fire.
"Native American tribes held annual controlled burns that cleared underbrush and encouraged new plant growth," notes Don Steffen, who posted an online article on looking "to what tribes have known all along" to manage wildfire.
"With wildfires raging across Northern California, joining other record-breaking fires, we don't put fire on the ground. This is old land. It's been used for thousands and thousands of years."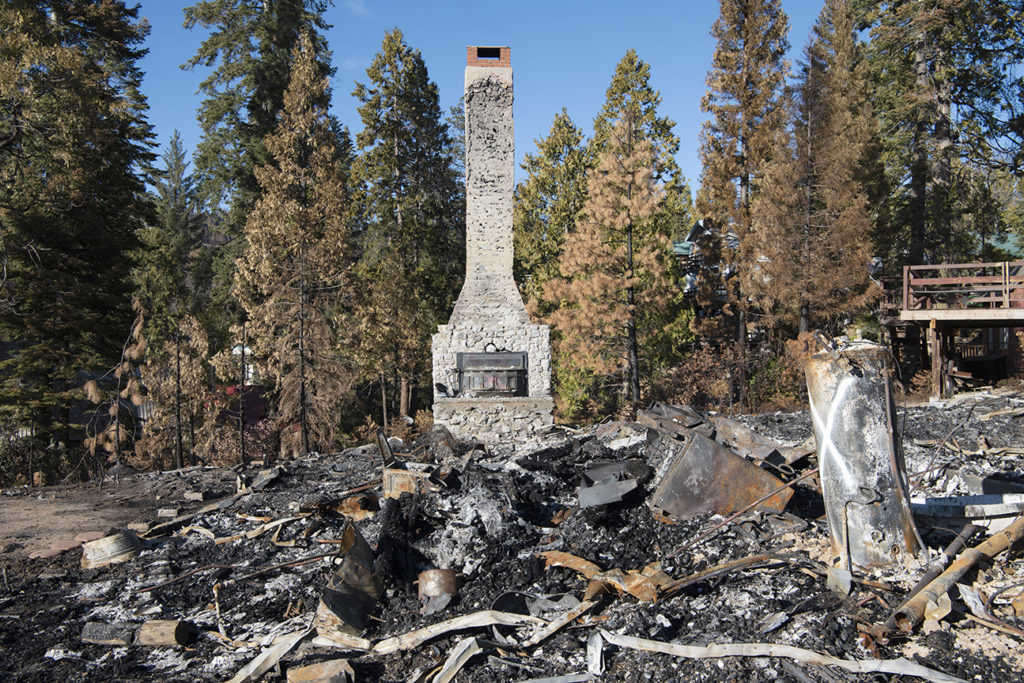 Five generations of the author's family have loved their Shaver Lake cabin, which was built in 1920 and purchased in the 1950s, chosen for its accessible location to the mid-Sierras' quiet woods, green pines, cold water creeks and lakes with plenty of snow in winter. Despite the abundant snow, lakes, creeks and streams, the ravages of climate change led to drought conditions increasing the vulnerability and danger of High Sierra mountain life.
"Beetle dead trees, due to drought, covered the public and private lands from Auberry, up to Shaver, Tamarack Creek and higher-elevations forests, some already hallowed trees by climate-driven infestations of beetles and kiln dried by the worst fire-year drought on record," states Abram Lustgarten in the New York Times Magazine.
During the fire, no one was allowed in the burn area except fire officials and the media. Evacuations continued south on Highway 168. Large semi-trucks brought bulldozers and supplies to the firefighting crews.
The heroes of the moment were the firefighters who walked in the heat, smoke, ash and flame, sleeping and eating in the forests while working 10–12 days on the fire line with only 1–2 days' rest. The fire crews expanded, yet there were never enough to contain the expanding Creek Fire.
Simultaneously, the state was on fire; Los Angeles, the Bay Area, Napa and the north burned ferociously. The fires were whipped by winds and burned in multiple directions. When fire descended quickly down the east side of Highway 168, between Huntington Lake and Shaver Lake, people evacuated their homes and campsites, fleeing the foothills and woods.
Fire crews came streaming in. Mountain communities and businesses closed. Help came from multiple governmental agencies. PG&E, Southern California Edison, the Fresno and Madera County sheriff's offices, CB radios, Facebook and cell phones all helped.
Firefighter crews and mountain folks knew many of the smaller dirt roads for easy access and escape, and were far more prepared than visitors, many of whom became trapped and required rescue. Desperate to save their families and animals, local residents, along with more numerous visitors and campers, made their way to nearby towns with little time to spare.
Lynn Medina's 30-year-old son served on the Shaver Lake California Department of Forestry crew. He described life before the Creek Fire. Stationed at Shaver Lake since spring 2020, his task was to cut down dead beetle trees and clear brush—fire prevention work from the five-year drought.
The Creek Fire followed four months later in the drought-affected woods. He worked alongside the thousands of men and women who walked through burning forests carrying supplies, chain saws and McCleods (a firefighting hand rake) to clear ground flames and prepare the land for equipment and backfires.
Wade Hobson, United Church of Christ Camp Tamarack manager, responded to the Forest Service call for evacuation, sending the small camp crew home. He cleared out the camp, and on his way down the mountain alerted others in tents and RVs to drive out of the area immediately.
Camp Tamarack is located at a 7,500-foot elevation on the east side of Highway 168. Miraculously, Camp Tamarack was saved by the fire crews.
Others were not so fortunate. Lynn Samuelian owned a cabin on the northeast side of Huntington Lake that burned to the ground, along with many other older cabins and buildings. However, Lake Shore, with a historic store, public hall, restaurants, boathouse and docks, was spared by back fires and firefighting ingenuity.
*****
Janet Capella is a lifelong activist. Contact her at janetplanet83@gmail.com.
1. "To Manage Wildfire, California Looks To What Tribes Have Known All Along"(npr.org) link. NorthForkMono, article/video, BlogPost 8/24/202
2. The New York Times Magazine, "How Climate Change Will Remap Where Americans Live", Abraham Lustgarten, 9/20/2020 p.36