By Teresa Castillo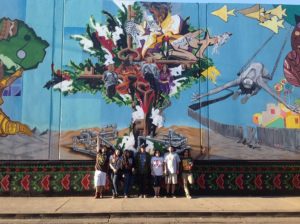 Nestled in an uptown Oakland business district on 26th Street, a new public art project was unveiled on Aug. 10. The entire 157 feet long by 22 feet high side of a building came to life with the Palestine Solidarity Mural. A collaborative effort of 12 artists working as individuals and teams resulted in nine vividly painted panels, all containing a unifying tree motif with roots grappling to the earth for water, set against a blue sky background.
This project came to fruition through the partnership of Art Forces, the Estria Foundation and NorCal Friends of Sabeel, as well as the sponsored efforts of activist groups such as the Middle East Children's Alliance (MECA), the Arab Resource and Organizing Center (AROC) and the American Indian Treaty Council (IITC).
The 12 participating artists come from a wide array of backgrounds, ethnicities and cultures. They include IROT (Native American), VYAL (Chicano-Native American), Deadeyes (African American), Erin Yoshi (Japanese American), Susan Greene (Jewish American), Emory Douglas (African American), Nidal El-Khairy (Palestinian), Chris Gazaleh (Palestinian American), SPIE (Asian American), Fred Alvarado (Latino American), Miguel Bounce Perez (Chicano-Pacific Islander American) and Dina Matar (Gaza). Greene painted Matar's panel under her virtual direction as Israel would not grant Matar permission to leave while the mural was created.
Using the tree as a metaphor for life, each artist tells stories of struggle, resistance and resiliency while together expressing solidarity with the people of Palestine. The team painted the mural and presented it to all of us while Gaza was being bombed and Israel continued its collective punishment on the Palestinians.
The common ideals of global peace and social justice are evident in themes touching on colonization, environmental destruction, oppression and the exile of indigenous people. In addition, the universal importance and restrictions of water are displayed in the mural as a visual symbol of denied human rights to people everywhere, in Palestine as well as in U.S. cities like Fresno and Detroit.
This beautiful Bay Area mural, focused on Palestine, is relevant to us in the Central Valley as we all are affected by its central theme of restricted water availability and the underlying marginalization and oppression of people of color. In Fresno, as well as the surrounding cities, we suffer greatly from water issues.
Water is a basic human right, a natural resource that our bodies require to sustain life. Water should never be denied, especially to children, yet its availability is influenced greatly by corporations and in the Central Valley by the agricultural industry. As detailed in several Community Alliance articles this summer, water is everybody's business, especially when it is controlled by the political and social power of the riches.
When describing the goals of this public art project, Art Forces stated:
The Oakland Palestine Solidarity Mural is a monument to joint struggle across movements and distances. In this era of globalization, all of our struggles for justice are intimately linked. Art Forces aims to contribute to social transformation by using art and media to build and strengthen relationships, activate public spaces and engage and move people to work for a better world.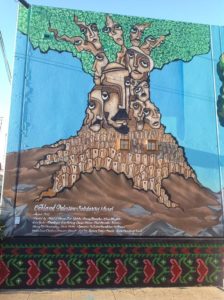 The ideas of bringing Palestinian artists to the United States to share their stories through art came after July 2011, when Art Forces and the Estria Foundation's #WaterWrites worked together with the MECA on the MAIA Mural Brigade in Palestine. To bring awareness of the water plight in Palestine, American youths, artists, trauma therapists and activists traveled to the Gaza Strip and the West Bank to paint murals about compromised water quality at different schools and youth centers.
These Breaking the Silence murals were painted at the sites of eight water purification and filtration systems that were installed by the MECA through the MAIA Project to provide clean water to more than 54,000 children and their families. Images created by Palestinian children about the water conditions and living under the Occupation filled the murals painted at schools and youth centers.
The Palestinian artist, El-Khairy, stated:
It's a blessing to be able to communicate these ideas with illustration. It's a tool that should be used politically and socially, in a way that anybody who passes by a mural will get the idea and they will feel it. I'm just honored to work with all these other artists and Native communities. I was familiar with the Black Panthers and Native struggles, but after this trip I want to get more involved and learn more. Sometimes I feel like everything centers on Palestine, but we need to give more, like we used to do in the '60s and '70s—when Palestinian artists were involved in other causes in Latin America—so I want to do that.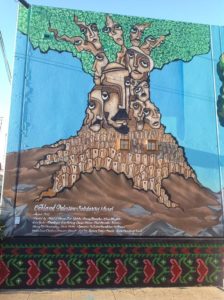 El-Khairy's family is originally from Ramla, relocated primarily to Amman, Jordan, after the 1948 Israeli attack. He is a regular contributor to the Electronic Intifada.
The partners have a desire to continue to bring awareness through community involvement. They are working on developing an audiovisual program to help visitors understand the mural's theme and to share a historical narrative. When complete, visitors will be able to "call the wall" and access a Web site that will provide contextual and historical information.
In addition, across the street from the mural, the exhibit From Gaza to Oakland is featured inside the Uptown Body and Fender auto body shop at 401 26th Street in Oakland. The gallery exhibit features photography from journalists covering the recent Israeli assault on Gaza and other works by artists from Gaza, as well as historical photos from the Nakba, the ethnic cleansing of Palestine of 1948. Also featured are print portfolios from the MECA and work by muralists and friends of the Oakland Palestine Solidarity Mural. Uptown Body and Fender is open until 9 p.m. on Oct. 3; the gallery exhibit runs through Oct. 8.
*****
Teresa Castillo is the president of Peace Fresno, founder of Peace Madera and a member of Fresno WILPF and the Human Rights Coalition of the Central Valley. Contact her at taca_03@ymail.com.