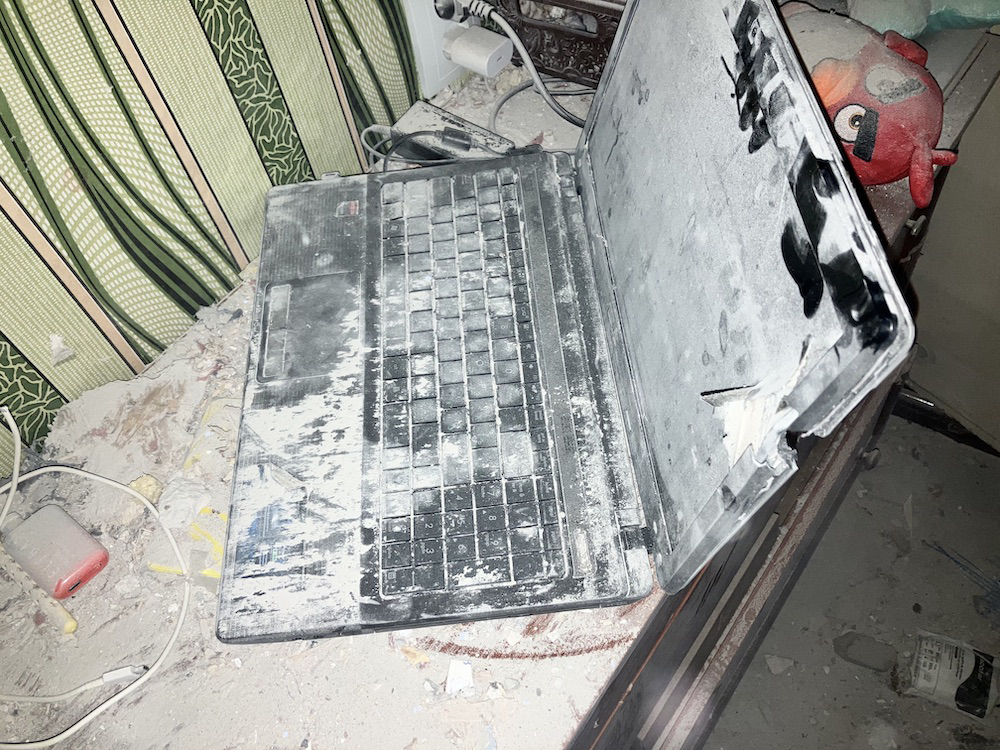 On April 7, at 5 a.m., the Russian military fired artillery and mortar fire at Ochakiv, a small Black Sea resort in the south of Ukraine located at the mouth of the Dnipro River and on the banks of the Dnipro-Buh estuary. The attack damaged residential buildings, shops and the civil infrastructure of the city and injured two civilians. As a result of the shelling, two fires broke out, one of them at the city market.
A security guard and café owner, Serhii, 52, walked around the burned-out clothes store at the market.
"I got up early, and I was about to shave when it started at 5.15 a.m.," he said. "I just put on my clothes and rushed here. There was a huge fire, and the whole aisle was burned.
"Look, they were selling clothes—no military objects here. Sports suits, shoes, stuff like this. At least no one was around.
'And think about it; it is a big Orthodox holiday. Annunciation of Our Lady. Nothing is sacred to Russians."
Before the full-scale Russian invasion in February 2022, the main industry in Ochakiv was a canned fish factory. Since no fishing was possible in the Black Sea and the rivers due to military operations, the factory had to close. Serhii, like most residents in Ochakiv, lost his job and income.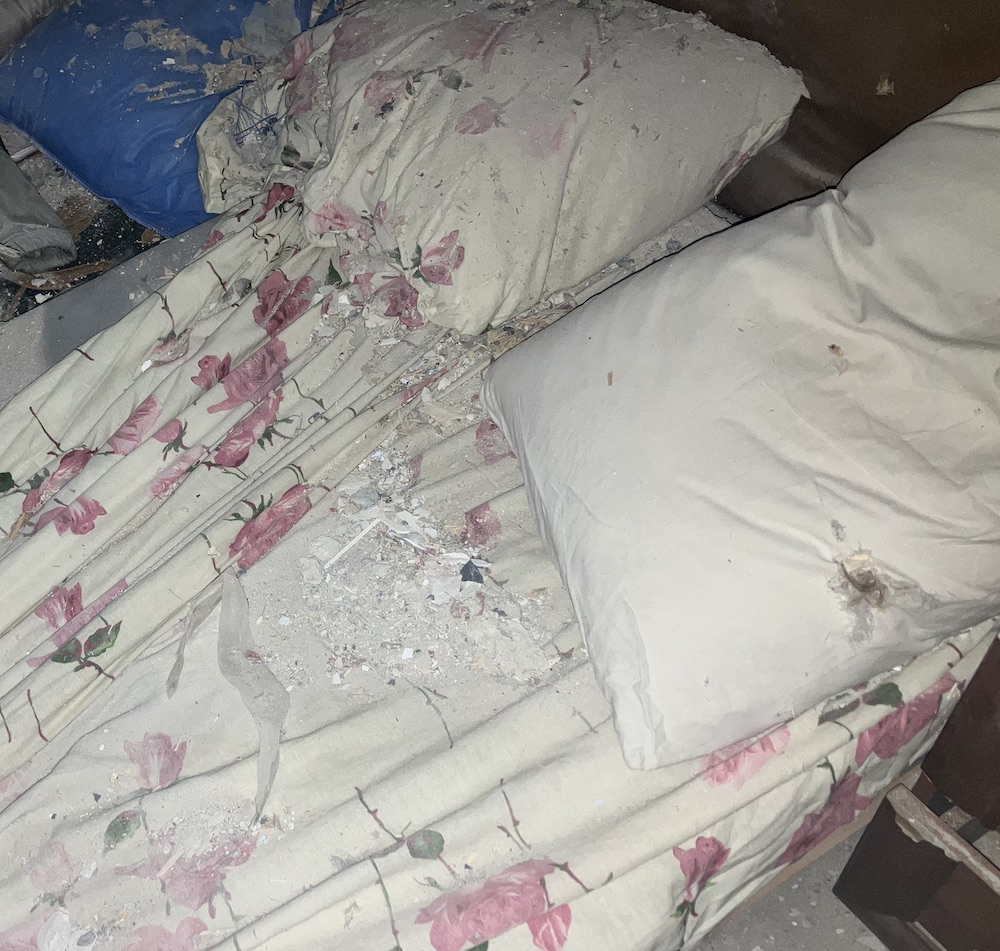 "That's why we work at the market," said Serhii. "There are no jobs. And, on top of it, we suffer from Russian shelling. Our roofs, walls, and windows are damaged, and our houses are destroyed.
"The city authorities help with repair materials like baseboards, roof tiles and wood. They even send communal services to fix houses."
Serhii met his friend Armen, feeding their favorite dog Belka, by a locksmith shop.
"We have so many nationalities here, and everyone lives in peace," said Armen, an ethnic Armenian. "Why did Russians start this war? What about common people like us? For what?
"Look at this carpet store: the couple who owned it lost everything. But at least they are alive."
Armen pointed at another charred store across the aisle. In June 2022, a carpet and floor tiles shop got hit by a Russian shell and burned completely. Only the black rolls for carpets are left. Serhii's small coffee shop is next to it, and he had to restore the roof and walls twice.
"The Russian media wrote that this was a HIMARS garage and a NATO base," says Serhii.
The Russian media's disinformation is based on President Vladimir Putin's allegations. On Feb. 21, 2022, two days before the full-scale invasion, he spoke of a "NATO center built by Americans" in Ochakiv threatening "the Russian Black Sea Fleet and infrastructure along the entire Black Sea coast."
Asked to comment, Ukraine's Armed Forces' Southern Command spokesperson, Natalia Humeniuk, said that "Putin sees a NATO base in every Ukrainian city."
By the residential building hit by a Russian shell in the morning, an elderly couple is picking up their belongings scattered on the lawn by the explosion. A white-haired man said that the ceiling in their apartment cracked from the shock wave. The first time their apartment was under attack was three months before, on Jan. 9, 2022. At that time, the windows in their apartment got smashed, and the building roof was damaged.
"It's been a year," says the man. "We got used to it."
Yana, 28, a displaced person from Donbas, showed her shredded pillow and mattress. She was asleep when she heard whistling and ran to hide in the bathroom. Five seconds later, shrapnel showered her bedroom, hitting the walls and furniture. One piece broke the laptop with her training programs; she is an intern at a local hospital. Her husband defends the country near Bakhmut, and Yana has no other family in Ochakiv.
"I almost died this morning. I want to go home," she said, crying. "I want to go to my husband."
The mayor of Ochakiv, Serhii Bychkov, said that out of the 13,000 pre-war population, 7,000 residents are left in Ochakiv, including 800 children. Since February 2022, Ochakiv has sustained 18 civilian casualties. On Jan. 9, 2023, during a massive attack, a three-year-old child died of a heart attack. According to the law, children study online because schools cannot operate in war zones. Like their parents, kids are used to the war.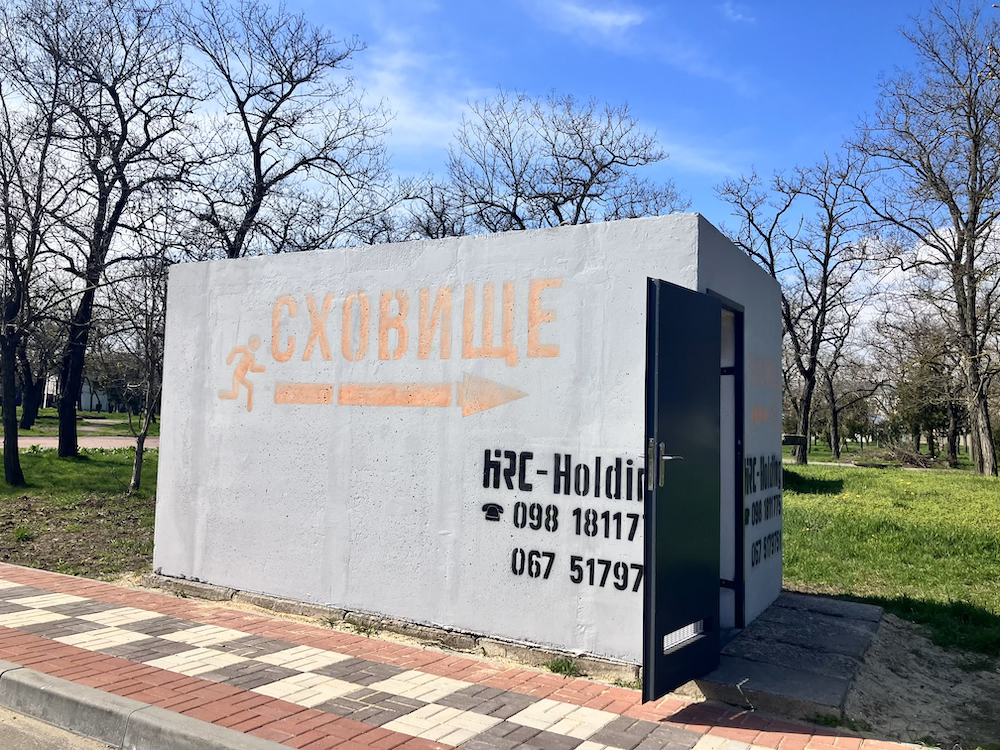 "In Ochakiv, even children can tell the type of weapons by the sound," said Bychkov.
Ochakiv has running water and power (sometimes running on generators), and humanitarian aid is being delivered regularly.
"We help those who want to leave and ask residents to hide in basements during air raids. We have built bomb shelters where people can spend a night," said the mayor.
"People have adjusted and move fast when outside. After sundown, we turn off all the lights, and it is completely dark in Ochakiv. Curfew is 6 a.m. to 9 p.m. People must stay inside."
Since June 2022, Russian military positions have been located on the Kinburn Spit, a part of the Kinburn peninsula. The tip of Kinburn Spit is only 2.2 miles away from the Cape of Ochakiv, and the cannon artillery and multiple launch rocket systems can reach the city within 15 seconds after firing.
Before the full-scale Russian invasion, the population of the Kinburn Spit was 800 people. Currently, around 200 residents, mostly senior citizens, live there under occupation. The Ochakiv city administration used to deliver humanitarian aid to the villages on the Kinburn Spit, but it became too dangerous. The Russians could detain volunteers and city services staff. There is little information about the situation, but some reports of torture have reached the mainland.
Before the war, Ochakiv and the Kinburn Spit used to be truly beautiful, say the residents. Tourists frequented a resort town with five miles of beaches. The Kinburn Spit is a national nature preserve and offers 18 miles of sand beaches, now inaccessible. Many kinds of rare and endangered birds, including pink pelicans, cranes and swans come to breed there.
The marine ecology in Ochakiv suffers from shelling. Underwater mines, incendiary projectiles and other weapons used by the Russian military play an additional role in the environmental damage. Usually, in the fall, dolphins arrive to hunt mullets by the Kinburn Spit. Last year, dead dolphins were discovered at the seashore.
"We lived our own life here and had enough issues to solve," said Bychkov. "Nobody expected such a massive invasion [from Russia].
"We had no plans to attack Russia, and now we are defending our country. They have to realize that we will win.
"Ukraine is on the path to democracy: We chose the European path. We lived under the Soviet Union, and we are sick of it. There is no way back for us."
*****
Zarina Zabrisky is an American journalist and an award-winning novelist currently reporting on the Russian war in Ukraine. She is a war correspondent for Bywire News (UK), writes a Daily Review column for Euromaidan Press, an online Ukrainian English-language independent newspaper since 2014, and contributes articles and podcasts on information warfare, reports from the sites and interviews with military experts and eyewitnesses for these and other publications, including The Byline Times (UK).
Photos by Zarina Zabrisky