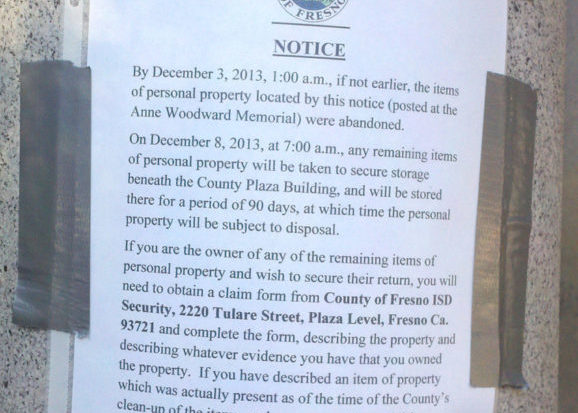 By Chip Ashley
Mike Rhodes was walking by Courthouse Park on Dec. 12 and noticed Occupy Fresno was no longer there. On closer inspection he saw a notice taped to one of the columns of the "gazebo," as the Anne Woodward Memorial was called by the Occupiers, where Occupy Fresno kept an encampment for more than two years, starting in October 2011.
The notice read: "By December 13, 2013, 1:00 a.m., if not earlier, the items of personal property located by this notice (posted at the Anne Woodward Memorial) were abandoned."
The notice went on to say that if the personal property was not removed by Dec. 8, it would be taken to secure storage, to remain there for 90 days, after which it would be "subject to disposal." Owners of the property were told they would need to file a claim with the county once the items were removed to storage and describe the property.
A posting on the Occupy Fresno Facebook page dated Oct. 31, 2011, captures the spirit of Occupy Fresno's beginning: "There's a lot more than 20 people at the downtown occupation the night before the 'eviction,' maybe 80 or so. Lots of food on hand, groups of people kicking back. ABC and Univision news are here. People drive by and honk their horns in support. Some folks here are in Halloween garb. It feels good. Viva liberté, viva America!"
I followed the Occupy Movement as well as Occupy Fresno from the earliest days. I participated in some of the general assemblies—or "GAs," as we called them. Lots of my "lefty" and anarchist friends had high hopes for the movement to bring true democracy to the United States and to Fresno. I shared these hopes. I still hold them up, and I believe Occupy Fresno has achieved a great deal.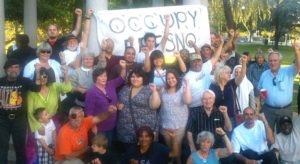 Occupy Fresno stood up to Fresno County Sheriff Margaret Mims' high-handed shows of force through several nights of dozens of sheriff's deputies swooping down on them in riot gear and arresting them and hauling them off to jail for a few hours or a day or so.
Occupy Fresno won a legal case and the right to remain in Courthouse Park. Although they left the park in early December 2013, Occupy Fresno left by their own decision. Occupy Fresno chose to leave the park. They were not forced off. And that is very important!
Occupy Fresno was the longest-running encampment of the whole Occupy movement.
Occupy and Occupy Fresno-raised the collective consciousness and set a shining example. Terms like "The 1%" and "The 99%" became part of the national language and consciousness, highlighting and emphasizing the vast gulf between the powerful wealthy and the powerless poor, the disappearing middle class and the disappearance of democracy itself.
In many cities—Oakland, for example—well-organized state violence was used to suppress Occupy. Elites who now control the power structure perceived Occupy as a threat to the status quo and the political and economic order that the elites see as their entitlement.
Fresno State Political Science Professor Michael Becker, who was deeply involved in Occupy Fresno, offered his opinions as to how the corporate state managed and then suppressed Occupy.
First, the corporate complicit media presented Occupy as not knowing what it wanted, not having a core message, being destructive of public property and "dirty."
Second, the state manipulated Occupy and managed to divert Occupy's energy into legal battles. Third, national, state and local government agencies coordinated the suppression and used the public perception of homelessness to brand Occupy.
Fourth, the state perceived Occupy as a threat to the status quo economic order and used state violence to remove the threat. (This implies that those who call themselves nonviolent cannot also support capitalism—even reformed or regulated capitalism.)
Becker also critiqued Occupy:
Occupy's original anarchist and anti-capitalist orientation was quickly overcome by numbers of people whose political aspirations were neither anarchist nor anti-capitalist: "We need a clear set of demands to raise taxes on the rich, get money out of politics, amend the constitution so corporations are not people, etc."
A demand for absolute nonviolence stripped Occupy of any means of meaningfully or sympathetically countering police violence. Where this didn't occur, as in Oakland, Occupy saw the biggest gains in support and numbers. Old 1960s-style nonviolent civil disobedience spells failure in any meaningful class struggle.
"A truly democratic society" would either be one in which actually representative institutions and strong working-class movements using those institutions completely neutered capitalism (as in Sweden, perhaps).
What the originators of Occupy envisioned was autonomous, self-governed social, economic and political institutions without voting, representatives or majority rule but instead with consensus as the basis for decision making.
Becker's conclusion: "Capitalism rocks on with Occupy suppressed but with a growing awareness in society of the extreme (unprecedented) income and wealth inequality. If we are to attain a democratic society and a sustainable earth, capitalism must end."
*****
Chip Ashley is a local environmental activist, a member of the Tehipite Chapter of the Sierra Club and the new editor of the Community Alliance. Contact him at 559-855-6376 or wattsvalleypreservation@gmail.com.