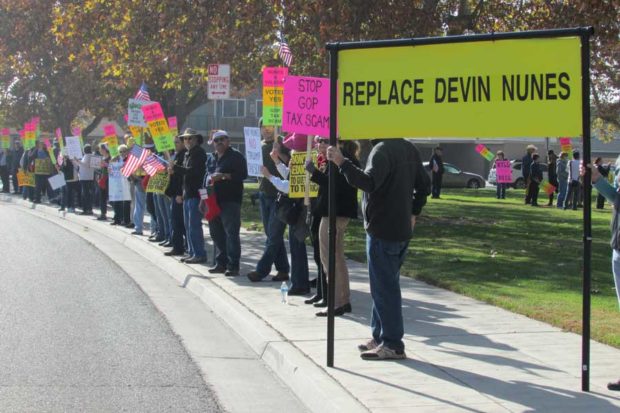 By Bob Turner
The weekly Tuesday protest in front of the office of Rep. Devin Nunes (R–Tulare) in Clovis was larger than usual on Dec. 12 as passage of the Republican-backed tax reform measure loomed and calls went out by local labor leaders to join the weekly sidewalk protest.
Pedro Ramirez, Central Valley campaign for the California Labor Federation, who led the call-out to labor groups, stated that this tax reform package is the worst thing that could happen to the country at this time, cutting taxes just when the country is in recovery with more jobs and more construction. "The only ones benefitting are their donors. They are going after teachers, nurses, the elderly, college kids, graduate students. The whole trickle-down theory just doesn't work."
Ramirez particularly criticized the impact of the tax measure on mortgage deductions, stating that he has found realtors and members of the construction industry to be against the bill. Republicans maneuvered the Tax Cuts and Jobs Act through Congress with no Democratic support in the week leading up to Christmas.
The mortgage interest deduction is the third most popular itemized deduction in tax returns and has long been touted as a means of encouraging homeownership. The original House bill would have capped the deduction on mortgages at $500,000, down from the current $1 million cap that the Senate wanted to maintain. Even with a compromise cap of $750,000 in the final bill, the number of U.S. homes worth enough for homeowners to itemize deductions and take advantage of this interest deduction will be dropping from 44% to 14.4%, according to Forbes magazine. And this will happen as home prices continue to rise.
"If you cannot afford a home, then what incentive is there to build homes?" Ramirez said.
The new tax act also repealed interest deductions on home equity loans and capped deductions on state and local property, sales and income taxes combined at $10,000.
Along with Nunes, all the local Republican members of Congress—Jeff Denham (R–Turlock), David Valadao (R–Hanford), Tom McClintock (R–Elk Grove) and Kevin McCarthy (R–Bakersfield)—voted in favor of the new tax legislation. In the Central Valley, only Rep. Jim Costa (D–Fresno) opposed the legislation.
Dillon Savory, executive director of the Fresno-Madera- Tulare-Kings Central Labor Council, said that Devin Nunes is the worst member of Congress the Central Valley has ever seen. "The majority of his constituents have never seen him in person, since he never holds public town halls."
The demonstration against Rep. Nunes began in Treasure Ingmire Park, at the corner of Clovis and Sierra avenues, with speeches followed by songs performed by the Raging Grannies. Two Democratic candidates vying to replace Nunes in 2018 were also in attendance. Bobby Bliatout and Andrew Janz are both seeking to represent Congressional District 22, which includes north Fresno and Clovis and stretches south to Visalia and Tulare.
Janz agreed with Ramirez that Nunes is supporting the tax legislation to appease his donors, who "are billionaires and some of the biggest corporations in the world." There is even a provision in the bill that prevents victims of wildfires from deducting their losses. "After all these destructive fires—from Napa and Sonoma counties down to LA and San Diego—to prevent small businesses and homeowners from getting relief, I think Nunes doesn't even care."
Bliatout said that both the House and Senate tax proposals have hot list points in them. "They jeopardize the healthcare of millions of working families, while at the same time they are debating cutting taxes for the wealthy. They are talking about not funding the Children's Health Insurance Program. It's heartless. We must care for our working-class families and children."
Protesters marched with their signs and placards south from the park two blocks to stand in front of Rep. Nunes' office as lunchtime traffic drove by on Clovis Avenue, many drivers honking their horns in support of the marchers.
Nunes' local office at Clovis Avenue and Third Street in Clovis, described by Ramirez as "not much more than a door with his name on it," has been the target of sidewalk protests every Tuesday since February 2017, following President Trump's initial Muslim ban, which drew a large crowd of protesters to the Fresno International Airport. Dave and Beverly Derby were upset and decided they needed to do something. "We decided to protest. A couple of others joined us to protest at Nunes' office on Clovis Avenue."
They admitted to being a little scared at first. But now there is a regular group that gathers every Tuesday from 11:45 a.m. to 12:45 p.m. "We made it at noon so people could come who are working," said Beverly Derby, who taught in Clovis schools for 35 years. Nunes "won't meet with us. He thinks we are paid to protest. That is why we made these t-shirts," she said, showing her shirt, which said, "Constituent 93720."
Dave Derby says these weekly gatherings are almost therapeutic. "We meet with people who agree with us. We get our anger out and share with those who are like-minded."
"There is a camaraderie of people," Bev says, "retired nurses, teachers, doctors, a farmer."
On this day, when labor joined in, there were some 90 people at the protest. The Derbys invite others to come join the group at the Tuesday rallies. (Receive regular announcements by e-mailing dderby@cvlaweb. com.)
They remind the participants to be respectful of those who pass by. "We want to educate. Some may agree to disagree, but they will have learned something."
*****
Bob Turner, a former Bay Area physics and geology teacher, is the editor of Tehipite Topics, the quarterly newsletter of the Tehipite Chapter of the Sierra Club, and a member of the Downtown Fresno Coalition. Contact him at robertsturner52@gmail.com.