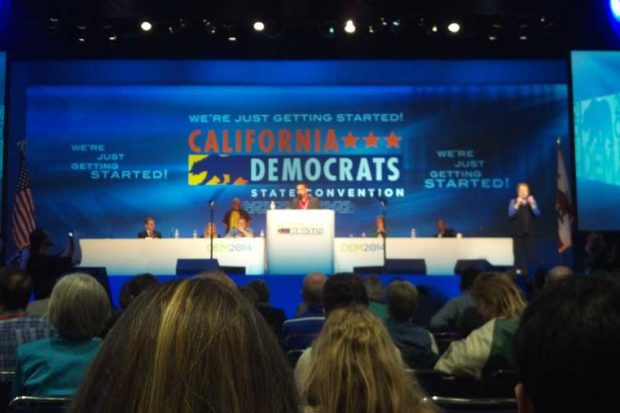 By Michael D. Evans
On July 22, the California Democratic Party (CDP) confirmed the election of Eric Bauman as chair of the largest and most progressive state Democratic Party in the nation. Elected at the CDP convention in mid-May, the election results were challenged by one of the candidates for chair. An audit of all ballots cast by the party's Compliance Review Commission concluded that Bauman received 1,467 votes to 1,410 for runner-up Kimberly Ellis. A third candidate received eight votes.
Bauman immediately set out to heal the wounds of a divisive election that had also become a proxy battle for the Bernie Sanders versus Hillary Clinton split within the party even though both Bauman and Ellis had supported Clinton. "I invite Kimberly Ellis to join me in uniting our Party for the victories that matter most," said Bauman.
"When I accepted the gavel as Chair in May of this year, I promised to work with our officers to empower the grassroots of our party, to strengthen the majorities in the Legislature needed to achieve truly progressive policy and to position Democrats to recapture Congress," says Bauman.
Joining Bauman on his leadership team are Vice Chairs Alex Gallardo-Rooker and Daraka Larimore-Hall, Secretary Jenny Bach and Controller Dan Weitzman. For CDP Region 8, which includes parts of Fresno, Kern, Kings and Tulare counties, Humberto Gomez, Jr., of Parlier was elected regional director.
"It's no secret that debates in the Democratic Party can become very passionate.," notes Bauman. "We are, and we must be, a big tent party where everyone is welcome, and that means that there will be times when we have disagreements. Our job in those moments is to remember, and keep our focus, on the many issues where we are united… Reasonable people in the Party disagree on the best method of providing healthcare, but none of us dispute that healthcare is a basic right for every single person.
"Everyone has to be able to participate and help shape the final course of action. That's what I mean when I say that we must remain a big tent—a place where people can have disagreements, even passionate disagreements, but that ultimately everyone feels heard, respected and valued, no matter which side of a particular issue they might be on."
"The election of Eric Bauman as CDP chair restores confidence in the Democratic power structure in California, which is founded on the strength of organized labor," says Dillon Savory, political director of the Fresno-Madera-Tulare Kings Central Labor Council. "We are confident that we will see added resources for civic engagement programs from the state party going forward."
Bauman intends to focus on the following:
"We need to harness the robust energy around healthcare right now…Single-payer, Medicare-for-all style healthcare is one of the most important priorities of the Democratic Party."
"Our party should support legislative efforts to increase broadband Internet access in rural areas like Northern California and the Central Valley."
"Longer term, California Democrats must organize to overturn the Top Two primary system…Top Two empowers powerful corporate interests with millions of dark money dollars to spend forcing Democrats to fight other Democrats… This is the single biggest roadblock to implementing our progressive agenda."
At the local level, for the Central Valley broadly and Fresno specifically, Bauman says that "we need to understand and be sensitive to the unique needs of Democrats in places like the Central Valley. Campaigns have to be run differently [and] messaging has to be more focused on local issues."
Bauman would also "like to make it easier for rural Democrats in the North State and the Central Valley to participate in CDP business." For example, he advocates livestreaming of the CDP's Executive Board meetings. "You shouldn't have to drive 10 hours just to know what's going on or make your voice heard."
"It's a lot harder to be a Democrat in places like Clovis or Hanford, and Democratic activists in those communities need the support of the state party," says Bauman, adding that the party must provide "the kinds of trainings and programming that will help our grassroots Democrats organize and build locally."
Assisting in those efforts will be Regional Director Gomez. "Rural communities will not be forgotten," says Gomez. "I have always had a nurturing that when local engagement and empowerment go hand in hand, we will hit every house, outhouse, doghouse and orchard."
Gomez's campaign "was positive and unifying for those that wanted new leadership," says Savory. "Organized labor has a direct ally as the regional director of the CDP."
"A zip code should not determine your future," states Gomez. "My advocacy will be principally to show our state Democratic leaders that we are organized, bring a joint task force presence and to let them know to show us the money. We must use our human capital to strategically organize."
"We are reaching out to our grassroots in every part of our state and embracing our activists' bold vision for California as a Blue Beacon of hope for the nation," concludes Bauman.
*****
Michael D. Evans is a political activist, editor and writer. Contact him at evansm@usa.net.