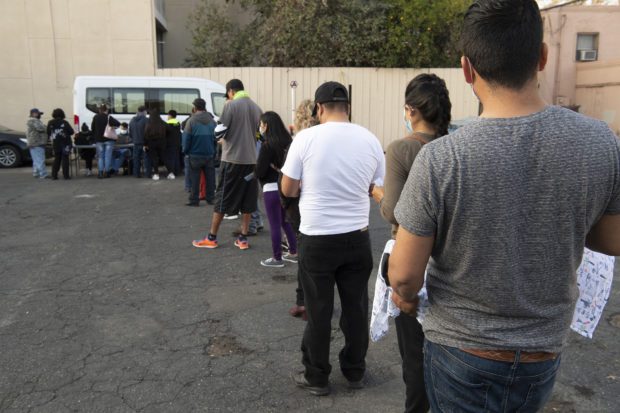 Although 77% of Californians are vaccinated (age five and older)—as of Dec. 22—health authorities are asking residents to continue following the recommended health protocols: get vaccinated, maintain social distance and use a mask when interacting with others. The reason? A new variant called Omicron.
Experts still know little about it. However, they warn that it's highly contagious.
"Health officials are working around the clock to study the new variant, including how it spreads, the vaccine's efficacy against it, and [the] impact on Covid-19 symptoms. The reality is that the longer Covid-19 remains a threat, the more variants we will have to overcome," said Dr. Dali Fan of UC Davis Health in a document distributed by Ethnic Media Services.
"That's why it is critical Californians get vaccinated to slow the spread of the dominant strains. Kids 5–11 are eligible for vaccines and adults who have already completed their vaccine series are able to receive boosters in time for the holidays."
Health officials are asking people to be careful and to avoid large gatherings, particularly because the Omicron variant is already here. Even in the Central Valley.
This is why Governor Newson reinstated the recommendation of wearing masks in indoor public settings, at least until mid-January.
Can the vaccine stop the Omicron variant?
"We do know that variants will continue to emerge as long as there are large proportions of unvaccinated people. We have to remember that Covid-19 is a virus, it wants to live as long as possible by mutating into other variants, which is why vaccination is key to stopping it and its future variants in their tracks," said Dr. Fan.
"Right now, we know that all three Covid-19 vaccines remain highly effective in preventing serious illness, hospitalization and death associated with the main variant circulating in California: the Delta variant."
For those with relatives overseas, traveling could be a challenging decision.
"Travelers should follow guidance from the Centers for Disease Control (CDC). All air passengers, regardless of vaccination status, must show a negative Covid-19 test taken no more than one day before travel to the U.S. starting Dec. 6," explains Dr. Fan.
"Additionally, the CDC recommends testing within 3–5 days after arrival, and unvaccinated travelers should quarantine for seven days regardless of a negative test. If Covid-19 symptoms develop, travelers should continue to isolate and get tested again."
Important Information
Where to get tested if you have symptoms of Covid-19 or if you have been potentially exposed: Find a Covid-19 testing site near you by visiting MyTurn.ca.gov or calling 833-422-4255.
Where to get more information about the vaccine and make an appointment:
Visit www.vaccinateall58.com or www.myturn.ca.gov for more information on the safety and effectiveness of Covid-19 vaccines and to make a vaccination appointment.
*****
Where to Stay Warm
This winter is colder than last year, and rain is finally visiting us. A cold, wet winter increases the chances of getting the flu or other illnesses, which in turn could be a risk of getting Covid-19. For those living on the streets, staying warm is even more important, particularly during the night. There are only two warming stations in Fresno. Please use them if you need them.
Warming centers are open when there is inclement weather or when temperatures reach 38 degrees or below.
Free FAX bus rides for people heading to a warming center: Monday–Friday, 6 p.m.–8 p.m, and Saturday–Sunday, 5 p.m.–7 p.m.
The warming centers are at the Fresno Rescue Mission (263 G St.) and the Ted C. Wills Center (770 N. San Pablo Ave.) in Fresno. The hours are 7:30 p.m.–7 a.m.