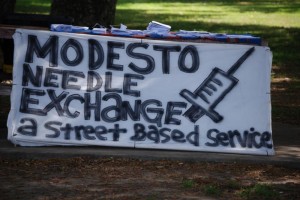 In Modesto, two harm reduction activists, Brian Robinson and Kristy Tribuzio (the "Mono Park 2"), are facing significant sentences from a local court. And this for offering a voluntary service, a syringe exchange program (SEP) that elsewhere in California and in most industrial countries is taken for granted. Indeed, the nation's drug czar, Gil Kerlikowske, has stated at a Congressional hearing that "needle exchange programs have been proven to reduce the transmission of blood-borne diseases."
Modesto (pop. 209,000) is in Stanislaus County, where the economic slowdown has helped fuel substance abuse. According to the National Insurance Crime Bureau (NICB), Modesto has a higher rate of auto thefts than any other metropolitan area in America, a fact that contrasts strikingly with the image that the city fathers would like to project. And U.S. Attorney McGregor Scott referred to the Modesto area as "ground zero" for the meth problem nationwide.
In April 2009, Robinson and Tribuzio were arrested. Immediately after the arrest, Tribuzio not only lost her job with drug services in Stanislaus County but also her credentials to work as a substitute teacher. Furthermore, she was unable to continue in her education master's program. Such multidimensional attacks on her right to work raise issues of proportionality.
Rationale of SEPs
In the health world, most people take it for granted that injecting drug users (IDUs) should have access to sterile injecting equipment. Contrary to the views of the apparatchiks in Modesto, SEPs do not encourage drug use. An IDU who is determined to inject will do so, with "dirties" or even with sharpened ballpoints.
Needle sharing brings with it the transmission of HIV and Hepatitis B and C, all of which are potentially lethal illnesses that are known to ravage vulnerable populations. Unlike gays, IDUs are an especially difficult population with which to make contact. A number of them are homeless.
The focus on using one-off needles is a continual reminder to IDUs to take care of their health. Often, the SEP clients collect needles for their circle of acquaintances. That helps avoid "dirties" littering parks and streets. Contrary to stereotypes, IDUs are not folks that just want to die. The SEP is an excellent mode to facilitate users making first contact with, for example, detox/rehab units, maintenance (with methadone) programs, a wide range of information or testing for HIV or HEP B or C.
Fresno SEP
In 1999, the California legislature legalized SEPs giving each county leeway as to implementation. Before it became acceptable to the powers that be in Fresno (on December 16, 2008), it had taken 14 years of underground activity on the streets and painstaking organizing.
In Fresno, the SEP makes basic medical treatment available. An M.D., Marc Lasher, a specialist in the field of substance abuse, is always in attendance with helpers. This facility takes place inside a bus that he drives to a discreet location in a cul-de-sac where the SEP takes place.
Dr. Lasher notes that "this is the standard of care established by the surgeon general, the CDC [Centers for Disease Control] and NIDA [National Institute on Drug Abuse] — that when a health provider comes across an IDU and that person is not willing to go into detox or rehab, then the health personnel should provide them with access to syringes to prevent them causing further harm to themselves or to other people."
Fresno's SEP distributes approximately 360,000 clean, one-way needles annually, most in exchange for those brought in by the users themselves who carefully collect their own and those around them.
The police in Fresno have not been afraid to arrest people for this voluntary work. For instance, Jean Rodrigues, one of the founders of the Fresno SEP, was arrested [when?] for the contents of her car (needles and paraphernalia). She took the rap so that other volunteers would not have to experience the multiple impacts of a trial. Fortunately, the DA dropped all the charges.
Dr. Lasher assured me that "getting organized and legalized didn't happen overnight." It entailed the painstaking work of persuasion: "We started meeting with the Board of Supervisors individually. We put together five or six doctors as a team and went and talked to them individually."
The Fresno SEP is financed by a private foundation but currently has a two-month shortfall in its budget. One month is almost covered by the generally impoverished IDUs themselves who are all asked to make a donation, however small.
What Went Wrong in Modesto?
So how did it happen that the Modesto SEP was targeted? The answer lies both in the complicated local politics and, arguably, Robinson's decision to distribute flyers announcing the service instead of using word-of-mouth.
Before the April 2009 busts, there had been a report by the Stanislaus County Civil Grand Jury in 2008 (see www.stancounty.com/bos/agenda/2008/20080715/Corr01.pdf starting on page 22) that supported an SEP. A number of significant institutions in the county supported that recommendation including the Health Department. However, the Board of Supervisors, the DA and the sheriff were unanimously against it.
Especially curious in the Modesto story is the role of a self-styled libertarian blogger, "Robert" (http://thehive.modbee.com/node/16466). It seems that prior to the events described here, Robert was involved in an altercation with the sheriff although what part this has played is unclear. From the chronology, it appears that Robert's blog played a key role in the sheriff's decision to make arrests, although the blog contains only his own prejudices and those of his supporters.
Robert's main objection in Modesto was that needles were given away for none in exchange. Dallas Blanchard, who runs the Fresno SEP, explains that issue as follows: "The police may seize the user's needles. What should I do? Give somebody none and then have him share a dirty needle?"
Current Situation: February Hearing
The situation for the Mono Park 2 is critical. On February 1, there will be a hearing at which a judge will decide whether the defense will be permitted to advance the legal argument of medical necessity. Before the November 9 hearing, they had not expected charges to be dropped. However, Tribuzio says they had thought there might be "some sort of reasonable alternative, such as an infraction with a fine." Yet, the deal on the table from DA Birgit Fladager was harsh. Tribuzio notes that it included "a stay away order from an area in which 65+ needles had recently (November 8) been cleaned up in just a two-block radius."
On November 9, the DA rejected any compromise and offered Robinson as the organizer of the activity a jail term of 30 days and Tribuzio probation for three years. If they contest the case, both could receive up to one year in jail on paraphernalia charges.
A Rollback Pattern Emerging?
The events in Modesto might be mistaken for provincialism and mediocrity. However, there are indications that this arrest is part of a wider rollback attempt.
An article, "Panic in Needle Park: Return of the Fearmongers," in the January 6 Counterpunch (www.counterpunch.org/papa01062010.html) suggests that there is an ongoing attempt to turn this issue into a political football rather than a health issue. Anthony Papa's article describes how three significant figures — John Gilbride (DEA), Bridget Brennan (special narcotics prosecutor of New York City) and Peter Vallone, Jr. (D-Queens, NYC City Council) — attacked a two-year-old pamphlet by the N.Y. Department of Health that explained New York's harm reduction policies. Unusual for the GOP, Mayor Michael Bloomberg defended the pamphlet.
Other SEPs in rural areas of California have already been closed. The combination of California's insolvency and provincial prejudice may prove lethal. One possible danger if the Modesto rollback succeeds is that it will make supervisory boards even more reluctant to back SEPs.
Tribuzio sees part of the problem in the power given to counties to make decisions for which they are ill-equipped: "I think that one of the biggest problems is that California law is inconsistent. It forces very important public health decisions to be left up to the politics and law enforcement influence of individual communities that are not equipped with the resources and education to be able to make the necessary decisions."
Health issues getting turned into political footballs is a backward trend to note. And all this is taking place with the AIDS movement in a state of structural weakness. On the other hand, the federal government announced in November of last year that its longstanding ban (since 1999) on SEPs would be lifted. Let us hope that science holds sway here rather than the dogma and stereotypes backed by political calculation.
Background Reading
Details on the Mono Park 2 (through October 2009):
http://stopthedrugwar.org/chronicle/605/mono_park_2_modesto_needle_exchange_arrest
Brian Robinson's blog: http://offthestreetsproject.blogspot.com/
Needle exchange programs: http://en.wikipedia.org/wiki/Needle_exchange