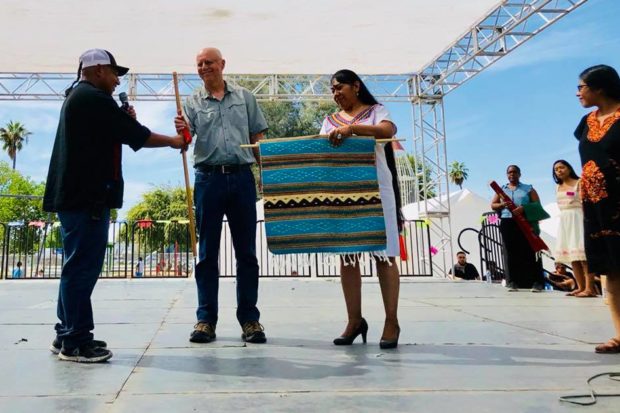 By Community Alliance Staff
Two recognitions have been added to the lengthy list of achievements of Community Alliance co-founder, former editor and author Mike Rhodes. His lifelong fight for social and economic justice was most recently recognized through a Lifetime Achievement Award by Tenants Together and by a leadership award from Centro Binacional para el Desarrollo Indígena Oaxaqueño (CBDIO).
"I thank Tenants Together for giving me this lifetime achievement award and congratulate them for 10 years of great work," Rhodes said. "Like many of you, I have spent my time working in the trenches for social and economic justice on issues like homelessness and tenant rights. I never imagined I would be honored for doing that work."
Tenants Together is a statewide renters' organization that works to improve the lives of California's tenants through education, organizing and advocacy. The Lifetime Achievement Award was presented to Rhodes during the organization's 10th annual Anniversary Fundraiser at the Verdi Club in San Francisco on Sept. 21.
Rhodes authored a series of articles, beginning in 2002, about the way the City of Fresno was treating its homeless population, including seizing and destroying personal property. His coverage led to a class-action lawsuit resulting in $2.3 million in reparations for the homeless and significant changes in the city's policies.
CBDIO recognized Rhodes during its 20th annual Guelaguetza in Fresno on Sept. 23. Rhodes was presented a leadership award before more than 500 people. He also received a symbolic cane and a Zapotec textile. The Guelaguetza is a cultural celebration held every summer in Oaxaca, Mexico, which Fresno residents re-create locally in an effort to preserve their traditions. CBDIO works to foster and strengthen civic participation, economic, social and cultural development of indigenous communities.
Rhodes thanked CBDIO and shared memories about collaborating with indigenous communities locally.
"I'm as proud of my cultural heritage as I am amazed and impressed by this vibrant and wonderful event," he said. "It gives me hope and inspiration that we will overcome our obstacles. As there are more and more immigrants, youth and people of color working for social and economic justice, I know we will win. Si Se Puede!"