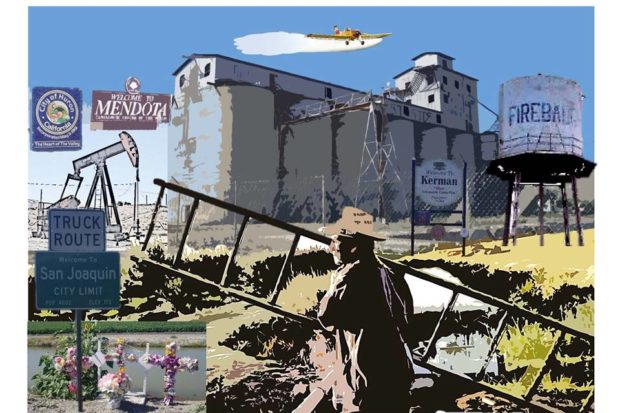 By Stan Santos
On June 18, during a demonstration held at the Federal Courthouse in Fresno, it was announced that a march against injustice would take place to include several westside Fresno County communities. The initiative, provoked by outrage over the separation of children from their families, included Firebaugh, Mendota, Kerman, San Joaquín, Huron, Coalinga, Lemoore and Hanford.
Since then, meetings have taken place with westside community leaders and elected officials. The initial plan spanned approximately 140 miles and communities separated by large stretches of rough terrain, and during the peak heat of the Central Valley summer. Based on these conditions and in consultation with local leaders, the original plan for a protest march has evolved into a journey. The March Against Walls and the Separation of Families intends to bring together communities from the greater Fresno area and Kings County in a common cause.
Firebaugh
The first leg of the March Against Walls and the Separation of Families, on July 28, connects Firebaugh and Mendota. Firebaugh is a historic community and one of the foundations of the agricultural industry since its establishment in the 1850s. The rolling hills of Firebaugh, Mendota and Coalinga were once roamed by Joaquin Murietta, a heroic figure of the gold rush days, who rebelled against Anglo subjugation and was killed in 1853 by a posse in Cantua Creek.
Firebaugh has a population of more than 8,300, of which 90% are Latino. That group is growing, making up 95% of children from kindergarten through high school. Firebaugh has a median household income of $38,000, or almost half of the California median income, and a poverty rate above 36%, approximately twice the California poverty rate.
Twenty percent of the population under 65 years has no health insurance compared to the California average of 8.4%. Less than half of the adults older than age 25 have graduated from high school and only 5% have college degrees. The index for water quality is 22, whereas the index for the United States is 55 (lower is worse).
Employment in agricultural includes several companies farming thousands of acres of cantaloupes, melons, tomatoes and fruit trees, with the more recent additions of almonds and pistachios. Water is a sensitive issue in the aftermath of the drought years, with decreased supplies causing increased uncertainty. The hostile environment around immigration is compounding that uncertainty as more farmers are encountering difficulties in filling crews for planting and harvesting.
Del Bosque has a 2,000-acre operation in and around Firebaugh and needs up to 300 workers during the peak season. Del Bosque and the other eight large farming operations in the area have increasing difficulty finding those workers.
Mendota
Mendota, with a population of more than 11,000, has an even higher percentage of Latinos at 94%. It also has the highest indexes of poverty. The median income is around $26,000 per year, far below that of Firebaugh with half of the residents below the poverty level. Only 29% of persons 25 years or older have completed high school and barely 1% have a college diploma. About 27% of adults under 25 years have no medical insurance.
Another factor that sets Mendota aside from other Valley towns is the large number of Salvadorans, most of whom fled their homeland due to natural disasters and extreme violence. In 2010, they numbered around 2,500, but under Temporary Protected Status (TPS), that number is significantly larger now. The federal statute protects persons from countries where "there is an ongoing armed conflict within the state and, due to such conflict, requiring the return of aliens who are nationals of that state to that state (or to the part of the state) would pose a serious threat to their personal safety."
Although Mendota has opened its arms to these refugees who earnestly went to work in the agricultural fields and packing houses, they are threatened by the Trump administration's cancellation of TPS, which is set to terminate on Sept. 9, 2019. In response to the cancellation of TPS, the city manager announced efforts to reach out to Rep. David Valadao (R–Hanford) and U.S. Sens. Dianne Feinstein and Kamala Harris to urge them to call for continued protection from deportation.
Large Versus Smaller Westside Communities
Kerman, 20 miles east of Mendota, has a larger population of more than 14,000 and a higher median income of $42,000. It also has a population that is 80% Latino and a relatively high poverty rate of 25%. A quarter of the residents work in agriculture. With its proximity to Fresno and a growing housing market, it could serve as an economic hub to lift the surrounding communities.
San Joaquin, 14 miles southwest of Kerman, has 4,000-plus residents also with high poverty indexes and undrinkable water. San Joaquin and Tranquillity, four miles to the southeast, share a picturesque landscape, but one that must provide more economic opportunities and a future for young families to stay and for their communities to grow.
The next large population hub to the south is Coalinga, which also claims a share of the legend of Murietta, with approximately 16,000 residents, including more than a thousand state inmates. Coalinga has significantly higher median income levels, high school and college completion rates and overall aggregate wealth than its poorer neighbors such as Huron to the north and Avenal to the south.
Huron and Avenal have more in common with San Joaquin, Tranquillity, Mendota and Firebaugh. They share the landscape of rolling hills, oil derricks and melon fields, now increasingly populated with almonds, walnuts and pistachio trees.
Finally, the westside landscape is framed on the east by Lemoore and Hanford, communities with populations of beyond 25,000 and 50,000, respectively. They also reflect higher incomes, educational attainment and a larger population of White versus minority, although Latinos account for 42% of Lemoore's population and 38% of Hanford's.
What is the objective of the march?
Firebaugh and Mendota are key starting points, based on their history, proximity and socioeconomic conditions. All the communities on the westside corridor of Fresno and Kings counties between Highway 99 and the I-5 share almost a colonial relationship with the larger urban areas, to the south and east.
Working families and the poor of these communities are disenfranchised politically and economically. They are subjects of the larger power structures, such as water district boards, city councils, boards of supervisors and, most significantly, in the California legislature and U.S. Congress. At the Assembly level, the area is represented by Joaquin Arambula (D–Fresno) in Fresno County, Anna Caballero (D–Salinas) on the central coast and Rudy Salas (D–Bakersfield) in Kings and Kern counties. However, the area is represented in the State Senate by Andy Vidak (R–Hanford) and Anthony Cannella (R–Ceres).
In Congress, the area is represented by Valadao, whose legislative initiatives are almost exclusively meant to satisfy the ag industry's demands for water at public expense. His most recent bill would provide favorable pricing for the dairy industry. He consistently supports increased military expenditures.
Statistically, less than half of the Democrats in these communities do not vote regularly. Their candidates lose elections despite being numerically superior to their Republican neighbors. Their key quality-of-life issues, such as immigration, economic and environmental justice, are not addressed due to their lack of organization and ability to influence decision making. They suffer disproportionately negative impacts, much like "sacrifice" regions around the globe.
There have been few attempts at organizing across the geographic extremes of this challenging terrain. However, there is a growing core leadership under the auspices of groups such as the Central Valley Leadership Council, which are vying for and winning political offices in these communities. Strategic collaboration with activists in the larger urban centers could provide a foundation and network of support for their empowerment.
This is the focus of the March Against Walls and the Separation of Families.
*****
Stan Santos is an activist in the labor and immigrant community. Contact him at alianzadefresno@gmail.com.