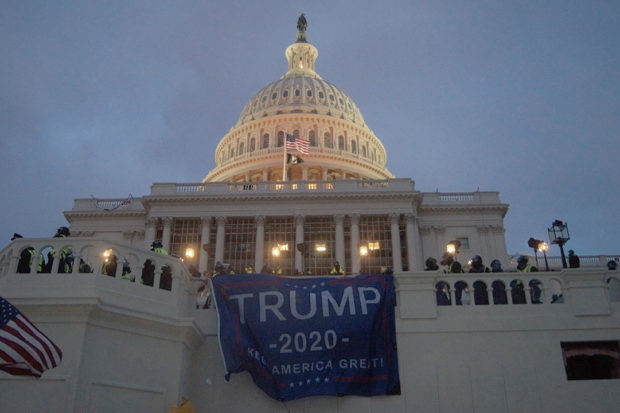 By Sergio Cortes
(Editor's note: Reprinted courtesy of usparkvalley.com.)
Sierra Unified School District (SUSD) Trustee James Hoak took part in the assault on the U.S. Capitol in Washington, D.C., on Jan. 6.
Hoak is among at least three Fresno-area residents that uSpark has identified in footage from the rally, but Hoak is the only elected official and the only one so far confirmed to have stormed the Capitol building.
Hoak used his personal Facebook account to stream his participation live on Jan. 6. uSpark obtained a copy of two of the videos before they were removed from his account by the end of the day.
In one video, which is still on his page, Hoak marches with Trump supporters while dressed in a black-and-white striped prison costume and an oversized mask depicting President-Elect Joe Biden. In another, which has been deleted, he is on the Capitol building's steps and near entrances with other Trump supporters, some who are smashing windows.
"This is what it looks like when you storm the Capitol, and it is not burning down yet," he told his followers.
Hoak was elected as an SUSD trustee in November, winning one of four open seats on the board. Hoak came in fourth place out of eight candidates.
Hoak said by phone that he wanted his voice to be heard and that he was at the Capitol as a private citizen. He says that Facebook removed videos from his account.
"I am out here at my own capacity, and I don't want the Sierra Unified School District to get any heat about it. I went out as a journalist to document—to me this is history," he told uSpark.
But residents have expressed anger that an elected official participated in the assault.
One parent who wanted to remain anonymous expressed outrage when learning that Hoak was at the Capitol. "The fact that he was at the Capitol supporting a hateful group and participating in the attempt to disrupt our election process should immediately disqualify him from a board seat. He and anyone with hateful, bigoted ideologies have no place in making decisions for children."
"As a parent, I am both disgusted and livid that a member of our school board took part in the treasonous assault on our nation's Capitol building," said Becky Zagha, parent of a student in SUSD.
"I was, however, not surprised. Before the elections took place, I did research into all of the candidates and very quickly learned that James Hoak is a follower of Ben Bergquam, a very vocal and hateful follower of Trump and [a] Proud Boy."
Bergquam is known in the Central Valley for sharing videos from rallies and marches on his Facebook page, Frontline America, which he often claims is a news organization. Hoak and Bergquam regularly attend far-right events nationwide including those hosted by the Proud Boys, founded in 2016 as "western chauvinists."
The Southern Poverty Law Center says that the Proud Boys are a White supremacist hate group. The Proud Boys' leader, Henry "Enrique" Tarrio, was arrested on Jan. 4 for burning a Black Lives Matter banner that was pulled from a Black church in Washington, D.C. A judge barred Tarrio from entering D.C. before the Jan. 6 rally and assault.
Tarrio told the Wall Street Journal that he praised the assault on the Capitol and said it could happen at more government buildings and the inauguration.
Last year, Hoak joined Bergquam's local far-right group when they confronted Fresno City Council Member Miguel Arias at his private residence about Covid-19 shelter-in-place orders. Hoak livestreamed on Facebook as the group went onto private property shouting at and shoving Arias. Arias said in a press release that the group attempted to "force their way" into his residence while his children were nearby. The Council member was cited with misdemeanor battery.
The second video uSpark obtained that has been deleted from Hoak's Facebook profile shows tear gas and flash grenades going off. People start screaming and running away. Hoak proceeds to flee toward a stairway at the foundation of the Capitol building, and as he runs he points the camera toward himself and removes his face covering.
"That is burning the shit out of me. Damn!" he exclaims.
*****
Sergio Cortes is a local storyteller and a reporter.