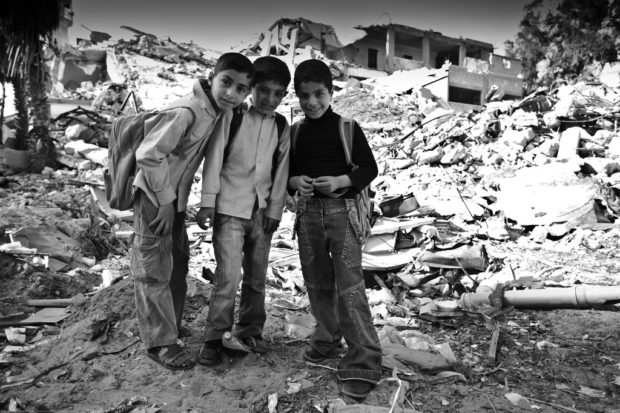 By Athena
A six-year-old child in Gaza will have lived through three wars in their lifetime. This affects me personally because my parents lived through the 1948 war and the 1967 war, and I lived in Palestine all throughout the Intifada.
Since the onset of the Gaza airstrikes, the casualties are adding up so quickly that it is difficult to keep up with the death toll; many are elderly and women, and one of every five victims is a child. Hospitals and homes and civilians, as well as children playing soccer on beaches and streets, are being targeted and murdered by Israel. These people do not have any protection or bunkers or warning sirens to protect them.
In addition to the shelling airstrikes by Israel, 90% of the water in Gaza is undrinkable; they are constantly without power or medical aid because Israel does not allow foreign aid to enter Gaza. Gaza is a huge prison camp, and the region is under constant siege by Zionist Israel.
Israel continues to use illegal weapons and break international laws. More than $3 billion of U.S. tax dollars are spent on aid for the Israeli military against a people who have no military, no navy or special intelligence.
Israel uses Hamas as an excuse to protect it from Hamas when, in reality, Hamas is a resistance group, not a terrorist group. How else would people protect themselves? One cannot expect to not have the right to defend itself.
Here's an analogy to help one understand more clearly. If a woman was being raped by her encounter, should she stay still and allow this to continue or would she try to fight back and protect herself the best she could? It is not an act of terrorism if the people are defending themselves. This is not justice; this is a human rights issue, and the genocide needs to end now.
My goal is to stimulate as much awareness as possible so that the airstrikes and ground invasions in the Gaza Strip and Palestine can end. The siege on Gaza has to end and so does the occupation in Palestine.
If I can educate at least one person about the situation in Gaza, it can make all the difference in the world. Images that have been circulating from Palestine through social networks have fueled world cities, as well as countries, to get out and protest, and I would like for the people of Fresno to continue to join the effort to fight for human rights and solidarity for Palestine.
I also would like to make clear that Palestinians include not only Muslims but also Christians. Palestinians do not have an issue with Jews; rather, the issue lies within the Zionist regime. This is not a religious issue but rather a humanitarian one.
*****
Athena, a Palestinian-American born in New York City, is a peace and justice activist and currently a student at Fresno State.