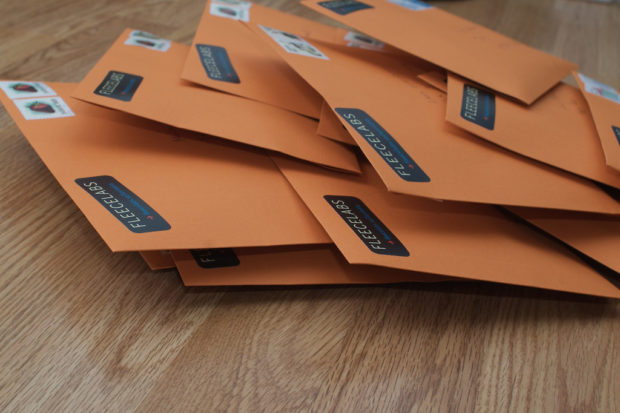 Fire Bombing Police Cars Affects Us All
As elders, we have a responsibility to teach as we were taught and to share the knowledge that we learned over the years. Nonviolence is the way to move forward. And although Cesar [Chavez] said "justice for farmworkers will not happen in my lifetime," the work continues forward by many of us that came from the fields and heard his call for justice que "Si Se Puede."
My question for the Fresno Police Department (FPD) is after all those millions of dollars for the PAL [Police Activities League]/COPs [Citizens on Patrol] and all the other supposed anti-gang initiatives, why do we have so many gangs? The FPD should acknowledge their war on gangs created a hostile environment with many innocent people caught in the middle.
Gloria Hernandez
Fresno
*****
 What Is the Real Question?
In response to "Fire Bombing Police Cars Affects Us All," which appeared in the October 2011 issue of the Community Alliance:

[Mine is a] perspective from someone watching events unfold and not involved.
The targeting of activists began long before anyone started throwing rocks or burning police cars. Look at the case of Peace Fresno. Sure, the state will use an escalation of tactics as a pretext for repression, but it will preemptively act to repress movements that it thinks even have the possibility of acting against it.
This article seems to imply that there are "good activists" who play by the rules and just want a better police department, and there are "bad people," who ruin real movements and hurt the possibilities of working within the system.
At the end of the day, the real question is, will people whose ideas are represented in this article talk to the police or give people up to make their point?
James
Modesto
*****
Our Stone-Age Board of Supervisors
I was so mad about the Board's decision [to reject federal healthcare funding] I wanted to scream. What arrogance on their part to announce they were avoiding putting the county "at risk." At risk of what? Better healthcare for poor folks? How is it that all the other counties seemed to see their way around these perceived risks? Are we supposed to believe that they were so smart that they were the only ones to see the danger lurking in possibly expanded healthcare for poor people?
We had better remember this when elections roll around. If the Board sees funding for expanded indigent healthcare as scary, I bet poor people voting is terrifying.
I wrote the Board a letter expressing my disbelief, though I already knew they could care less what poor people think. But every day, there is a new attack on some aspect of life affecting the poor. It's as if war has been declared by the GOP and the Tea Party mostly. Now it's even coming from the Board of Supervisors. And it's out in the open. Not even a veil.
This insult from the supervisors, along with the continued demonization of all things outside of the GOP realm, is pushing me to frustration. I have written letters to everybody from the White House on down. I will continue to do so. Thanks for the vent.
Nancy Patterson
Clovis
*****
 Sugar Pine Trail in Danger of Private Party Taking of Public Space
The Yosemite Ranch Restaurant at Champlain Drive and East Shepherd Avenue proposes taking 32.3 feet of the 60-foot wide right of way from the Sugar Pine Trail to construct an enclosed patio-type dining facility. If approved by the Fresno City Planning Commission and the Fresno City Council, this would be a private taking of public land via a lease agreement with the City of Fresno. Once the trail's integrity is broken, other businesses could cite this as a precedent and request similar invasion into the right of way for the trail.
Such an intrusion into a bike and walking trail system linking Fresno and Clovis represents a loss of public space for private economic gain. The trail was built with public funds and a great deal of time and effort by citizen volunteers. This theft of public space would create a precedent, and many other businesses would then want equal treatment. There is plenty of space for the restaurant owner to build his patio café on the north side of his restaurant without destroying the multi-city, citizen ownership of the Sugar Pine Trail system. Also, as a pedestrian and bike trail it aligns with the city's efforts to reduce greenhouse gasses via land-use planning as required by SB 375.
The City of Fresno under the current administration is promoting a policy of encouraging sidewalk cafés in the downtown area. But the northeast corner of Champlain and Shepherd is not an urban area. There are other suburban shopping centers with outdoor cafés, but these outdoor cafés extend into the parking lot part of those locations, not into a park-like setting such as the Sugar Pine Trail.
There is no logical reason that the owner of Yosemite Ranch could not build his patio dining facility into the parking lot side of his business. In fact, it would enhance that area with trees and the more open character typical of sidewalk cafés, which tend not to have permanent walls with window openings. Examples of this sidewalk café style adjacent to a parking lot can be seen in the Fig Garden Center at the Patio Café and La Boulangerie.
Finally, restaurants often go bankrupt or the space is empty for a period of time. Thus, any guarantee of income to the city is unreliable over the long term. The same potential problem arises with any maintenance agreement for a part of the Sugar Pine Trail, just as have past verbal agreements for driveways cut across the trail. Building within the confines of the privately owned shopping center is a far better solution.
The City Planning Commission hearing on this issue will occur at City Hall in the Council Chamber on Nov. 2 at 6 p.m. Please attend and speak in favor of protecting the Sugar Pine Trail system as a sacred public space that belongs to all the citizens of Fresno and Clovis.
Phone and/or email your City Council Member and Mayor Ashley Swearengin.
Phone: 559-621-8000
Fax: 559-621-7896
E-mail: District0@fresno.gov (replace the 0 with the number of your City Council member) and mayor@fresno.gov
Robert Merrill
Fresno
*****
Democratic Movements Require New Approaches
True racists, the Republicans have since President Obama's first day in office attacked him for their purposes of scapegoating, which in the U.S. collective unconscious psychologically shifts the blame from them to him. However, the cost of undoing the Bush administration's economic choices, from the wars in Iraq and Afghanistan to the collapse of the financial system, soaring debt and new commitments to interest payments and Medicare, all add up to over $10 trillion.
Since the early 1970s, the rich, corporate power brokers and right-wing cultural warriors realized that education was central to creating a viable populist movement that served their interests. At the heart of this movement was a culture of cruelty and vulgarity that used education to produce a new form of political illiteracy (Fox News) in which there was no difference between opinions and arguments, reason and emotion and evidence and false statements.
In this culture of illiteracy, science became a liability, thinking became an act of stupidity, anti-intellectualism became a virtue, social protections were described as a pathology and the social contract was dismissed as socialism. For example, the Bush administration had so violated and corrupted the institutional culture of government agencies charged with scientific research that it could take a generation for them to recover their integrity.
Of course, this is not merely a debate about education; it is really about the emergence of an anti-reform movement that wants to create armies of low-skilled workers and consumers for the privatized, deregulated and commodified world of the 21st century where a survival of the fittest ethic has been elevated to the status of common sense. As the meaning of democracy is betrayed by its transformation into a market society, corporate power and money appear unchecked in their ability to privatize, deregulate and destroy all vestiges of public life.
At issue here is the need for a new vocabulary, vision and politics that will unleash new democratic movements, institutions and a formative culture capable of imagining a life and society free of the dictates of endless military wars, boundless material waste, extreme inequality, disposable populations and unfounded human suffering.
Central to "Education and the Crisis of Public Values" is the belief that no change will come unless education both within and outside of formal schooling is viewed as central to any viable notion of politics. If real reform is going to happen, it has to put in place a viable, critical, formative culture that supports notions of engaged citizenship, civic courage, public values, dissent, democratic modes of governing and a genuine belief in freedom, equality and justice.
Ideas matter as do the human beings and institutions that make them count and that includes those intellectuals both in and out of schools who bear the responsibility of providing the conditions for Americans of all ages to be able to think critically so they can act imaginatively—so they can embrace a vision of the good life of the American Dream as a just life, one that extends the values, practices and vision of democracy to everyone.
Mike Starry
Fresno
 *****
Labor Solidarity Requested
For those who participated in last month's Save America's Postal Service rallies in Fresno, thank you for your participation. As of today, a majority of House members have agreed to co-sponsor our legislation (HR 1351), so we have seen results from the rallies that were held all around the country.
Unfortunately, House Republicans on the Oversight and Government Reform Committee passed by a nearly party-line vote a proposal (HR 2309) that would, among other things, curtail our collective bargaining rights, eliminate up to 220,000 good middle-class jobs, slash our benefits and eliminate Saturday delivery. And Darrell Issa [R-CA], chairman of said committee, will not allow HR 1351 to be voted on.
As part of our counteroffensive, we are circulating a petition to save Saturday delivery. If Saturday delivery is eliminated, as many as 80,000 jobs would be lost, senior citizens would have to wait as many as three days for their medicines, non-union companies such as FedEx would inherit a portion of the Saturday delivery business and fewer people would use the postal service, as Saturday offers us a competitive advantage, as we deliver six days a week.
Also, if we lost Saturday delivery, we would no longer conduct the nation's largest food drive, which normally happens the second Saturday in May, which means millions of distressed American families would not have food on their tables.
To receive petitions for circulation, contact me at 559-708-0033.
Eric Ellis
CSALC District 4 Officer
Fresno