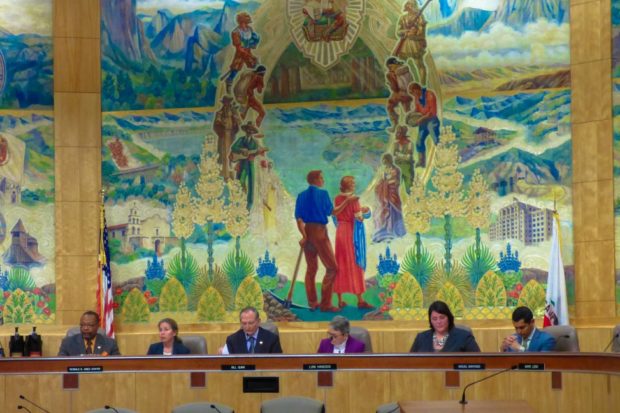 By Jonathan Luevanos
Background 
On Feb. 10, the State of California's Public Safety Committee held an informational hearing intended to address the problems of law enforcement and community trust across the state. The hearing took place at the State Capitol in Sacramento. Although it is obvious that police violence is terrorizing cities across the nation, the Public Safety Committee saw it necessary to address the theme of public safety in California. Judges, attorneys, researchers, professors, students and concerned community members attended the hearing.
While there may already be mobilization against the police in cities such as San Jose, Los Angeles, and Berkeley, the hearing explicitly addressed the holistic inconsistency of policing throughout the state; the goal is to create a standardized and stabilized program that will help make police officer behavior transparent. That way, the public will be able to hold the police accountable, regain the trust of the police in every city in California, and public safety will no longer be a problem in relation to police department misconduct.
According to KQED News, an online blog organization, in 2014, California had "156 incidents involving civilians killed by police. Of these, there were 144 male victims and 12 female. Of the 67 incidents in which race information was reported, there were 34 Latino, 14 black, 15 white, and 4 Asian victims."
Judge LaDoris H. Cordell (Ret.), graduate of Stanford Law School and currently the independent police auditor for the city of San Jose, explicitly advanced eight recommendations intended to ignite a statewide cause to end police violence and repression. Trust, transparency and accountability are the underlying themes of such recommendations. The following is the exact language used to outline the recommendations, which apply to all of the police departments in the state of California.
Eight Recommendations 
Require all police departments in California to collect data on officer-involved shootings and establish a statewide nonpartisan office to maintain the data and to produce annual reports available to the public.
Require all police officers in California to periodically undergo crisis intervention training and establish a statewide crisis intervention, best-practices protocol especially for shootings of unarmed individuals with mental health problems.
Require all police departments in California to equip their officers with body-worn cameras and, more important, develop a statewide, uniform best-practices protocol for the operation of body-worn cameras and ensure that the protocol is available to the public.
Conduct a study to determine the best practices from the investigation of complaints from members of the public about biased-based policing. Complaints from the public are never sustained. Complaints on racism are never sustained.
Require all police departments in California to collect data on detentions of pedestrians and drivers and establish a statewide nonpartisan office to analyze the data.
Require that independent prosecutors make decisions about whether to criminally prosecute police officers for officer-involved shootings and uses of excessive force. Prohibit the use of criminal grand juries in these kind of cases. Right now, district attorneys make decisions and have a cozy relationship with police officers. To establish trust, decisions should be made by independent prosecutors.
Furthermore, the criminal grand jury should not be utilized. It is secret, it is not adversarial; it is run solely by a prosecutor. To establish trust, there should be a preliminary examination, an adversarial hearing, where both sides are represented by counsel and it's available to the public.
Require independent civilian oversight of all complaints of misconduct of police officers. All police departments should be required to have independent civilian review. If not, we end up with the police policing themselves; there is no accountability, there is no transparency.
Require that all police departments in California make their duty manuals or book of rules available to the public. We, as members of the public and taxpayers, should know what rules guide our police. For example, one should know the rule in Oakland for recording police officers.
Cordell outlines the proper action that is necessary to be able to start a normalized and structured program of public safety across the state. If inconsistency in policing is prevalent across California, then it is imperative that one must consider the recommendations. If these recommendations are applied, taxpayer money can be used properly and correctly, trust can be established and transparency and accountability of police officer behavior is further secured for the public.
In the report by KQED, of the 67 incidents in which race information was reported, more than half are Latinos. This means that it is plausible to consider that Latinos are predominantly subjected to police violence in California and, derivatively, that Latinos are subject to police violence in Fresno and the Central Valley.
There have been 80 police murders since Fresno Police Department Chief Jerry Dyer started in 2001, and no political official in Fresno has properly addressed police violence. Political leaders such as Dyer, Mayor Ashley Swearengin and Sheriff Margaret Mims only contribute to the development of a prison industrial society. Because proper political representation is lacking, one is urged to consider Cordell's statewide recommendations.
*****
Jonathan Luevanos Felix may be contacted at jluevanosfelix@gmail.com.