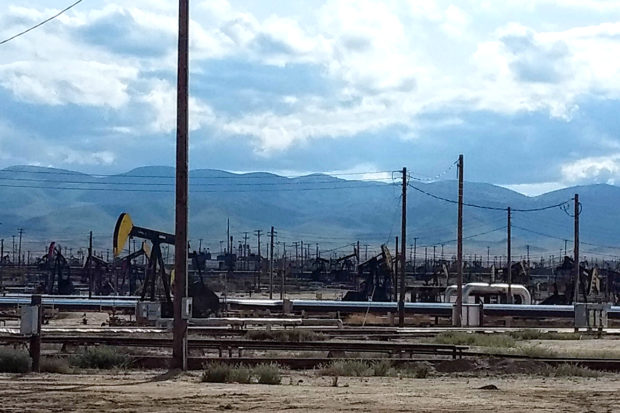 By Vic Bedoian
The Kern County Board of Supervisors (BOS) has adopted a controversial ordinance allowing oil companies to expand production and bypass full environmental analysis, despite years of opposition and litigation. A 2015 land-use ordinance was crafted by the oil industry and Kern County staff.
Although the BOS vote has revised the 2015 ordinance, front-line communities and environmental health advocates warn that more oil and gas production will exacerbate climate change and adverse health impacts on communities of color. Environmental advocates swiftly filed a lawsuit against Kern County over the revised oil and gas ordinance.
The BOS heard from hundreds of concerned citizens by phone and voicemail for and against allowing nearly 2,700 new oil wells a year for the next 15 years. That amounts to 43,619 new oil and gas wells countywide.
The revised ordinance allows a streamlined permit system for all petroleum operations, instead of imposing more rigorous, and more costly, environmental reviews for each project. To critics, it is essentially a rubber-stamp process that waters down the traditional environmental impact review procedure.
Instead, the BOS adopted a supplemental Environmental Impact Report (EIR) after its initial attempt was litigated and then found inadequate by the Fifth District Court of Appeals. Kern Supervisors accepted that version and voted unanimously to change their land-use planning ordinance. In exchange, oil companies agreed to adopt minor environmental mitigations and fees.
"[With] the oil and gas ordinance in 2015, [the] EIR created a comprehensive, streamlined permitting system for oil and gas activities in Kern County, imposing new standards and conditions for oil and gas, exploration, development and production," says Catherine Reheis-Boyd, president of the Western States Petroleum Association (WSPA), expressing the major themes stressed by the industry and its proponents.
"The EIR introduced many new restrictive and costly requirements and mitigation measures, which significantly affect industry operations," added Reheis-Boyd. "Nevertheless, [the] WSPA strongly supported them and continues to support them."
Other supporters include local business groups, labor unions, oil workers and the school board. They stressed the importance of Kern County's oil industry for good-paying jobs, economic opportunities and financial support for local institutions.
Many pointed out that producing petroleum locally is more secure and environmentally sound than imported oil. Kern County accounts for 70% of the state's oil and 80% of its natural gas.
Oil has ruled Kern County for a century. But growing awareness of its outsized role in climate change has spurred local opposition from residents who point to its health and environmental cost.
Ingrid Brostrom, assistant director of the Center on Race, Poverty and the Environment (CRPE), one of the groups that filed a lawsuit challenging the 2015 ordinance, said, "We want a strong and stable economy. We want good, plentiful and accessible jobs for Kern residents. And we want communities that are healthy with clean air and water.
"However, this ordinance offers none of these things. Instead, oil drilling has become a liability for the county. Oil production has been in continual decline since 1985. California's oil is low quality. It's heavy, it's expensive to extract and it's only becoming increasingly more so."
Local farmer Keith Gardenier was also part of the lawsuit that ultimately required the county to revise the 2015 ordinance. Although expressing support for the oil industry, he raised concerns about the revised environmental review, asserting that it still adversely affects agriculture.
"Instead of making the EIR better, the current EIR removes mitigation for farmland loss while the old EIR required conservation easements, which are used all over California to protect farmland. [The] new EIR throws these away, and it puts huge new loopholes in the mitigation," states Gardenier. "It does include the removal of old oil equipment.
"In the end, the ordinance allows oil drilling to put thousands of acres of good farmland out of production. The oil industry should fully make up for that loss acre for acre. This is what CEQA (California Environmental Quality Act) requires.
"Instead, the county wants to adopt a statement of overriding considerations suggesting that real mitigation for farmland loss is infeasible and that the county's tax dollars from oil revenues are far more important than the loss of our farms."
Many people living in fenceline communities surrounded by oil fields spoke about the myriad of health problems either exacerbated or caused by the region's notoriously bad air quality and expressed concerns about groundwater pollution from oil production.
Cesar Aguirre lives in Kern County and is part of the Central California Environmental Justice Network. He summarized some of those worries, "Their actions put our soil and water in danger. The wastewater that they use is sometimes used on crops, and with a drought coming, farmers may be forced to use this.
"Trade secrets protect the chemicals that are in this wastewater and may be putting farmworkers and the people that consume the product in danger. And if it's not put on crops, it is injected into the ground.
"A study in 2016 here in Kern County showed that injecting oil wastewater produced a series of earthquakes in our home county. It puts our air in danger. Half of the PM 2.5 created in Kern County comes from six companies. All of those companies are oil companies."
Another point of contention was the proximity of oil wells to where people live. Environmental and health advocates have long claimed that oil wells should be at a distance of at least 2,500 feet from home and schools for safety.
José Gurrola was a City Council member and former mayor of the fenceline city of Arvin. He pointed out that nearly all oil wells are located in disadvantaged communities of color: "1,300 wells approximately [were] constructed, or were allowed to be drilled, within 2,500 feet. The science is clear that the 2,500-foot setback is necessary to be a health protectant of the community.
"In Arvin, we adopted a 300- and 600-foot setback. And I'm glad to see that there is some improvement in this ordinance, but it's not enough."
Gurrola suggested that the city would have insisted on a setback of 2,500 feet but did not have the necessary financial clout to beat back the threat of litigation from Kern County.
There was pushback by county staff against concerns such as setbacks, air quality and farmland impacts. But in the end, even the most ardent supporters of the oil industry concede that the future lies with renewable energy.
Until then, oil is still king of Kern County.
"You know, we all realize that change is inevitable," BOS Chair Phillip Peters concluded. "New technologies, new innovations will eventually change the way that we produce and consume energy in the future. But while we're looking toward that, I don't think we can ignore the present."
Oil industry proponents made pains to point out their support for green energy development, emphasizing that both fossil fuel and renewable energy can live side by side. County staff touted Kern County as a leader in the state's solar and wind energy portfolio.
Even Chevron, the biggest player in the county, is already investing in solar farms. That was about the only point of agreement between industry supporters and critics, who said county leaders should act more quickly and boldly to transition away from fossil fuels and create a green energy economy.
Environmental groups have wasted no time in challenging the revised oil and gas ordinance. Kern County is being sued by national organizations, such as the Center for Biological Diversity (CBD) and the Natural Resources Defense Council, and the Sierra Club, along with several local groups including the Committee for a Better Arvin, the Committee for a Better Shafter and Comité Progresso de Lamont.
Hollin Kretzmann, an attorney for the CBD, says that he views the revised ordinance as an egregious violation of state environmental protections and community right-to-know laws.
*****
Vic Bedoian is an independent radio and print journalist working on environmental justice and natural resources issues in the San Joaquin Valley. Contact him at vicbedoian@gmail.com.