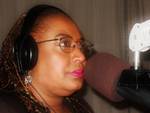 By Jean Kennedy
I am 3,000 miles away from the KFCF studio, and Dallas Rivera, my engineer, finds a way to get our show, Keeping It Real (KIR), on the air every Tuesday at 9 p.m. Pacific time (midnight Eastern time) rain or shine. Do not underestimate our youth.
Dallas knows his routine each Tuesday. He comes into the KFCF studio around 7 p.m. and, along with his father John and my co-host Willo Green, makes sure the studio equipment is operational (no surprises) to get me on the air for my show.
My fear factor works overtime whenever I see an e-mail informing the KFCF radio host volunteers of an equipment problem. For me, that type of news creates a level of anxiety being so far from the studio. But thanks to Dallas, his technology skills keep me calm, and he works his magic every Tuesday evening to getting me on the air despite my being in another state. Dallas assured me that he could manage the technology to keep our show on KFCF, and he's been doing a great job.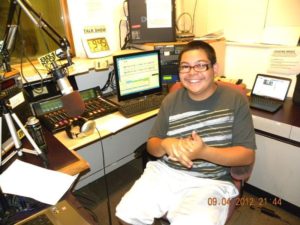 Dallas never fails to maintain a cool head when it comes to my show's expectations. He checks the mics, makes sure our signature prelude song "One Love" is ready to be played at 9 p.m. He lines up the KFCF promos during our station identification. He checks the phone lines to make sure they will take my call-in guests. He ensures that one phone line is always dedicated to me as I remote my show in. Then we use our own Internet connection as preferred by KFCF to connect our Skype, Facebook and live Ustreaming. We bring our own broadband to avoid incurring any usage charges to KFCF; we even bring our own laptop into the studio each Tuesday.
At 8:45 p.m., I am Skyped into the KFCF studio where I have virtual face-to-face contact with my team and guests. Our studio guests are in at 8:30 p.m. for mic checks, and John sets up our live Ustreaming whereby you, the listening audience, can see us live in the studio. Ustreaming allows us to invite our listening audience right into the KFCF studio to see the KIR team in action. Our adopted motto is "we are the radio show you can see." Green, my co-host, does the portion of the show on social injustice issues, including prison issues.
I know that Dallas believes in my show, and he's not afraid to use appropriate technology. His skillset makes it possible to keep my radio show on the air. In fact, our 9/11 show had more than 90 hits on our KIR Web site. Dallas arranged the YouTube on our Web site and will be posting our show: "The Pink Elephant in the Room." Because KFCF has had difficulty securing archival shows, Dallas will be placing our archival shows on our Web site www.keepingitrealwithdrjeankennedy.org.
So why feature a story on Dallas? What you don't know is that Dallas was on his way to being a "dropout" from school about a year ago. Dallas represents many youngsters who are not motivated or challenged in the educational system. Dallas enjoys technology and exploring computer applications, and radio has given Dallas an outlet to explore his talents.
When I met Dallas, he was not enjoying school, or "fitting in," and not getting good grades. I remember Rev. Floyd Harris, Jr., saying to me, "What a brilliant kid. What can we do to save him from becoming another statistic?"
So when we sat in the Riveras living room, Dallas was given an ultimatum: "Young man, you can join my radio team if you work at bringing your grades up, and stay in school." Today, Dallas is being successfully home schooled. His grades have improved, and he is earning five school credits for volunteering on the radio show. This 15-year-old is KFCF-certified both as a board operator and as a radio co-host. I say "big ups to Dallas Rivera." Don't count him out. I am proud of Dallas.
We invite you to listen every Tuesday from 9 p.m. to 10 p.m. Pacific time (midnight to 1 a.m. Eastern time; streamed live at www.kfcf.org) to our radio show, Keeping It Real with Dr. Jean Kennedy.
*****
Dr. Jean Kennedy is a program host on KFCF. Contact her at KFCF/News Article, 1449 N. Wishon Ave., Fresno, CA 93744, Attn.: Dr. Jean Kennedy.