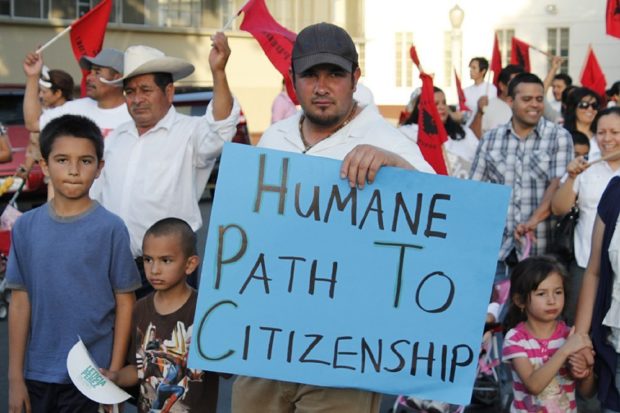 By Samuel Molina and Giselle Gasca
In 2017, immigrant allies and advocates, including Mi Familia Vota, spent much of their time advocating for the continuation of the Deferred Action for Childhood Arrivals (DACA) program and then the DREAM Act, especially once DACA was rescinded by the Trump administration. But these programs are proposals offered as piecemeal approaches to solving our much larger immigration problem.
There are approximately 11 million immigrants who might qualify for a pathway to citizenship, but the DREAM Act is estimated to offer only 1.2 million DREAMers a pathway to citizenship after they have successfully completed conditional permanent residency of eight years and then another five years as lawful permanent residents. So why is this something we are suddenly forced to settle on?
Immigrants bring much richness to our country and our community not only in economic contributions but also in breathing new life into our society providing new ideas, creating new businesses and offering a variety of new foods, music, dances and perspectives.
In the fight to protect DREAMers, many are left in the shadows wondering if they will be brought back to the forefront of the conversation. When will activists return to the original mission of protecting all immigrants? With so much at stake, the fight must continue for a respectable and dignified immigration reform bill.
Let us review some of our current immigration policies so that we can understand what exactly makes it difficult for immigrants to obtain documented status. Under current immigration law, it can take years for U.S. citizens trying to sponsor a family member to process their cases. For example, if you are a married son or daughter born in Mexico of a U.S. citizen, your estimated time is approximately 23 years before you can act on your petition. Moreover, there are long waiting periods for parents, siblings and spouses of U.S. citizens, which can take two to 25 years and that is only if the number of visas given for that specific year has not been reached already.
The number of applications each year exceeds the number of visas allowed, which increases wait times and lengthens the time that a family could be separated. This is further proof that immigration is an issue that affects the lives of not only those without documented status but also the lives of U.S. citizens. Among the countries most affected by our poor immigration policies are China, India, Mexico and the Philippines, all of which have the longest wait times for family-sponsored cases. The thought of having to be separated from your family that long is unreasonable; to put it plainly, our immigration laws are outdated and need to be updated.
Countries such as Canada and France have visa programs that welcome new immigrants who are willing to contribute to the country, allowing them to apply for residency and eventually citizenship. These programs allow immigrants to contribute to their new countries and reside there without fear of deportation. For example, the skilled workers' program in Canada or the long-term/extended visas program in France allows you to work and obtain residency after a certain amount of time living there.
If other countries can implement these policies and welcome immigrants, why can't we? We all know this country was built by immigrants, and it's evident that we can do better when it comes to immigration policies. Nevertheless, there are many examples of good immigration policy that the United States can learn from, but we must be willing to make the effort.
Because the DREAM Act only helps young immigrants and work experience and education are required, parents are left in the shadows still fearing deportation. Piecemeal approaches are long, enduring and leave large gaps. A holistic approach to immigration policy would require a broader immigration reform bill.
Last month, Democrats and Republicans failed to reach agreement on a budget by the mandated deadline creating a government shutdown. Rep. David Valadao (R–Hanford) and every other Central Valley Congressional representative signed onto the Continuing Resolution, even though each of them said they wanted a solution for DREAMers. It is apparent that this Congress isn't concerned with compromising on good policy; rather, it is more concerned with extremist views of how to keep everyone else out of our country.
We cannot stop, and we will not stop until we get a fair and comprehensive immigration reform bill for all immigrants.
*****
Samuel Molina is the California state director of Mi Familia Vota; contact him at samuelm@mifamiliavota.org. Giselle Gasca is the Fresno regional coordinator of Mi Familia Vota; contact her at giselleg@mifamiliavota.org.