By Vic Bedoian
Immigration was the dominant issue discussed at a town hall focusing on agricultural issues held in Fresno on April 13. The forum was sponsored by local Fox television affiliate, KMPH, and was broadcast live to other Fox stations nationally. The common theme emerging from the event focused on finding some way to legalize undocumented workers who are after all the basis of the Valley's economic fortunes.
The panel included local Reps. David Valadao (R–Hanford) and Jim Costa (D–Fresno); Manuel Cunha of the Nisei Farmers League; Mario Rodriguez, chair of the Hispanic 100 political action committee; and Victor Davis Hanson, a conservative columnist with the Hoover Institution. But before the event started, there was a demonstration outside by the United Farm Workers who were disappointed that there was no representation on the panel from those who labor in the fields.
Oscar Mejia, through translator Art Rodriguez, said that all stakeholders in the ag economy should have been included, especially as government deportation actions are on the rise, "These people come here merely to work and just to provide an honest living for their families and having to deal with [the fact that] they're doing the work that many Americans don't want to do."
Cunha heads a Valley-based advocacy group, the Nisei Farmers League. He said the fears of deportation have been fanned, not by the Trump administration's actions but by big-city liberals, "Many of the community have been concerned about all the immigration issues and the scare tactics that have been going on by safe cities, harbor, you know sanctuary cities."
Cunha insists that recent news reports about immigration raids and arrests of undocumented immigrants are untrue and overblown. "ICE (U.S. Immigration and Customs Enforcement) has got to be responsible, but the fear factor of say they've been doing all this stuff is not the case and that's not the way to deal with it."
Cunha's statement runs counter to the facts. He is either in denial or willfully ignorant that, according to the Washington Post, 5,441 undocumented residents with no criminal record have been deported since Trump took office. Cunha did say that he knows of no ICE raids of local farms or packing houses. Nonetheless, law-abiding immigrants nationwide are living in dread, especially since the recent deportation of people who are part of the Deferred Action for Childhood Arrivals program. That's despite reassurances to the opposite made by government officials.
Hanson, formerly a Fresno State history scholar-turned-conservative mouthpiece, stated that immigration has become a political football, alleging that Democrats are primarily to blame.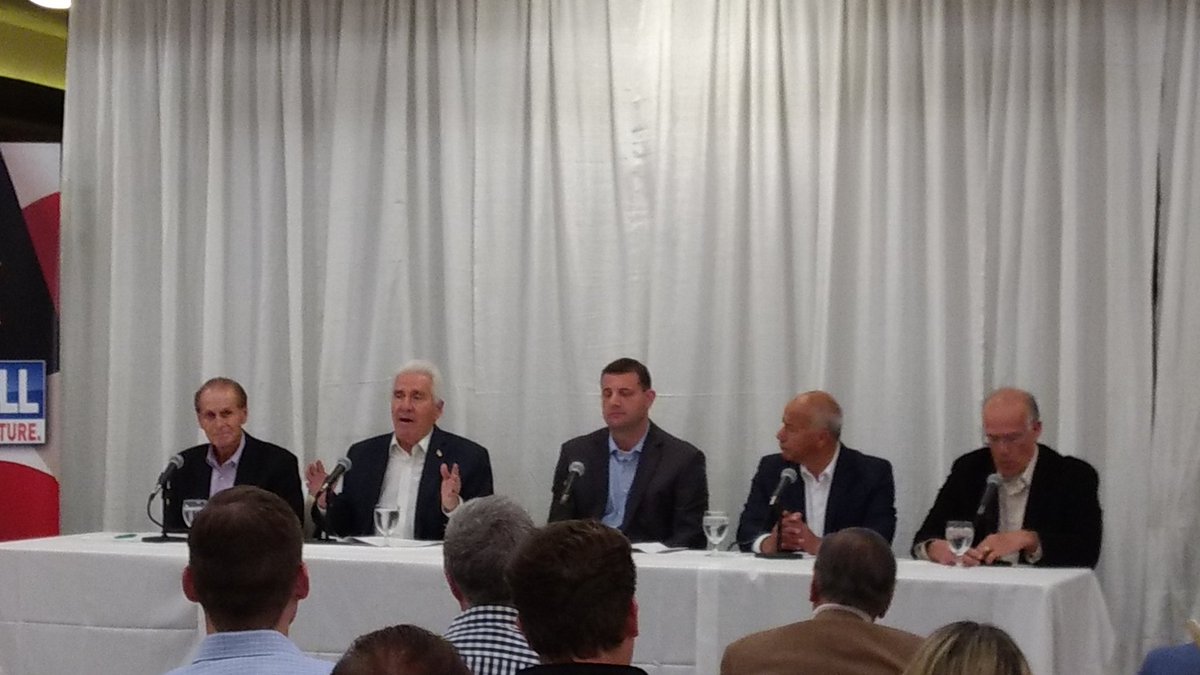 Dennis Simonian came seeking a solution to the immigration crisis. He's a farmer who grows grow different fruits and vegetables that are sold at his popular farm stand at Jensen and Clovis avenues near Sanger. His grandfather was an immigrant from the Ottoman Empire who began farming here more than a hundred years ago.
Simonian worries the Valley's agriculture would be devastated by the mass deportations threatened by the Trump administration, "These people that are here working on the farms they're honest, they work hard. They need to get immigration. They need to legalize these people. That's what we need to do. We cannot just deport them and get them out. We need to let them become citizens and legalize them."
Simonian said that his employees are paid more than minimum wage and have access to health insurance, in stark contrast to others in the ag sector, and many of them have worked in his business for years and even decades.
Simonian remembers the bad old days when the U.S. Border Patrol invaded his farm and store, chasing down hard-working immigrants to be hauled off to Mexico without any due process. That was before the 1986 Reagan-era immigration reforms that granted amnesty to workers who had been coming to the Valley to tend vineyards and orchards and pick the crops that enriched the local economy.
Jessica Perez was in the audience and works in agriculture. She believes that providing legal status for undocumented immigrants is the only way to assure their safety and the future of the economy. She confirmed that many local workers she knows are living in fear, "I feel like we don't get enough respect when we work hard every day to support our families and a lot of these immigrant people are scared of going out to work, going out to do their own shopping because they feel they are not coming back to their own families." The immediate solution for her is to at least provide green cards or some other kind of legal status for people in the country without papers.
Rodriguez is chair of a group called the Hispanic 100. It's a political action committee dedicated to convincing Latinos to vote for Republican Party candidates. It is, as an Orange County newspaper termed, like getting Palestinians to join up with Likud. Rodriguez was the lone supporter of Trump's campaign among prominent Hispanics in California.
Rodriguez insisted that there will be no mass deportation of undocumented immigrants. "Could you imagine what would happen in this country. Just think about it. There's no way it's ever going to happen. I mean in my opinion there's no way that would happen in the United States of America."
It stretches credulity that Rodriguez is unaware that, even as he spoke, it is widely reported that the Department of Homeland Security is ramping up Trump's long promised mass deportation force.
Rodriguez nevertheless asserts that only people he described as "the bad guys" are being detained by immigration authorities. He insists he'll use his influence with the White House to dissuade the government's anti-immigrant rhetoric and actions, "When I have the ear of the right folks in the administration, then I will continue to talk about that and say 'guys, we need to calm down the fear.' We just need to do that."
Rep. Costa was the only Democratic representative on the panel. He was an advocate of the stalled effort for comprehensive immigration reform in 2013 that was supported by the Senate but spurned by Republicans in the GOP-dominated House of Representatives.
Costa says some Republicans in Congress, including Valadao, also support overhauling the nation's immigration system, "A majority of the Republicans, even though 60 or more would support some version of comprehensive immigration reform, and Congressman Valadao supported that bill, the fact is that the majority of that conference is not, and many of them refer to any attempt to reform and fix this broken immigration system as amnesty. It's not!"
Costa is potentially optimistic, perhaps with tongue in cheek, that along with Trump's flip-flops on a range other issues, the President might come up with an acceptable plan to reform immigration, "I hope, that in terms of hope springing eternal, that maybe on immigration he's willing to reconsider some of the horrific statements he made last year during the campaign."
It remains to be seen whether local Republican leaders can finesse their desire for a secure legalized workforce with the barrage of anti-immigrant words and actions coming from the administration, and from a Congress currently dominated by the far-right wing of their party. A recent utterance by Attorney General Jefferson Beauregard Sessions referring to undocumented Mexican immigrants as "filth" implies just the opposite.
*****
Vic Bedoian is an independent radio and print journalist working on environmental justice and natural resources issues in the San Joaquin Valley. Contact him at vicbedoian@gmail.com.