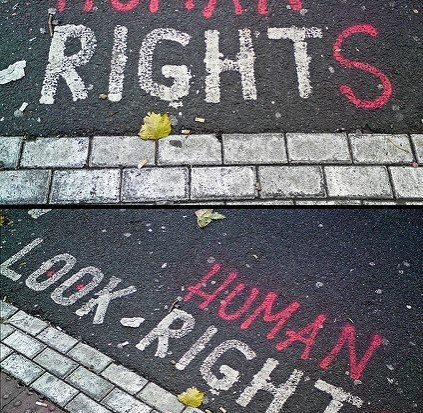 By Leni Reeves 
The news is that representatives of the United States and Cuba met to discuss restoration of diplomatic relations. U.S. Assistant Secretary of State Roberta Jacobson has emphasized that the issue of "human rights" is central to U.S. concerns. Here are recent news items that Jacobson and those in the U.S. government who are concerned with human rights might want to get to work on:
Barrett Brown, working with the group Anonymous, read and analyzed documents from Anonymous's hack into private security firms HBGary Federal and Stratfor Global Intelligence. In September 2012, armed agents entered Brown's apartment in Dallas, Texas, and handcuffed him face down on the floor. He has been in prison ever since, sentenced Jan. 22, 2015, to five years in prison and ordered to pay nearly $900,000 in restitution and fines.
Newly released video from a police dashboard camera shows officers in New Jersey shot and killed an African- American man who had his hands in the air. The video from Dec. 30, 2014, shows Bridgeton police officers Braheme Days and Roger Worley pulling over a car. After apparently removing a gun from the car's glove compartment, Officer Days warns the passenger, Jerame Reid, not to move, saying, "I'm going to shoot you," and "If you reach for something, you're going to be (expletive) dead." Reid appears to say, "I'm getting out and getting on the ground," before standing up with both hands raised in apparent surrender. Both police officers then open fire, shooting at least six times.
After a seven-year legal battle, the diary of a prisoner held at Guantánamo Bay has just been published. Mohamedou Ould Slahi's diary details his experience with rendition, torture and being imprisoned without charge. Slahi has been held at the prison for more than 12 years. In 2010, his release was ordered but is still being held. "The cell—better, the box—was cooled down so that I was shaking most of the time," he writes. "I was forbidden from seeing the light of the day. I was living literally in terror. I don't remember having slept one night quietly; for the next 70 days to come I wouldn't know the sweetness of sleeping. Interrogation for 24 hours, three and sometimes four shifts a day. I rarely got a day off."
Co-coordinator of Voices for Creative Nonviolence Kathy Kelly started serving a three-month sentence at the federal prison camp in Lexington, Ky., on Jan. 23 for her June 1, 2014, protest of drone killings at Whiteman Air Force Base in Missouri. Kelly, who states that drone warfare jeopardizes the security of ordinary people and that the U.S. Constitution protects her right to assemble peaceably for redress of grievance, was arrested when she went with other activists to the gates of Whiteman Air Force Base. They delivered a loaf of bread and a letter to the commander of the base, which operates drones over Afghanistan.
A Detroit police officer, Joseph Weekley, who fatally shot a sleeping seven-year-old girl, will not be retried officials said on Jan. 28. Aiyana Stanley- Jones was killed in 2010 during a botched police raid at her home. Weekley was originally charged with involuntary manslaughter and careless discharge of a firearm causing death, a misdemeanor. After two mistrials and the dismissal of the manslaughter charge by the judge, there will be no legal consequences for Weekley, who claimed that the child's grandmother grabbed his gun, causing it to fire; however, her prints were not found on the gun.
In its first lethal injection execution since a botched one last spring, the state of Oklahoma executed Charles Warner on Jan. 22. It took him 18 minutes to die. His final words were, "My body is on fire." Lawyers for Warner criticized the state for using midazolam, a drug not approved for general anesthesia.
Apparently upset by protests about violent police, Fresno Police Chief Jerry Dyer and the City Attorney's Office created a plan of action. It starts with reviewing social media posts and police video of previous protests, to identify the organizers, who will receive warning letters from the City of Fresno. Dyer says. "We will be seeking out a warrant for those individuals that are in violation of a misdemeanor obstructing a roadway." Bench warrants would be signed by a judge, meaning those arrested would be kept in custody.
The police department will also seek restitution for money spent to send officers to control traffic. He adds that if people really want to protest in the streets, they can go about it the legal way: Obtain a parade permit. Dyer, present at the Martin Luther King, Jr., Day Commemoration in Fresno on Jan. 19, approached organizers in a threatening manner cloaked under a fake smile.
So maybe we should check the homefront first when we start worrying about rights. And, while we're at it, I know this didn't happen in the last few days, but I can't get it out of my mind. Can we talk about 12-year-old Tamir Rice with a toy gun, shot within two seconds of the police car pulling onto the scene, and left to lie unaided in the snow as the cops involved first knocked his sister to the ground and forced her into the police car, then stood around doing nothing for the dying child?
*****
Leni Reeves is a physician, activist, guitarist and volunteer firefighter. Read about some of her Cuba experiences at www.usmdincuba. blogspot.com, and contact her at lenivreeves@gmail.com.