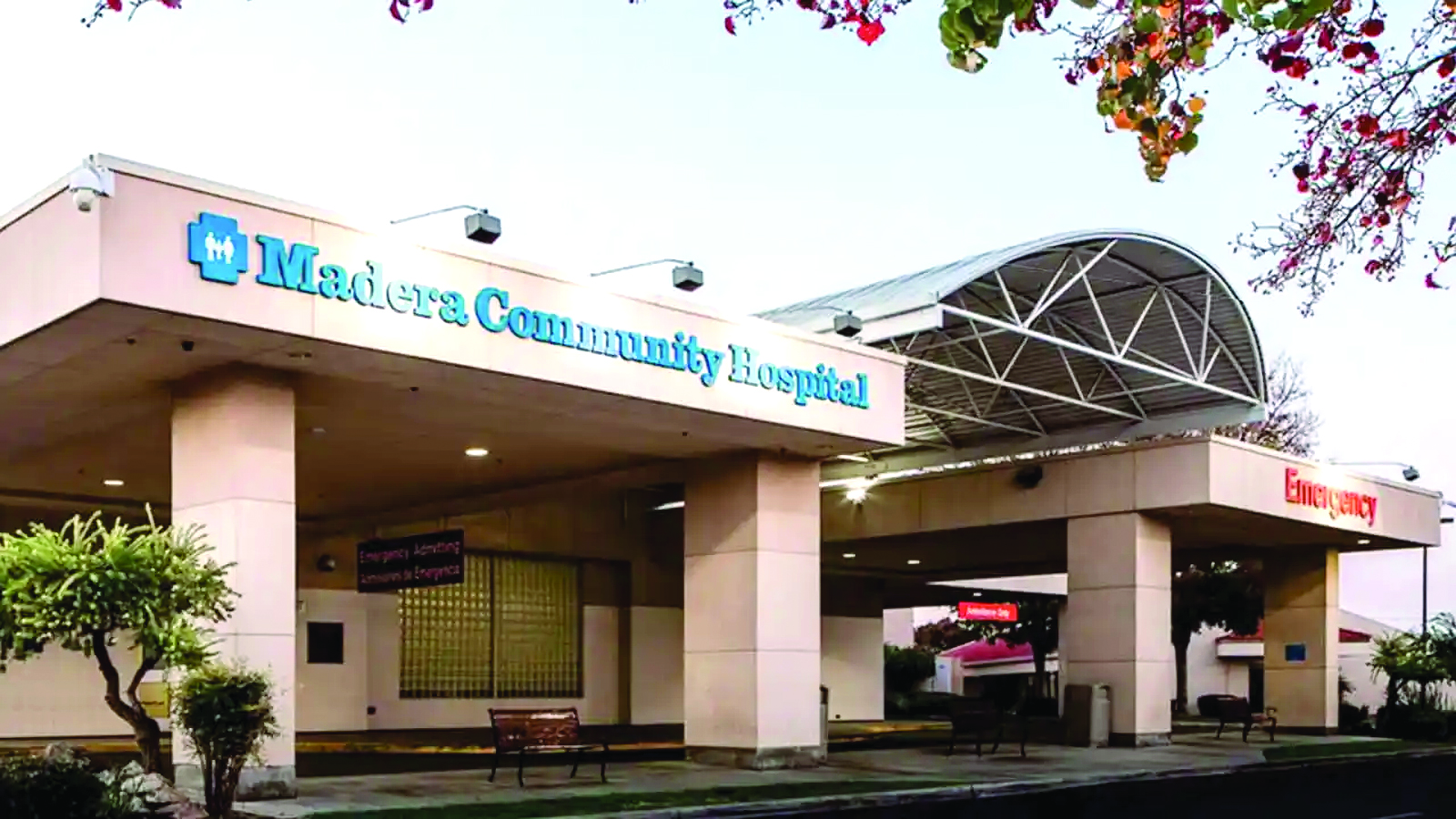 (Editor's note: This story was originally published by Fresnoland (fresnoland.org), a nonprofit news organization.)
For the past 15 years, Tammie Myers worked as a licensed vocational nurse in Madera Community Hospital's postpartum department. Her job was to take care of new mothers and their babies, following birth. She loved the mothers she worked with, mostly Hispanic, whom she described as "very appreciative" of whatever help she gave.
But with the recent closure of the Madera Community Hospital, Myers, who is 64, is newly out of a job. She's within a couple years of retiring and she even set the date—the end of July 2025. Now, she has no income and no health insurance, and is unsure of her next steps after a nursing career that spanned 40 years. Her age, she said, is a big issue.
"I can't go to CRMC (Community Regional Medical Center) and work in their emergency department," Myers said. "I just can't do it. Knees will not hold up."
Fresnoland interviewed more than a dozen community members about the drastic impacts of Madera Community Hospital's closure—including patients, nurses, physicians and housekeepers. They all insisted that losing a critical piece of Madera's health infrastructure is much more than the end of an institution, its bankruptcy or about whom to blame for the collapse.
It's about lives—their own, their families, their patients—and a fatal blow dealt to a largely low-income and underserved community, where cancer and heart disease are the top two causes of death. Besides greatly shrinking Madera's healthcare access, the sudden end of the hospital—which has been around since 1971 and had a staff of more than 700 people—has also stripped its employees of income and health insurance.
Hospital board members have said publicly that Madera Community Hospital began experiencing increased expenses—due to low Medi-Cal reimbursements and travel nurses—at the beginning of the pandemic. Those two factors cut deeper into the hospital's finances, resulting in up to a $2.5 million monthly shortfall for the second half of 2022, said Robert Poythress, who serves on the Madera County Board of Supervisors and was secretary of the hospital board of trustees.
While hospital board members have spoken to Fresnoland, repeated requests for interviews with the Madera hospital's administration were not returned.
No Emergency Room between Merced and Fresno
Not only have Maderans lost the only general acute care hospital in their county, they're also at least a 30-minute drive away from the closest hospital with an emergency room. (Valley Children's Hospital, in southern Madera County, has an emergency room but serves only youth.)
"If you have a car accident, you have to go to Fresno," said Jonathan Mayer, an OB-GYN practitioner who provided services at the Madera Community Hospital.
"If you have a heart attack or stroke, you've got to go to Fresno. If you're in labor, and there's a problem, you've got to go to Fresno or Merced. If someone needs acute care, and there's [a] delay in transport, it can mean the difference between life and death."
Today, there's not a single hospital emergency room in the 55 miles between Merced and Fresno.
"Patients are going to die," Mayer said.
On Jan. 9, Muhammad Ashraf, a cardiologist who has worked in Madera and Fresno for more than 40 years, saw a patient at his Madera office—a woman in her 80s with multiple health conditions. She paid him a visit because she was having chest pain and needed medical attention.
Ashraf determined she needed to go to a hospital. The woman said she has no family, no friends—no one—to take her. Ashraf said an ambulance could, so together, they called for one.
The operator asked whether Ashraf's patient was having a heart attack. If not, the ambulances were too busy to take her to a hospital.
"So she went home," Ashraf said. "She could not go to the hospital. The ambulance would not take her—of course the ambulance was busy. Where would this patient go? This is just one example."
Ashraf added that in one day, about 10% of patients in the emergency room have heart-related issues. After the Madera hospital's closure, Ashraf said there isn't a single facility in town that can perform a CT scan—key to making critical diagnoses, including brain damage, heart abnormalities and cancerous tumors.
"At this time, if I wanted a chest X-ray, I cannot get one," Ashraf said. "It is really very sad that we came to this stage."
The hospital also operated rural clinics in Madera, Chowchilla and Mendota—where patients could see specialists, including cardiologists, gynecologists and dermatologists—making the hospital the focal point of healthcare infrastructure in Madera County.
Madera Hospital Closure Causes Panic
Being a half-hour drive away from adequate healthcare and critical health diagnoses will have grave impacts, especially with community health needs the way they are.
Stephanie Martinez, 35, is a mother to seven children who were all born at the Madera Community Hospital. She was born there herself. Her husband worked in the hospital's maintenance department and lost his job.
In addition to losing the family's sole income, Martinez is anxious about her three-year-old daughter's medical situation and what she would do in the case of an emergency. Martinez gave birth to her at 26 weeks. She weighed only one pound and seven ounces and her lungs were underdeveloped, leading to recurring health issues.
On two occasions, Martinez has had to take her daughter to the emergency room after she fell sick and was having difficulty breathing. In both instances, Madera emergency nurses got her daughter stable before transporting her to Valley Children's Hospital.
"What if there was an emergency and I had to take her somewhere really close?" Martinez said. "And I call the ambulance, and they're all full? What am I going to do? It's scary. It's really, really scary."
While she heard some news about the hospital closing in January, Aliyza Zamora, 22, didn't think it would affect her scheduled appointment to check on the health of her baby the day before her due date.
But when she showed up at the hospital on Dec. 29, staff told her they would not be able to perform the nonstress test appointment she had previously scheduled. The hospital's closure threw off her plans.
"It was nerve-wracking because I didn't know what hospital to go to or what doctors or whether I was going to be able to do my delivery," she said.
Zamora ended up at Saint Agnes Medical Center in Fresno and gave birth on her due date, but not the way she planned—with the rest of her family, including her partner's side, and friends also there.
"It just wasn't the same, close to home with my mom and everybody able to come in and see me," she said.
Olga Breazel, who worked at the Madera hospital for 28 years, remembers a period around 2014 when there were rumors that it would be closing. Patients came to the door crying, saying they were told they'd need to go to Fresno to see a doctor.
"Those patients are still out there," said Breazel, who has been a registered nurse for 19 years. "Same patients that didn't have a car, they still don't have a car. They still don't have a way to get to Fresno."
Blindsided Employees and a Merger Deal Gone Wrong
Madera hospital's employees found out about the closure on Dec. 23, the same day it was publicly announced. At a company town hall meeting that morning, the hospital CEO, Karen Paolinelli, made two major announcements: Madera hospital would be filing for bankruptcy and Trinity Health Corporation backed out of a merger deal that would have made it the new owner of Madera Community Hospital.
This came after Attorney General Rob Bonta assessed the deal, as is required per California law, and issued conditions that would require Trinity Health to make several commitments to "protect the communities in Madera County and their access to affordable healthcare," according to a press release.
After Bonta presented his conditions, Trinity Health "representatives did not make any good faith effort to engage with us—on the Medi-Cal rates or on any other details—and did not contact us after the conditions were issued," a spokesperson with Bonta's office wrote in an e-mail to Fresnoland.
Trinity Health, which owns Saint Agnes Medical Center, along with more than 80 other hospitals across the country, did not respond to e-mailed questions from Fresnoland. Trinity Health backing out of the merger deal meant there was no one saving the Madera hospital from bankruptcy.
It's unclear whether Madera Community Hospital's administrative leadership did enough to keep its doors open, and whether it positioned itself poorly in the merger deal. Nothing kept Trinity Health from backing out after giving the already distressed hospital a $15 million loan at the end of the summer.
Board members have blamed the financial state of the hospital on low Medi-Cal reimbursement rates and the high cost of travel nurses. With mounting monthly shortfalls in 2022, hospital board member Poythress said they were not in a dominant position in the deal.
"We were really in no position to negotiate," said Poythress in an interview with Fresnoland. "We had signed an agreement with them (Trinity Health): take the First Deed of Trust—they loaned us money with the idea that we're moving forward to an affiliation. Unfortunately, that didn't happen."
When the Madera hospital was seeking a new owner, it didn't garner much interest due to its financial state, said Poythress. CRMC and Saint Agnes Medical Center were the only two legitimate interested parties, the latter being the most sound option, Poythress added.
Trinity Health "is in a very senior position," Poythress said. "We will be working with the courts to see if there is a solution outside of liquidating."
Between 2012 and 2021, Madera Community Hospital's annual revenue ranged from $171 million to $205 million and its annual operating expenses, along with healthcare deductions, ranged from $172 million to about $212 million. During the same decade, the hospital's average annual profit was about $1.5 million. The hospital's total assets in 2021 were $91 million.
The most recent annual financial reports indicate that in 2020, the Madera hospital had about a $1.07 million shortfall and, in 2021, it had about a $2.39 million shortfall, according to California's Department of Health Care Access and Information.
The hospital's 2022 annual financial report is not yet available.
"They pulled a fast one on us"
Former hospital staff shared sadness, despair, betrayal, anger and grief in interviews with Fresnoland. Although hospital staff were told by management they'd have medical insurance until the end of January, they quickly found out that would not be the case.
Breazel, the former registered nurse at Madera Community Hospital, said the closure was abrupt, especially since she soon found out her last day at work would be Dec. 30. She was also told her medical coverage would actually end the following day. How was she going to afford her medication, including an inhaler for her asthma? Or how would she pay for her son's visits to Valley Children's Hospital every six months?
"For them to tell us, 'OK, so your department is closing on Jan. 3'—that was already a shock," Breazel said. "Then to call us on the 30th and say, 'You're laid off as of today, and you will not have insurance in January'—it was a slap in the face."
Jaimi Kilcrease, 58, worked in the labor and delivery unit at Madera Community Hospital until she was notified through a Dec. 30 phone call that she was being laid off and should not come in to work on Jan. 2, her next scheduled shift.
With a B.S. in nursing, she had few worries about getting another job, but she had a health concern that needed immediate medical attention. With only a day to sort things out, she canceled all the appointments she had barely managed to schedule.
"They kind of pulled a fast one on us," Kilcrease said. "In the blink of an eye, I had no health insurance."
Diane Perez, 54, started working at the hospital when she was 18 and, since then, held different roles at its kitchen and cafeteria. Most recently, she was a dietary aide preparing and serving food and providing hot meals to patients.
"I did everything I was asked," said Perez, who never finished high school and does not have specialized skills that could help her get another job. "Now, I have no income. I have to go to social services to get EBT."
Guadalupe "Nena" Falcon, also a nurse on the labor and delivery floor, said it was the connection she felt with her colleagues and patients that kept her at Madera Community Hospital. "We were a family," she said.
Falcon shares a home with her mother, daughter, son-in-law and four grandchildren. She worked at the Madera hospital for 28 years and said it's hard to move on. While she is in high demand as a registered nurse, she wonders whether she can find another place where everyone—doctors, nurses and support staff—work in unison to support their vulnerable patients.
"I've thought of going to CRMC or Saint Agnes," Falcon said, "but will I be allowed to take as much time as I need with a patient? To really make a difference?"
County Scrambles to Restore Medical Services
In the months leading up to Trinity Health backing out of the merger deal and the announcement of plans to file for bankruptcy, Madera hospital leadership sought help from the City of Madera and Madera County. They sought federal relief dollars allocated to the city and county from the American Rescue Plan Act (ARPA).
Madera's city officials decided against giving the hospital $1 million for capital projects—usually expensive, long-term investments in building or improving facilities and infrastructure—considering the City had already allocated a bulk of its ARPA funds to sewer and water projects it desperately needed. However, the Madera County supervisors approved giving $1 million to the hospital to expand its pharmacy department.
It is unclear why Madera Community Hospital sought ARPA funds for capital projects instead of increased operation and payroll costs—especially when the hospital's board members have claimed the cost of travel nurses cut deep into the hospital's money reserves. Fresno County allocated $10 million to its local hospitals for Covid-related cost increases including travel nurses.
Poythress said he and his colleagues on the Madera County Board of Supervisors were under the impression that they could not allocate ARPA funds to operational expenses, despite hearing about neighboring Fresno County doing so. He added that by the end of the hospital's run, travel nurses accounted for about 40% of payroll, making up to $200 an hour.
The Madera hospital's former employees are greatly upset about the hospital's closure. Worst of all, there are few concrete answers.
"There's no clarity as to what really was the problem, other than ugly rumors about Karen Paolinelli (CEO)," said Kilcrease, the registered nurse. "I can't seem to get any clarity, or peace."
What Happens Next? It's Complicated.
Madera Community Hospital's closure has caused three hospitals in Fresno County to take on its emergency patient volume. Stacked atop flaring Covid-19, flu and respiratory illnesses during winter months—which are crowding hospital emergency rooms and beds—Fresno County hospitals already have a lot on their plate.
"All of these factors are straining our hospital system and depleting our resources," said Robyn Gonzales, vice president of operations for CRMC in Fresno. "If there continues to be an increase of patients coming in, then the need for increased resources to treat them also grows."
Saint Agnes Medical Center's emergency room is also seeing an influx of patients for similar reasons, including Madera's hospital closure. "We are extremely busy and while ED wait times are longer than we would like, our staff and physicians are doing everything possible to accommodate every patient who comes through our doors," said Kelley Sanchez, a hospital spokesperson.
On Jan. 3, the Fresno County Board of Supervisors declared a state of emergency due to the increased patient volume at its hospitals. On Jan. 9, Joe Prado, the assistant director of Fresno County's public health department, said, "All hospitals in Fresno County were above 100% capacity and one hospital was at 118% capacity."
What's next for the Madera Community Hospital is complicated to say the least. The hospital will enter bankruptcy once paperwork is finalized, which presumably will happen soon.
Right now, even if the hospital were given money by the government or a wealthy donor, it is unlikely the money could even go toward reopening the hospital itself. Moving forward with a Chapter 11 bankruptcy would prioritize settling the hospital's debts.
"Cash contributions to the hospital by the County could be redirected to the creditors, versus utilized for reopening the MCH facility," wrote Madera County Administrative Officer Jay Varney over e-mail.
It also seems that the Madera County Board of Supervisors are leaning in the direction of not simply giving money to the hospital. On top of having identified about $7 million in ARPA funds that could be used to restore vital medical services to the county, staff are currently seeking a consultant who can lay out how much it would cost the county to establish either a healthcare district or a community facilities district.
Regardless, it will take at least two months before a clear plan to restore medical services in Madera County is put into place.
All employees interviewed said they'd return to the hospital if they could have their job back. Some said they'd only return under new management.
Myers, the vocational nurse, said she wishes a rich donor could come in and save the day.
"I would put aside any feelings of anger and disappointment for what they've put us through already," Myers said. "I will go back out there and work till I retire. For me, that's the best-case scenario."