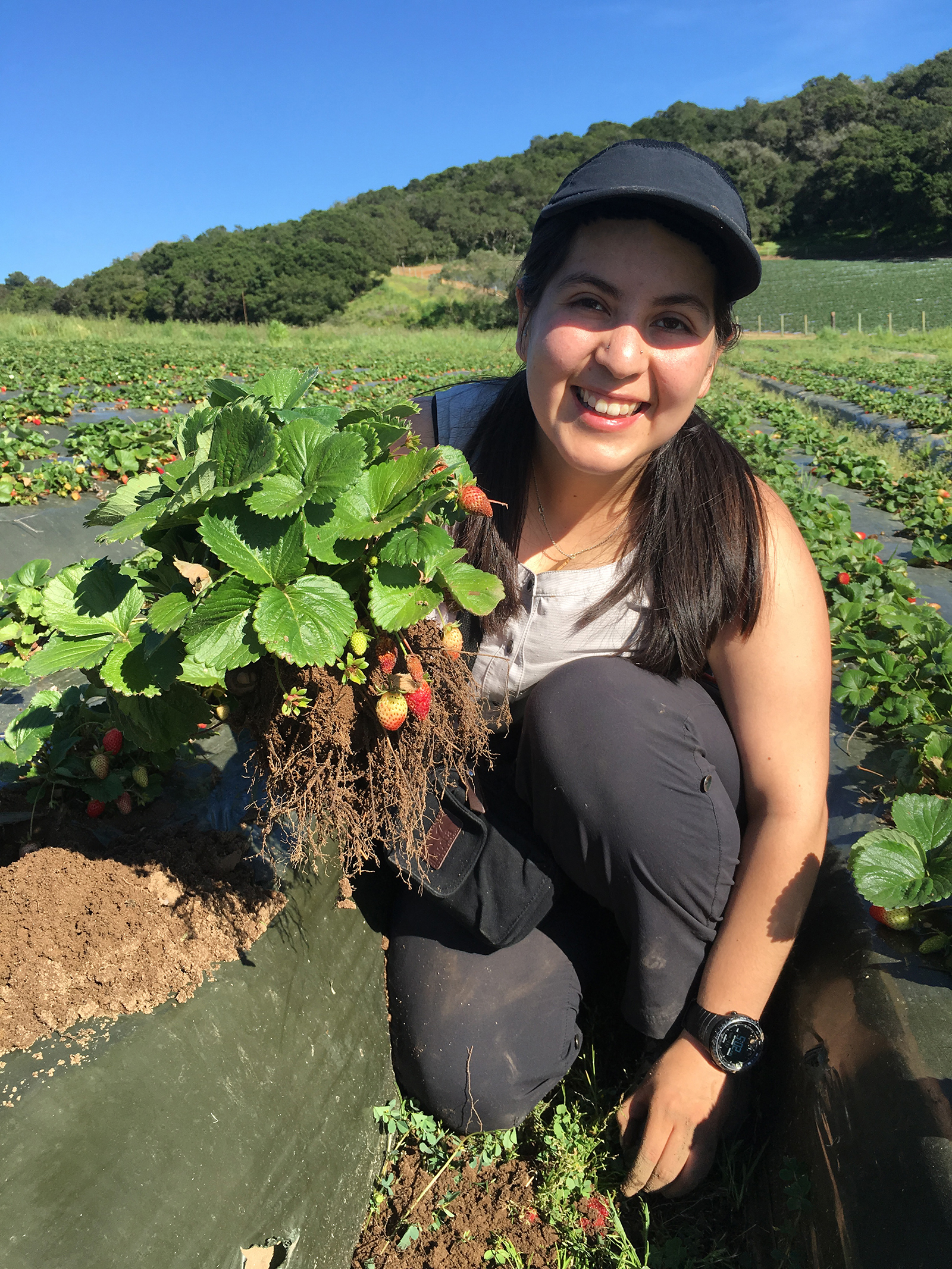 Aidee Guzman, a Fresno County native, is an ecologist who is looking at how agricultural management affects fungi and carbon cycling to examine their relationship and effect on biodiversity. Her work involves collaborating with local farmers who have crop-diverse fields in the Central Valley—a region that is understudied in agricultural research.
Guzman grew up in the small town of Firebaugh, a major producer of tomatoes, located to the west of the San Joaquin River. Her parents were farmworkers who left their farm in Mexico to work in the United States.
"During the early part of the school year, you can smell all the tomatoes rotting from the nearby tomato factory, and I just feel like my whole life growing up was that. A whole lot of agriculture all around me…I just got this anger that hit me when I was young. I felt in my heart that things weren't right where I grew up."
From an early age she knew that she would study agriculture, however, at the time was unsure of the different routes available. She selected the University of Wisconsin–Madison for her undergraduate degree because she saw that it offered programs related to this work.
"I really struggled when I started college, trying to find my place in school," Guzman says. "I wanted to study science, but I was unfortunately not very prepared. For some reason I hadn't used a microscope until I got to college…
"But then I went to my first class in botany. The professor showed this slide with all these different colorful potatoes, and I was just mind blown. She was talking about her work, and I was like 'You can study that? Can you research that?'
"It reminded me of where my family had grown up and all the colorful corn they grew…It was this really cool professor who was Chicano and a plant geneticist, and he said, 'Come work in the lab!,' and I had never worked in a lab before. After that, I was just hooked. I could see myself in the sciences."
Later, she would complete her Ph.D. at UC Berkeley in environmental science, policy and management. She mostly focuses on bees and fungi and their influence but always knew that she wanted to come back and work in the Central Valley.
When considering her graduate school project, she heard of immigrant farmers in the area who used to be farmworkers but started farms themselves.
"My parents left their farm [in Mexico]—their autonomy—to work for this industrial ag system [in America]. It felt so cool to see people who are like my parents take the land back."
As an ecologist, she takes soil samples, extracts DNA and does other lab work. "You think a lot about bees moving across a landscape, or connectivity of patches and flowers in the landscape [as an ecologist]. Agriculture is such a big reminder that it's influenced by humans and driven by the social-political structures in which humans exist."
Now a published scholar in her field, Guzman says there is so much more to be done in agricultural research, specifically, how biodiversification affects ecosystem functions. Further investigating this space can allow for not only ecological benefits but also policy change that can help farmers maintain their land, she mentioned.
"That's another issue too, why it's so important to quantify and highlight this. To be able to capture and gain the benefits from the ecological practices on farms, they need to be there for a long time.
"This is another space where I can see my work fit in. We can show that this is good and [that] we should create policies that can help these farmers create long-term land tenure."
Guzman continues, "I believe farmers also need more resources and capital…We need more of these farmers that are already down" and who are committed to moving toward regenerative practices.
"A lot of the farmers are doing good stuff…I don't have to teach them anything. I have the lab capabilities to quantify which fungi there are or do molecular work, but they are doing the work."
The recent storms have delayed many local farmers' harvests. Guzman is interested to see how the rain might affect her samples and is approaching the next season with curiosity.
"One thing I always think about is this dichotomy in which agriculture exists, like this tool for oppression and colonization," she says. "At the same time, it is also a tool for culture and empowerment, and taking that back and having more pride in that has been important for me."
Guzman is looking forward to staying in academia and continuing to mentor students from the Central Valley interested in ecology and their own community.