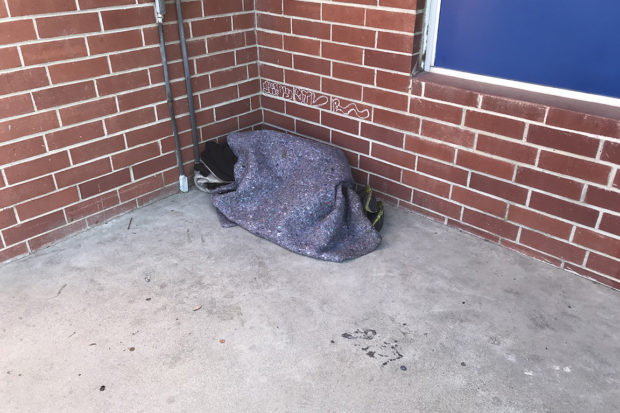 The City of Fresno has a long history of treating homeless people with contempt. Forcing them to move on (with nowhere to go), taking their property and sometimes arresting them for not moving along fast enough. A class-action lawsuit stopped the city from taking and immediately destroying homeless people's property in 2007. More recently, there was a case in Boise, Idaho, that prevents people experiencing homelessness from being cited or arrested for sleeping outdoors when no shelter is available.
Local attorney Kevin Little notes that "Martin v. Boise is a landmark decision for those in need of shelter, as it holds that the Eighth Amendment prohibits any punishment of an individual based on that person's homeless status. Individuals cannot be punished for living or resting on the streets unless the city or town provides adequate shelter to accommodate its homeless population.
"In a city such as Fresno, which has a large homeless population that is severely underserved, the protection Martin v. Boise provides is essential."
In February 2021, lawyers representing homeless plaintiffs and the City of Boise announced a settlement in Martin v. Boise, ending more than 12 years of litigation. This settlement embodies important steps toward protecting the rights of unsheltered residents in Boise, Fresno and throughout the country—toward real solutions to end homelessness.
Robert Martin, one of the named plaintiffs in the case, remarked, "The overriding intention for the lawsuit was to just be allowed the same basic right to rest and sleep that every American citizen has without fear of persecution. Nobody should feel fear from the police for doing something that is a basic human need.
"I hope that with this settlement we can open the doors to finding a better solution to the homeless crisis [rather than] to just sweep it elsewhere or lock it up out of the public eye."
Pamela Hawkes Duke, another of the plaintiffs, said, "I am so happy and proud to see everyone's hard work finally come together in such a way that will help so many people. I am really looking forward to seeing what other cities come up with as time goes on, especially when the City of Boise will have laid down the foundation for what it could look like."
"Today's settlement in the landmark Martin v. Boise case is a win for all residents of Boise, housed and unhoused alike, and serves as a national model for how other communities should be implementing the decision," said Eric Tars, legal director at the National Homelessness Law Center.
"By getting homeless individuals off the streets and into housing or shelter, there will be no need to enforce any ordinances against them. Housing, not handcuffs, is what ends homelessness."
The City of Fresno, having received millions of dollars to address homelessness, is starting to provide housing to some of the people living on the streets. Bob McCloskey, a homeless advocate, says more than $100 million arrived in Fresno last year to get homeless people into housing and to provide them with the social services they need.
McCloskey is concerned about how this money is being spent and has sent the city and county California Public Records Act requests.
He is looking for "all records of publicly funded disbursements and audits for all public entities and service providers in the County of Fresno, City of Fresno, Fresno Housing Authority and in the jurisdiction of the Fresno Madera Continuum of Care. These records must include staff salaries, administrative costs, consulting fees, developer fees, and all other costs and fees related to public-funded disbursements."
McCloskey is following up on the Fresno County Grand Jury report that complained of inadequate oversight of money designated for addressing homelessness. (See his article in the January 2021 Community Alliance.)
Dr. Elizabeth Swearingen was active in the struggle with the homeless in Fresno before moving to Boise. Teaching at Boise State University, she used Dispatches from the War Zone (a book on homeless issues in Fresno written by this article's author) as a textbook about homeless policies.
In response to the recent settlement in the Boise decision, Swearingen said, "I had the opportunity to work with Mike Rhodes, both in Fresno and Boise, as I helped students work through the complicated issues of people experiencing homelessness. My students struggled as did many community members with policy and practices within city governments.
"The landmark decision in Martin v. Boise is a big step forward in decriminalizing homelessness. We have much to do in understanding class structures and the deep marginalization of those caught in poverty. The economic strains we are experiencing during this pandemic make this work imperative.
"I applaud all the hard work and advocacy of those bringing a deeper understanding of why human rights are so important in building cohesive and humane communities."