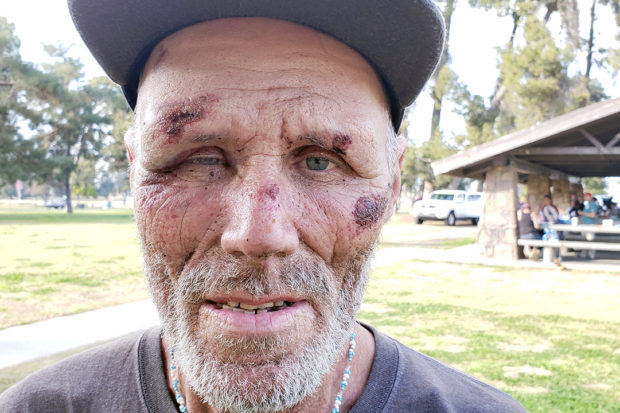 Lewis Brown, a homeless man who the Fresno police brutalized, was recently found not guilty of charges brought against him. Charges were filed against Brown after the demolition of the encampment he was living in was destroyed. When arrested, the officer told Brown "you did not leave fast enough."
Brown was thrown to the ground, with several officers on top of him, handcuffed, and the victim can be heard saying, "I can't breathe." This was similar to other videos you have seen where the victim of the police dies.
This incident happened on city-owned property (a vacant field) at a time when there were not enough shelter beds to house Fresno's growing homeless population and in violation of the Martin v. Boise decision (which states that if there are no shelter spaces available for a homeless person to sleep, they can't be arrested).
Bob McCloskey, who writes regularly for the Community Alliance newspaper about the homeless, told me "the verdict in this case validates what members of the unhoused community and advocates have said for years. Police abuse and maltreatment of the homeless is a persistent issue. In addition, the constant displacement continues.
"The Mayor's Project Off-Ramp efforts are just the beginning of the City's program to move the homeless, area by area, when there is not enough housing available.
"Also, the cost of code enforcement and police action are high. These public funds should be used to fund safe camps as a necessary humane interim solution to the housing crisis, not bad policing."
Unlike many people attacked by law enforcement officers, Brown survived this harrowing encounter with the Fresno police and had an attorney defend him against the criminal charges the District Attorney's office filed.
Kevin Little, Brown's attorney, said that "this is just one step in the fight for the rights of the homeless. But it is encouraging to see that a jury can be convinced to side with a homeless man challenging police misconduct."
Little said, "The jury only deliberated on the resisting arrest charge, and all the others (trespassing, loitering and possession of methamphetamine) were dismissed before trial."
A couple of outstanding questions in the case remain. Why was Brown, the victim at the crime scene, charged with crimes that were later dropped? Why did the judge fail to take the Martin v. Boise decision into consideration?
The Boise case simply states that homeless persons cannot be punished for sleeping in absence of alternatives. Brown was not offered housing, and the city was not even close to having enough homeless shelter beds on that day.
"The criminal court judge's pretrial ruling that Martin v. Boise was inapplicable threatened the rights of Fresno's homeless," said Little. "Fortunately, that ruling has no effect because Mr. Brown was acquitted."
The Community Alliance newspaper will have an update if Brown files a lawsuit against the City of Fresno for the violation of his human and civil rights. View the video of Brown being brutalized by the police at www.youtube.com/watch?v=mRgClorldKc.
Police Abuse of the Homeless
By Dez Martinez
(Editor's note: Homeless advocate Dez Martinez helped secure legal assistance for Lewis Brown. She is the founder of We Are Not Invisible and has established a safe camp where homeless people can live with dignity and respect. In her own words, this is why she got involved.)
I started advocating for the homeless six years ago. When I would go out to take survival necessities, I would hear the most unbelievable stories of police brutality. They were always hard to really believe 100% because you would never think a cop would be able to get away with what the homeless said would happen.
When I was at an encampment, I witnessed abuse on the homeless community. The first time I saw a cop abuse one of our most vulnerable people was when I saw him pull a chair out from under a woman while saying, "Well let me help you, you're not moving fast enough." I saw her hit the floor when he did that. I immediately addressed the chief of police, Jerry Dyer at the time, at a protest and demanded he look at the body-cam footage.
I asked our chief for four years to view the body cam because of the excessive force on our unsheltered community. He said he would, and then he said, "If I find any wrongdoing, I will address it."
Well, here we are four years later and four years of screaming, begging and raising awareness of police brutally. We were ignored.
And that forced me to find an attorney to help us, to help Lewis Brown.
It's sad they never believed us, it's sad so many had to be abused, it's sad the city doesn't listen. Now, by unanimous decision of a jury of 12, we have justice for one. Hopefully, for now they will listen to us because we have many more stories just like this to be heard, and they need justice also.
*****
Dez Martinez, We Are Not Invisible, https://wanif.org.