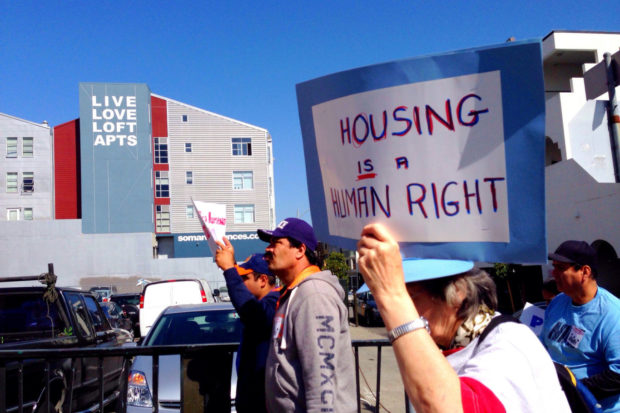 By Serena Cervantes
James Walsh (not his real name), a 38-year-old parolee with gray peppered black hair and a calm demeanor, smokes a "roly" cigarette outside the window of his second-story apartment. An ex-homeless man who camped out for about one year under the Highway 41 overpass on Santa Fe Avenue and Ventura Street, Walsh is thankful to have finally found a place to live for the past three months.
But he is being evicted from his small apartment at an old hotel on Fresno Street because of a charter school that is less than 2,000 feet away. Yes, Walsh is a sex offender but his sex offense occurred in 1999 and he is on parole for an entirely different crime. However, he is still subject to Jessica's Law and so his residency location must meet the requirement of being at least 2,000 feet away from any schools and parks where children are present. Walsh, along with three other 290 men ("290" referring to the section of the California Penal Code for which sex offenders are required to register) who also live in the same small apartments as him, will have to move in the next three weeks or so.
But Walsh isn't the only one concerned about his eviction—the men Walsh used to camp out with on Santa Fe Avenue are also being evicted from their homeless encampment on July 1. The homeless encampment, known as the 290 camp, has been the residence for many homeless men who are sex offenders. Early in June, at a parole meeting for all transient sex offenders, parole officers ordered that the men remove themselves from their camp by the first of July or face parole violations. The reason given was that construction under the Highway 41 overpass for a water drainage pipe was soon to start.
Before the interview with Walsh even begins, he says that he's a little reluctant to give out his real name because he's afraid that the parole department will find some way to violate him for talking to any media. But his worry subsides and he is ready to let the public know the anomalies of Jessica's Law that make finding residency for a 290 parolee nearly impossible.
"Essentially, it forces people out of their stable environments with their families. And it forces them into homelessness," Walsh says, in regard to Jessica's Law.
Many cities in California are breaking up 290 homeless encampments because they create an eyesore and usually become non-compliant, at some point or another, with Jessica's Law's 2,000-foot distance requirement. But many of the 290's at the Santa Fe encampment say that their parole officers tell them to buy a sleeping bag, a backpack and a tent, and then fare them off to the streets.
Because California's Department of Corrections and Rehabilitation isn't required to provide housing for 290 parolees, compliant and affordable housing can be frustrating to find when 290's have to constantly consider the distance requirement, even though sex offenders are allowed to go into movie theaters or libraries, facilities where children are undoubtedly present.
Although the camp will disband by the first of July, Jessica's Law requires the parolees to wear GPS ankle monitors so that their parole agents will always know their location. But the GPS devices are considered unfair by many of the 290 men at Santa Fe Avenue because their felony convictions for which they've been paroled are not sex-related crimes.
Another frustration among 290s is that Jessica's Law makes their sex crimes from the past retroactive. One man at the 290 camp committed his sex crime 25 years ago and says that he completed prison time and parole. He is currently on parole for a weapons conviction and got slapped with a GPS device around his sunburned legs. He sits on a couch outside his small hut, frustrated about his situation and having to leave the home he and his wife built on Santa Fe. They have been there for roughly 16 months.
"I feel it's a double jeopardy situation," the 290 man says and asks that his name not be disclosed. "They are convicting me again and I'm not even on a sex case."