By Grisanti Valencia
We can all hear the children cry, we can hear them cry for help, cry for a better tomorrow and are hoping they are granted asylum and not deported to their death from the violence, gangs and poverty they are fleeing from. It is evident that this is a humanitarian crisis.
Leoncio Vasquez, executive director of the Binational Center for the Development of Oaxacan Indigenous Communities (CBDIO), says, "Being an indigenous migrant from the Mixtec region in the state of Oaxaca, it is important to note what I have seen heard and learned over the years. Many of us before migrating and leaving our homelands, we are unaware of what the United States is. We don't migrate for the American, for we not know what that is, we also don't come for Mickey or Minnie Mouse; we come here to survive."
The Oaxaqueño community had a different way of living back in the villages than in the United States. They were farmworkers in their villages, but, unfortunately, U.S. policies have affected the way of living in the sense that there is no way to survive in the pueblos. They are forced to make the hard choice of letting their families starve to death or take the risk of migrating to a place that is unknown. Globalization makes us believe that policies such as NAFTA (North American Free Trade Agreement) will benefit these communities and provide more working opportunities to countries filled with poverty, gangs and crime.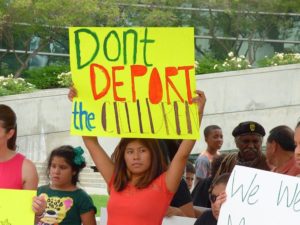 People come to this country with the idea of coming on a short-term basis, only to realize how unrealistic that is. The idea of being here for a couple of months slowly deteriorates. When enough money is saved, they go back to their pueblos to be reunited with their families and are hit with the harsh reality that it is not enough. Shortly after arriving, the money is lost within two months.
Immigrants then are forced to risk their lives again; the only difference is that now they know what to expect. They made the choice to survive. "This system maintains us always at the bottom. The United States has a lot to do with the forced migration of our communities," says Vasquez.
In the corporate media, these immigrants get blamed for the lack of jobs, gangs, violence and anything else going wrong. Not only that, they continue to suffer modern-day slavery as undocumented and documented farmworkers. They are seen as cheap labor who are used and abused until they can't take it anymore.
Hundreds of Central American children are migrating here and being held in detention centers and filing asylum. They are trying to survive. You don't leave your country, your home, your family and your customs for an unknown land unless it is the only way to survive.
In places like Murrieta and Arizona, the true colors of this nation have come out with the Minutemen and anti-immigrant groups stopping buses filled with children who are fleeing and losing their hope little by little. Yet these children are the bravest of all and should be treated as human beings.
In the Central Valley, the key question is what should be done to help and how?
Donations are now being collected to send to these children and help them survive. The drop-off location is 744 N. Abby Street. For any questions, call 559-394-0559.
Also, a letter is being drafted to elected officials such as Rep. Jim Costa (D–Fresno) to deny any funds the president asks to expedite these deportations or to add any more border security. Obviously, that is not working and is not the solution to the root of the problem.
Deportations have been happening under the administration of "Deporter-in-Chief" Obama, and it is not okay to be at 2 million deportations. One of the first organizations to call out the deporter-in-chief has been the California Immigrant Youth Justice Alliance, a statewide alliance with 12 affiliates. With eight affiliates in southern California, three in northern California and one in central California, they have called on the president to stop to all deportations and use his executive power to grant administrative relief to families.
In recent months, people have awakened to the issues at hand. The border militarization and the fear of communities is significant. As a result, the Trail for Humanity has begun. The Trail for Humanity was the brainchild of Valeska S. Castaneda, from the Bay Area, after a weeklong service to Arizona to listen to the issues going on across the border. "I came back deeply moved and met with local women about the issue and so the Trail for Humanity was born," says Castaneda.
After much planning, mothers and their children began the Trail for Humanity, a 300-mile, 30-day pilgrimage from Merced to the U.S.-Mexico border. The demands of the Trail are as follows:
Pressure the Obama administration to halt its deportation enforcement-only regime until the Senate and House come together and pass Just and Humane Immigration Reform. Not one more deportation!
Call for an end to the use of police as immigration enforcement agents, say no to the failed Secure Communities and 287g programs and No a la Poli-Migra.
Demand an end to family separations; 3,750,000 of citizen children have had a parent deported. Stem the tide toward racial profiling that has incarcerated so many migrant and African-American brothers and sisters, say no to SB 1070 and copycat laws and no to gang injunctions, and end "stop and frisk" and the targeted checkpoints in migrant communities.
"We invite all mothers and their children to join and lead the pilgrimage," says Cindy Cristal Gonzalez, co-founder of the Trail.
Support is sought in any way you can. For more information, contact the author at 559-394-0559 or at gvalencia@ciyja.org or visit www.trailforhumanity.org.
*****
Grisanti Valencia is the Central California organizer for the California Immigrant Youth Justice Alliance and the vice president at the board of directors of CBDIO. Contact her at gvalencia@ciyja.org.