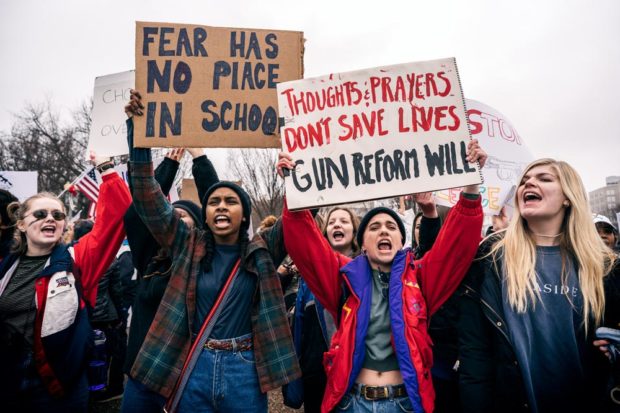 By Sudarshan Kapoor
Carnage took place at a high school in Parkland, Fla. Seventeen precious lives were lost on Valentine's Day. The day of love turned into a day of grief, pain and violence. What a travesty! Mass shootings have become too common in our culture. As of February, more than 30 mass shootings have taken place in 2018. There have been seven firearm attacks during school hours, five of which resulted in deaths or injuries.
Are our children safe at school? Parents are worried and ask this question. One's son or daughter is likely to come home safe from Iraq or Afghanistan, but we're not sure about their safety at our schools. Such is the pessimistic view of some parents. Do we value guns more than our children?
Gun violence claims the lives of thousands of people in our country. More than 30,000 people die or are injured each year due to gun violence, and 315 more are shot every day, according to statistics compiled by the Brady Campaign to Prevent Gun Violence. More than 400,000 firearm deaths have taken place since 2001.
There are more than 300 million guns held by about a third of the population, which is enough for almost everyone in our country. Our homicide rate is 30 times higher than that of other developed nations. In some minority communities, the rate is alarming. African American men are 6% of the population but account for 50% of the homicide victims.
Gun violence is a big public health crisis we have allowed to happen. It has grave economic implications as the cost of this violence is estimated to cost at least $229 billion annually.
Clearly, gun violence has reached an epidemic level in our country. After each tragedy since Columbine, compassionate thoughts and prayers are offered, which are OK but not sufficient. These thoughts and prayers need to be followed by an action to address the growing menace of gun violence.
One aspect of the problem to address is our culture of violence and the glorification of violence. No doubt, gun violence is a complex issue and there are strong views held on each side.
There are those who seem to have a love affair with guns and strongly defend their right to own guns as it is considered enshrined in the Second Amendment to the U.S. Constitution. They assert that guns do not kill people. People kill people. They forget that guns make it a lot easier to kill people and certainly the assault weapons that kill people at a large scale. More guns mean more deaths.
We must remember that guns are inherently unsafe products. The sole purpose of a gun is to kill. I know that there is no easy solution to this complex problem. But we must learn some lessons after experiencing painful tragedy after tragedy.
We need stricter gun control laws including laws, policies and procedures that restrict easy access to firearms that contribute to all forms of gun violence. Furthermore, we must ban assault weapons. There is no place for these kinds of weapons being in the hands of people, particularly mentally disturbed and young people.
We must support and legislate mandatory background checks for all guns sold in America. Past surveys have shown that 74% members of National Rifle Association (NRA) support mandatory checks, which need to be expanded thorough the country. Gun safety education and training are essential.
We spend more than $800 billion a year defending against terrorism, which kills only a fraction of what gun violence kills in this nation. Let us use our resources wisely for the prevention and reduction of violence.
Gun violence is preventable. We need to stand up against the NRA, which has bullied and polluted the gun politics in our nation and elect those candidates who have the courage, commitment and compassion to save our children and adults from becoming victims of gun violence. Let us now build a culture of peace and nonviolence as the answer to violence in our society.
*****
Sudarshan Kapoor, Ph.D., is professor emeritus, founder and former director of the Peace and Conflict Studies Program and professor of social work and community development at Fresno State. Dr. Kapoor is the former co-executive editor of Peace & Change, published by the Peace and Justice Studies Association, and the chair of the Human Rights Coalition of the Central Valley. Contact him at skapoor@ csufresno.edu.