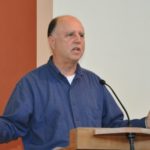 I spent several fascinating days last month observing a trial at the Fresno County Courthouse. On trial were Angelo Fernandez and his two brothers (David and Robert). You may recall that Angelo was the guy a Fresno police officer shot in the back in 2011.Angelo was unarmed, this was done in the middle of the day and there were multiple witnesses. For details about that incident, see https://fresnoalliance.com/?p=3181.
The District Attorney's Office was trying to convict Angelo of an alleged carjacking, which Fresno Police Department (FPD) spokespersons used as a justification for the shooting incident. The police claimed Angelo was an armed and dangerous gang member who had to be brought to justice. David and Robert were on trial for allegedly trying to dissuade a witness. In testimony during the trial, two correctional officers testified against David and Robert saying they were gang members. The prosecution wanted gang enhancement charges against them that could have put them away for life. I thought it was interesting how the two correctional officers (COs) testified about the intake procedure at the Fresno County Jail—the one where they ask questions about gang affiliations.
Every person processed into the jail is asked about gang affiliations they might have and are put into cells or pods based on the information they give. The COs claim that they are doing this for the arrested person's own safety and the safety of the COs in the jail. They don't want to put two rival gang members in the same cell. That is the explanation they give. However, it became obvious that the information people give can and will be used against them in the future. For example, David and Robert could have been sentenced to life because they were processed into the jail as Bulldog gang members.
One of the reasons why Robert was identified as a gang member is that he was wearing a Bulldog sweatshirt when arrested. When the defense attorney asked if the sweatshirt also said "Fresno State," one of the COs reluctantly acknowledged that it did. The brothers grew up in Calwa and a lot of the people they knew were Bulldog gang members, so they did not want to be put in with members of another gang and said they were associated with Bulldog gang members. That information they shared with the COs could have put them away for life.
The case against Angelo was incredibly weak. The guy who said he was carjacked didn't even own the car, which his mother had reported as stolen. There was no evidence presented that linked Angelo to the car such as fingerprints or DNA. Even the "victim" did not say Angelo took his car. He claimed he could not remember. There were no witnesses linking Angelo to the allegedly stolen car.
The DA was also trying to convict Angelo of having used a sawed-off shotgun during the carjacking. The prosecutor displayed a white shotgun and claimed Angelo's fingerprint had been found on a piece of masking tape wrapped around the weapon. The gun was found in Robert Fernandez's apartment after Angelo was shot. The prosecutor continued to claim this was the weapon used, even though the "victim" claimed the weapon he saw was black.
In perhaps the most dramatic moment of the trial, Angelo's attorney held that piece of tape up for the jury to look at. As he walked in front of the intensely interested jurors, he also held the rest of the tape that was taken from around the gun. They were two different sizes! Doug Foster, Angelo's attorney, asked out loud if the tape with Angelo's fingerprint could have been obtained when Angelo was in the hospital, unconscious from the shooting incident.
Is it possible that members of the Fresno police force would tamper with evidence? Did the District Attorney's Office prosecute this case against the Fernandez brothers to prevent them from pursuing a civil suit alleging excessive force when Angelo was shot? Is all of this being done to protect a secret squad within the FPD engaged in extrajudicial executions of young Latino men they believe are involved with gang activity?
The jury did not buy the case against the Fernandez brothers. They found David and Robert not guilty of trying to dissuade a witness. The jury was hung on the charges against Angelo. The DA's office has the option to retry or drop the case. We should find out this month whether a new trial will be ordered.
If Angelo is not forced to spend his time defending himself (for the second time) against these extremely thin carjacking charges, he can focus on finding out what really led to the officer-involved shooting that almost took his life. Stay tuned to see if we will experience further overreaching by the local DA or if we find ourselves closer to the truth about what is behind the series of shootings by the police of young unarmed Latino men.
*****
In early September 2011, the Community Alliance newspaper, through a California Public Records Act (CPRA) request, asked the Fresno Police Department (FPD) for its Policies and Procedures manuals. FPD Public Information Officer Donald Gross sent this response: "We will not be able to provide for this request due to officer safety issues and interference with ongoing investigations."
The next day, Gross reversed this decision, writing that "the City will amend its previous response to your CPRA request and produce those portions of the Policy Manual that do not contain material that would endanger officers and/or compromise ongoing investigations and not reveal security and safety procedures. The City will need time to review the Policy Manual and will provide these records by October 4, 2011."
Over the next year and three months, the FPD released its Policies and Procedures manuals, with significant sections of those documents redacted. Each release was accompanied by a letter detailing why those sections were removed.
The documents we received were all on CDs and in a .PDF format that was password protected so they could not be printed or copied (and pasted), making their usefulness greatly diminished. They also had a large watermark on each page identifying who they had been released to, even though once they are released, there are no restrictions on their distribution. The FPD also charged us $30.50 for each of the six CDs, an excessive fee we believe, given the current cost of transferring digital data.
The Policies and Procedures manuals we are providing (see www.fresnoalliance.com) have been reformatted to make them more useful to anyone interested in learning about police operations.
Although the FPD chose to withhold significant portions of its Policies and Procedures manuals, you can get an idea of what information those missing sections contain by looking at other police departments manuals, some of which are available online.
The Banning, Calif., police department, for example, provides its Policies and Procedures manual on its Website (www.banningpolice.org/policy.pdf).The transparency of the Banning Police Department stands in stark contrast to the FPD.
There is also a company that specializes in selling boilerplate Policies and Procedures manuals to police departments. You can find them at www.lexipol.com/, which appears to be where much of the FPD manuals originally came from.
The Community Alliance's purpose in requesting and now posting the Policies and Procedures manuals on our Website is to make the information available to the public. A person who has a copy of the Policies and Procedures manuals has a foundation to understand how the FPD operates. Now that we know what the policies and procedures are in the FPD, we can compare those with best practices at other police departments, and if changes need to be made we can make an effort to make those improvements.
I like to think of the release of these documents as one more tool in our toolbox as we work to ensure that the FPD does not do its work in a secretive and opaque manner. We are shining a light on local government with the goal of improving civil society and maintaining civilian control over law enforcement. After all, the people who work at the FPD are our employees. They work for us. We pay their salary. We have a right to know what they are doing.
*****
Last month, the City of Fresno finally opened a warming center for the homeless. In previous years, the city opened several warming centers around town, but for some reason it is only opening one this year. I went down to the Frank Ball Community Center in southwest Fresno on the first night the warming center was opened and took the photo on this page. There was one person lying on a mat. The city did not provide a bed or blankets. It will not allow homeless people to bring their property inside the building.
The only staff person was a Fresno Police Department officer who had opened the center and was sitting in a chair by the door. I sat with him for about half an hour. One more person came in and asked about staying the night. The officer directed him to the basketball court and instructed him to pick up a mat. The man asked about blankets and the officer told him that there were no blankets available. Everyone is evicted at 7 a.m. and forced onto the freezing streets.
Is this really the best we can do when the temperatures in Fresno dip below freezing? No, but it is an indication of the ideological disposition of the leadership at City Hall. It is further evidence of their "tough love" approach to helping the homeless.
The policies they have developed and continue to pursue do not help the vast majority of homeless people who are living on the streets. They attempt to take the moral high ground by saying they want to focus on providing homeless people with housing and that we (the homeless advocates) are focusing on maintaining the encampments, with some small improvements.
I see the officials and staff of the City of Fresno taking a paternalistic position with regard to the homeless. They will offer them (those living in the encampments) no help, much like a parent would not help an errant child who was engaging in bad behavior. This is a "tough love" approach that is attempting to force homeless people to leave town, get into a program or die.
I reject the city's philosophy and believe we should help homeless people by providing them with basic public services—drinking water, toilets and trash pickup. I believe this would be better for homeless people, for the neighborhoods in which they live, and the community as a whole. Those at City Hall would say we are encouraging homeless people to live in these less than ideal conditions and if you make it too easy for homeless people they will never improve their lives. In fact, city officials have told me that they think that if they did what we are suggesting (safe and legal campgrounds) that homeless people from all over the state would move here.
Of course, I think that after we establish these safe and legal campgrounds, then the next step is to get people housing (housing should be a human right); homeless people should have jobs (that pay a living wage) available and whatever (if any) social services are needed so that they can lead a happier and healthy life.
I don't think the City of Fresno will ever (given the people in power right now) agree to establish safe and legal campgrounds as a prelude to getting them into permanent housing. They are philosophically opposed to it and no amount of talking to them will change their conservative "tough love" approach to this issue. What has worked is when there is litigation and they (the city officials) are confronted with the fact that they are violating homeless people's civil rights and that they will no longer be allowed to engage in that illegal behavior.
Unfortunately, the only thing that I have seen that gets their attention is litigation.
Of course, the Community Alliance will continue to provide some basic services (like portable toilets), support safe and legal campground concepts (like the Eco-Village) and I encourage you to try any tactics and strategies that you can come up with to improve the lives and legal protections of homeless people in this community.
*****
Correction

In the January issue of the Community Alliance newspaper, in the story about Indian handgames being banned, the name of the Northern Paiute leader who was sent to Alcatraz was misspelled. It should have been spelled Natches rather than Natchez.