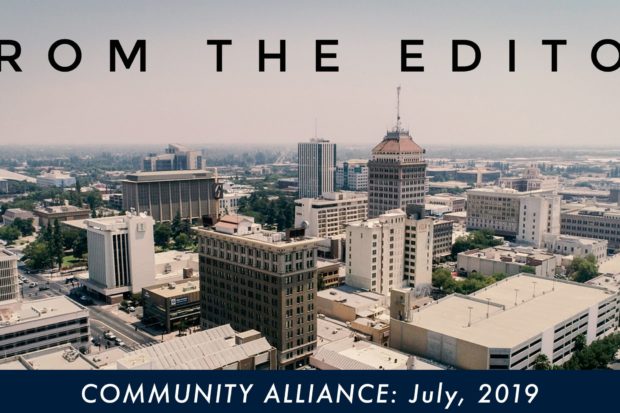 By Elsa Mejía
Dear Reader,

The annual Community Alliance fund-raiser on June 15 drew about 100 longtime and new supporters of our newspaper to the Unitarian Universalist Church in Fresno. For those of us who work to put together these pages every month throughout the year, it was a great pleasure and an opportunity to say thank you in person. It is your continued support that makes each print edition possible.
But it was also an opportunity to come together and listen, rather than simply read, the voices that produce our content.
The stories of our guest speakers zeroed in on the value that alternative and independent media has in our communities. More than linking a diverse network of local activists, the Community Alliance provides an open platform, in print and online, for workers and progressive groups to express themselves.
The Community Alliance prides itself in working tirelessly to make this voice heard and accessible to all of our readers. Many of the most vulnerable members in our communities have found this to be a welcoming outlet through which they have worked to expose injustices.
This was the case for our keynote speaker, Boston Woodard. A freelance journalist who spent 38 years in prison, Boston started writing for the Community Alliance in 2005. Up until the last day of his sentence, he continued to tell the hard and often unheard stories from within the prison complex, despite suffering retaliation by prison officials.
Even out in the "free world," Boston was almost prevented from attending our "Keep Free Speech Alive" fund-raiser, but we were able to celebrate with those who ensure this medium stays available to all. Boston was the recipient of this year's "Mike Rhodes Writer's Award." He is the second winner of the award, which was named after the founder and former editor of the Community Alliance. Mike presented the award to Boston.
The "Most Read Article Award" is determined by the number of times visitors to the Community Alliance Web site open a particular article. This year's award was presented to our contributing writer, Francisco Duarte, for his piece "El Capitalismo en México" (Capitalism in México), which was published in February 2018.
As the Community Alliance continues to battle to keep itself available in print, we were reenergized to see and hear the support of so many like-minded folks who believe in the work that we do. For those of us who believe in the power of our stories, and our moral obligation to be the ones to tell them, this kind of support is especially important. Especially as we continue to pull through under an administration that has blatantly shown it would love to see us drown.
If you did not get the chance to attend our annual fund-raiser, you can still show your support by filling out the form at the bottom of this page and mailing it in along with your donation. You may also visit fresnoalliance.com and donate via Paypal. Thank you for reading about, writing for and supporting the local progressive movement in the Central Valley.