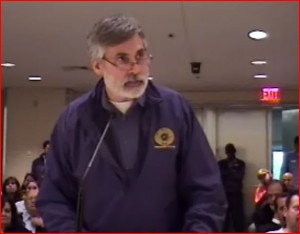 On December 9, a divided Fresno City Council voted in favor of privatizing the city's commercial solid waste operations. Now, 100 drivers represented by IUOE [International Union of Operating Engineers] Stationary Local 39 are facing layoffs. These are some of the best drivers in the nation who, year in and year out, win top awards for safety.
The decision was rationalized by the mayor and the City Council majority as a false choice between public safety and "non-core" services, like commercial trash pickup. But the mayor, the city manager and a right-wing majority on the board have been moving in this direction for a long time, at the exclusion of other money-saving ideas.
By "franchising" the service to two private companies, the city hopes to skim more than two million dollars from the solid waste operation every year and put it into the general fund. The two million dollars will come from franchise fees paid by the private vendors in a backdoor trick that allows the city to take targeted money and spend it on unrelated services.
Bottom line: It is a hidden tax on local businesses. Now, local restaurants, hair salons and apartment owners will be paying for miscellaneous city services twice—once through normal taxes and again through their trash bills. It is a rip-off for them, it is a disaster for our members and it is another bad City Council decision that will have consequences far into the future.
We have one more chance to kill this narrow-minded, dishonest scheme. There is a final vote on January 6, and we hope the new council majority will resist balancing the city budget on the backs of the workers.