By Mike Rhodes
During the late 1970s, the Nicaraguan People's Solidarity Committee in Fresno raised money to support the revolutionaries in Nicaragua. Later, the group changed its name to the Latin American Support Committee (LASC) and worked with groups in Guatemala, El Salvador and Nicaragua.
During those exciting times, there was even a delegation of Chicano activists that went to Nicaragua to fight with the people of Nicaragua, helping to liberate them from the Somoza dictatorship. They all came back alive. With the connections that were made by our solidarity with the Nicaraguan people a decades-long relationship developed. Several delegations from Fresno went to Central America, many of them taking life-saving medical supplies.
In 1989, LASC volunteers built a school in our Nicaraguan Sister City of Telpaneca. After building the school, the group sponsored scholarships for the children of Telpaneca in an effort to help them improve their lives.
It is through that experience that I came to know Maura Cordoba. Maura, when she was a teenager, lived with my family after we invited a representative from our sister city to visit Fresno. We have stayed in touch over the years.
Recently, I noticed that the mainstream media in the United States has covered stories of violence and corruption in Nicaragua and I thought it would be interesting to find out what Maura was experiencing from her vantage point in the small city of Somoto (which is near Telpaneca) close to the Honduran border.
I asked Maura what the political situation was in her country. This was her reply, "Currently we live in peace, working hard every day. Under the leadership of Commander President Daniel Ortega, we live in peace.
"Those who provoke the confrontations are those on the right and a small number representing the wealthy. They are angry to see how this Revolutionary Government has restored the rights of the Nicaraguan people in every way.
Advertising
"When they were in power, they did little for Nicaraguan families. These traitors are trying to use the chaos that occurs in this country, which they created, to seize Nicaragua for the rich—to create fear through false news."
Progressives know that the United States has undermined the Nicaraguan economy, funded groups trying to destabilize the country and uses mainstream media to convince us that Nicaragua is on the verge of collapse.
Maura agreed with this analysis and responded with a few of the positive things going on in her country. "Commander Daniel Ortega and his government are promoting social projects and programs non-stop for the benefit of the majority of the Nicaraguan people.
"In health issues, it is important to highlight since 2007 the construction of 18 hospitals with first world technology and 14 are in the process of being built. Free healthcare has been restored to the Nicaraguan people.
"Our revolutionary government is committed to the fight against cancer, Nicaragua currently has a linear accelerator to treat cancer for free, being one of the few countries in Latin America to have one.
"We have 178 maternity homes spread throughout each municipality to attend to pregnant women in a timely manner.
"In 2019, the Mechnikov Plant for the Production of Human Influenza Vaccines, was inaugurated and the vaccine is administered free of charge to each Nicaraguan citizen.
"Interferon Alfa 2B is currently being produced in our country for treating Covid-19. This puts Nicaragua in a better position to attend to possible cases in the country with the support of Cuban scientists. The production of other drugs is projected."
Maura was excited to tell me that "it has been possible to reduce poverty from 48.3% to 24.5%, improving the living conditions of people who have survived the extreme exploitation of neoliberal capitalism.
"The Christian Socialist and Solidarity Model has allowed 97 out of every 100 citizens to have access to electric power. Under the neoliberal government, there was far less access to electrical service. Nicaragua has modernized infrastructure on highways, bridges, highways and roads and successfully electronically linked the Caribbean with the rest of the country."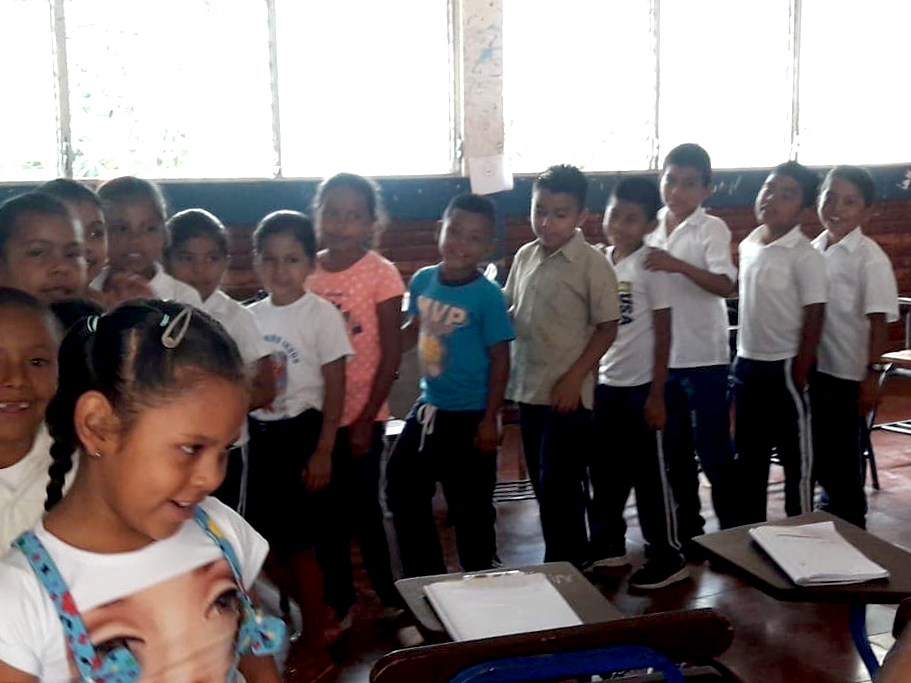 Maura remembers her trip to Fresno and how it came about. She said that a delegation from Fresno went to Santo Domingo (a small hamlet outside of Telpaneca) to meet with the leaders of the Sandinista Front and the parents of the first-year students in a scholarship program.
"We talked about the benefits of going to the United States, and I was selected to travel to Fresno because I was one of the best students with excellent grades. I stood out as a student leader.
"We (the students receiving scholarships) traveled eight miles a day on foot to the school and back; there were no vehicles or motorcycles in which to travel to the institute. The group of scholarship recipients left the house at 4:30 a.m. to arrive at the institute at 6:30 a.m., and we returned home at 4 p.m., on many occasions in the rain or sun.
"You and Pam (Whalen) asked my parents for permission and they never hesitated to let me travel because they were sure that everything was coordinated from the Sandinista Front and you were already recognized by our people in Telpaneca. My experience was wonderful to live with your family and the support provided by you toward me as a Nicaraguan student.
"During my stay, I was in English classes at the Fresno International English Institute. I learned some English. Not a lot as the time period was very short. The experience was beautiful."
Over time, the Fresno/Telpaneca Sister City project sponsored hundreds of students as it endeavored to improve the students' lives and the lives of their families. The LASC raised tens of thousands of dollars for material aid projects supporting the revolutionary forces in Central America, helped stop the funding of the Contras in Nicaragua (supported by then President Ronald Reagan) and established relationships that last to this day.
If we were to do today what we did then we would probably be put on a terrorist watch list, arrested and put on trial. But wait, all of that did happen back then, but that is a story for another time.
*****
Mike Rhodes is a writer for the Community Alliance newspaper. Contact him at mikerhodes@comcast.net.