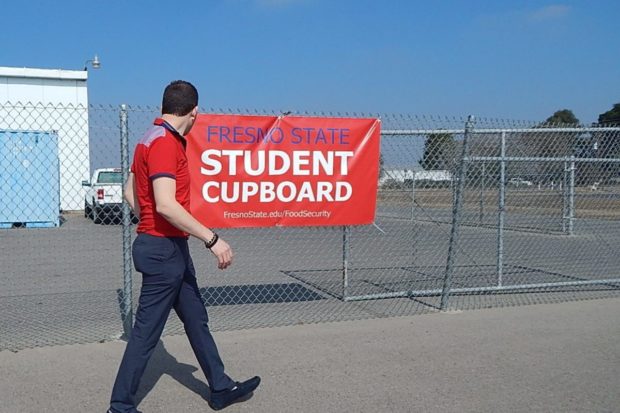 By Lizbeth De La Cruz 
Last year on Nov. 24, the Student Cupboard opened its doors to Fresno State students. As part of an initiative that works to make sure that food insecurity is not a problem on our campus, the Fresno State Student Cupboard was created along with other six initiatives under the Food Security Project. Clearly, food security has become of great interest to the university.
As stated on the official Web site of the Student Cupboard, "Food insecurity is a growing issue on college campuses. Fresno State is working hard to make sure that food insecurity isn't a problem on our campus." Along with the Student Cupboard, the other initiatives aim to help students in need.
The following is a list of the current initiatives to help those students affected by food insecurity:
Offer Value Menu items at Paws-N-Go Market (North Gym)
Gift Buxx
Fresno State Student Cupboard
Education and Resources
Mobile App
Missed Meals Program
Good Samaritan Fund
The Student Cupboard provides current Fresno State students with access to healthy food and hygiene items. Students interested in using the services provided by the Student Cupboard have to show their Fresno State student ID. The process is simple; the only questions you are asked is what is your student ID and how many people live with you. Brenda Hartman, a staff person at the Student Cupboard. said that "we are just trying to get any data… there is not much data available yet because we just opened in November."
The Student Cupboard is located in the Post Harvest Building (the former Farm Market) on Chestnut and Barstow avenues. This temporary location provides a private space for students who might not want others to know that they are seeking help. Yet, the location can also be somewhat problematic because it is off campus and can present a challenge for students who have to walk or ride their bikes to get to the Student Cupboard because they do not have a car. Some students are up for the challenge and take more than one trip. Hartman mentioned that students could visit the Student Cupboard twice a day if they wish to. Other students usually take the necessary things they need for that day and return later in the week for more.
Because the current location of the Student Cupboard is a temporary location, when asked where would be the best place for the Student Cupboard, Hartman answered, "Students want their privacy. I am not sure where we might end up, but we will find a spot." Hartman also gave her insight that "students might not want other people to know they need the help. I am trying to break that stereotypical stigma."
For Hartman, it is important for students who need the help to get rid of the fear of asking for help. "It's okay to ask for help, especially if you are a student. We should be able to go to our administration and say I need help, I don't have enough money to live off from, I don't have enough food, I need daycare."
La Voz, an ethnic supplement to the Collegian, visited the Student Cupboard and was impressed with the student interest in this initiative. During both visits to the Student Cupboard, there were students coming in and out. Fresno State student Gelasio Rodrigues commented, "Since the first time I went I have felt welcomed, the main person in charge of the Cupboard was, and is, very friendly and welcoming. She is easy to talk to and get along with." This welcoming atmosphere makes students of all ages not hesitate about going to the Student Cupboard because the fear of being judged or looked down on disappears.
Rodrigues states that he found out about the Student Cupboard from posts of friends on Facebook, "I didn't really know when it had opened until I saw a story on it on the Fresno State Web site. After a while, my roommate reminded me about it and that's when I decided to go and check it out for myself."
Rodrigues goes on to mention that his first time visiting the Student Cupboard he expected more. "I was surprised to see only one shelf and one refrigerator…The Cupboard provides you with some essential food items, but it does not provide you with a wide variety to choose from." Yet, Rodrigues, as well as other students who visit the Student Cupboard, are thankful that a resource such as this one is available to students at Fresno State.
When asked about the issue of privacy, Rodrigues mentioned that "for students that feel like privacy in this matter is important, the location is very good. It is out of sight and far from where others might see who frequents the Student Cupboard."
Graduate student Gilberto Nuñez commented on his first visit to the Student Cupboard. For Nuñez, the experience at first was of embarrassment, but "after the excellent treatment I received, I gradually lost [that feeling]." Even though during his first visit Nuñez did not take many supplies, he was content with the items he was able to take home, "I estimate that I was able to save around $20. Besides, all the items were in excellent condition." Nuñez sees the importance of the Student Cupboard in students' lives. "It really is worth taking advantage of these great opportunities we have as students. I think it is an excellent project that should not remain in the shadows."
Since its opening, the Cupboard has maintained constant hours. Hartman states that "last semester during the 3–4 hours that we were opened in the afternoon we would get 10–12 students; now I get 40–50 students in those 3–4 hours, so it is really getting popular, [and] students are so grateful."
With the popularity of the Student Cupboard rising, Hartman shares that "we establish limits on what students can take because it is hard to keep enough food on the shelf to last a week; there's that many students coming." Yet these limitations are not laws. No one at the Student Cupboard checks or judges the students for what they take. These limitations are just guidelines because the purpose of the Student Cupboard is to try to serve as many students as possible.
In the spring semester, students can visit the cupboard during the following operating hours:
Monday: 2 p.m.–5 p.m.
Tuesday: Closed
Wednesday: 2 p.m.–5 p.m.
Thursday: Noon–5 p.m.
Friday: 2 p.m.–5 p.m.
The Student Cupboard welcomes donations of all types. Most of the food donations currently are received from the Fresno Community Food Bank and food drives. Hartman shared that the Student Health Center, the Fresno State Farm and others also donate to the Student Cupboard.
It is important to highlight that the Student Cupboard "is only for Fresno State students; the Bulldog Pantry is for the community even though it is run by Fresno State students," stated Hartman.
As Fresno State students show their interest in programs such as the Student Cupboard, the university will do its best to meet student needs. The issue of food security is a topic that should be talked about continually because it is an issue that is real and that many students face on campus.
For those students who have a greater need, there are other resources available to them. To learn more about other resources, students can visit the Student Cupboard or contact Jessica Medina at 559-278-0866 or jemedina@csufresno.edu.
Get notifications about the Student Cupboard via www. Fresnostate.edu/foodsecurity/, www.facebook.com/studentcupboard/ or Twitter: @StudentCupboard.
*****
Lizbeth De La Cruz is a Fresno State graduate student enrolled in the Spanish masters program and is currently the editor-in-chief of The Collegian's ethnic supplement La Voz de Aztlán. De La Cruz is also involved in the design and editing of the Literary Magazine Austral at Fresno State, a student-run bilingual magazine. Contact her at chivaliz604@mail.fresnostate.edu.