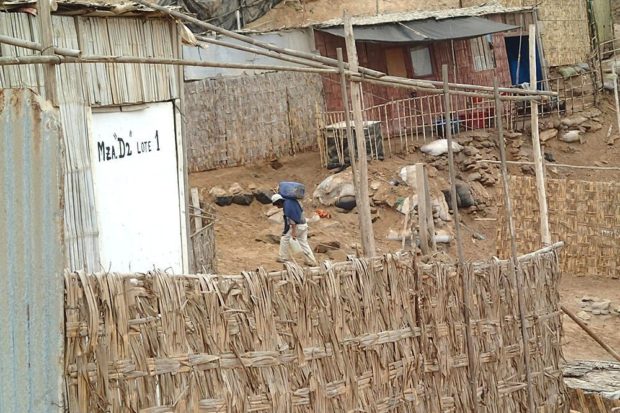 By Ingrid Carmean
Surrounded by rich agricultural lands, Cerro Candela is probably the poorest community with whom the Peace Corps Peru environmental group works. Of the three communities I work with, it is my favorite.
Cerro Candela was established about 25 years ago. It has always been a poor community. A friend of mine teaches there, and she explained to me the various family dynamics of prostitution, drug use and the many families with one mother, many children each with a different father. In one specific case, the "father" of the house refuses to feed one of the children because she is not his. There are only a few houses that have trees around them. Mostly, it is a sandy, dusty, treeless area. Part of the problem is the lack of water; the other part is that the soil is salty. There are veins of salt running throughout the substrate. I thought they were granite crystals so I tasted one crystal, definitely salt.
Peru has money (mostly from mining, which has its own set of tremendous problems); some of this money is being used to improve the standard of living of the many desperately poor. But much also disappears with corruption. Everyone here says it goes into the mayor's pocket.
Shortly before I came here, the larger part of Cerro Candela had recently received electricity. They just had a water system installed, a large reservoir or tank, all the pipes needed, a deep well and a good quality submersible pump complete with a chlorination system. The people of Cerro Candela had dug the trenches for the water pipes. But they lacked electricity to run the pump.
The electrical company refused to hook up the pump before receiving permission from the National Water Authority (Autoridad Nacional del Agua). And, as frequently happens in Peru, the local government that installed everything did not bother to get this permission first. So the people still have water delivered by truck into plastic barrels each day.
The other possibilities are much worse, like getting the water from irrigation ditches, the same irrigation ditches that are used as garbage dumps. Currently, many people use this irrigation water for washing clothes. During the last two weeks, they have had water from the reservoir once a week. But without any other way to store the water, they will use the same plastic barrels as when water was delivered by truck.
The next major project for Cerro Candela would be a sewage system. Currently, they have latrines, which were installed by two nonprofit organizations after the earthquake of 2007 (which measured 8.0 on the Richter scale and centered 25 kilometers southwest of here in the ocean).
Part of Cerro Candela, the sector of Santa Cruz, is a refugee community. Some are refugees from the jungle where repeated flooding left them without the farms they previously cultivated. Some are refugees from the mountains who moved here to find work in the farmlands. Here, where they still pick cotton by hand and spray acres of crops using hand-operated backpack sprayers, it is relatively easy to find work. Few people are from this area; they moved to this hill after the earthquake of 2007 destroyed their homes.
But the sector of Santa Cruz seems to be different; unlike any of the other communities I work with in Peru, they already have a weekly community workday. Every Sunday morning, they work together building roads for moto-taxis in their community. Santa Cruz is used as an example of a community that works together by those who promote community action here. Santa Cruz started nightly patrols around their community and reduced the crime rate significantly.
Currently, they are working with me on a water project funded by a Peace Corps Small Project Assistance Grant. (The United States will give up to about $3,000 for each of these projects.) They are digging the trenches and supplying the labor for this project. We are supplying the pipes, faucets and tanks. But their labor is significant, determined, semiskilled and dedicated.
Their lives are difficult. They live on a sandy dusty hill. Now, any water in their homes is carried up a steep hill on their backs to their homes. My project will help this community with this one problem. Their homes are made of woven cane panels lined with plastic usually bright blue or black. They have a few open pit toilets surrounded by plastic or cane for privacy. The inside of their homes are neat and barren, but usually, they have a television and will play DVDs (which are bootleg and cheap here).
Some of the people living here are Peruvians who do not have the proper ID numbers. That makes getting a decent job difficult, if not impossible, and purchasing some items difficult. (I needed an identification number to buy my printer, for example.)
The people of Santa Cruz suggested I move from my community of Cerro Alegre and buy a lot in their hillside community with beautiful views. They even pointed out the lot they wanted me to buy. I could probably live there very well on my Peace Corps salary, even better on Social Security, and I would have wonderful neighbors.
*****
Ingrid Carmean is a Peace Corps volunteer in Cañete, Peru. Contact her at icarmean2@gmail.com.