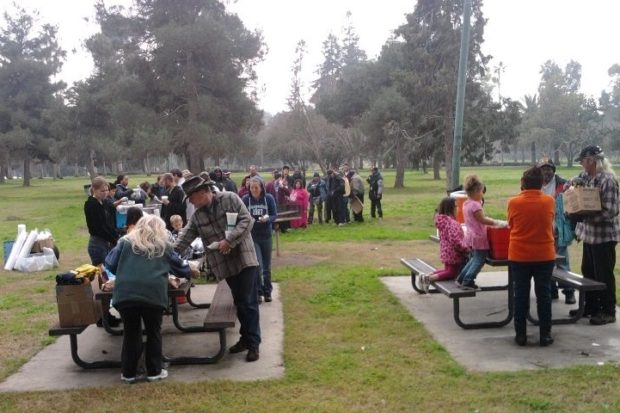 Historically, February 25 has seen many milestones. The Beatles first single, "Please, Please Me," was released on this day in 1963. The Beatles also began recording Abbey Road on that date in 1969. In 1982, the final episode of Lawrence Welk aired and in 1998 Switzerland's first legal brothel opened.
This year, February 25 should be remembered as the best fund-raiser yet for Fresno Food Not Bombs. In a precedent-setting, unbroken string of unpaid performances, singer/songwriter guitar-slinging composer and thereminist Blake Jones, guitar and harmony vocalist Mike Scott, bass guitarist Martin Hansen, keyboard player Leland Vander-Poel and drummer John Shafer will perform at the Full Circle Brewery (620 F St.). The party, featuring food prepared by participants and supporters of Food Not Bombs, starts at 6:30 p.m., with live music at 7:30 p.m. There will be plenty of time to eat cornbread and vegan chili while visiting before the music starts.
As the temperature has fluctuated just above freezing so far this year, we often see people in the park and around town who do not have the comfort and safety of their own home or place to stay. The tent cities, and many less obvious communities of homeless campers throughout the city and county of Fresno, raise concerns in the hearts of many. This was made clear in the raucous struggle to achieve dominance in the Wal-Mart/Facebook Holiday "Like" Wars between Fresno's own boosters and Utah's more likeable Salt Lake City.
Are Blake Jones and the Trike Shop doing it all wrong? Could the people of Fresno simply click "Like" and have positive results for people in need? In fact, a highly skilled computer marketer was consulted and click-through Web site links and e-mail spam viruses are being developed, but until we figure out how to convert friendly clicks into cups of warm vegetable soup, rice, beans and salad, we'll stick with the old-fashioned, brewery busting good time to wring some real money (not Farmville bucks!) into the volunteer activities that feed at least a few genuinely appreciative folks every Saturday at Roeding Park.
As much as we try, the costs associated with serving hot food quickly eat through the funds we receive from various parts of a supportive community that obviously sees the value in the activities behind the meals served every Saturday (for 15 years now, an accomplishment worth contemplating!). This past year, those meals included serving on Christmas and New Year's Day. Like Thanksgiving, the Christmas holiday provides a lot of food opportunities for the less fortunate, with many churches and organizations performing food drives and serving meals at this time of the year.
We welcome the competition and appreciate the efforts of everyone to help, but there is a learning curve associated with efforts like this. At the end of that curve, we have the benefit of founding member Tom Machado, who came into town on Christmas Day, Santa Claus personified. We tried to show our deep appreciation for his decades of service with a card signed by dozens of admirers who were not only happy to see him but also grateful for 14 years of clothing Tom has brought down from Oakhurst every Saturday. The term hero is inadequate for what Tom Machado means to people who know him.
Not surprisingly, the turnout at the park was fairly low this Christmas. Perhaps a dozen folks came to eat and share some Christmas joy with the friends and volunteers they know and love. Hopefully, everyone found a great meal somewhere with loved ones, in a warm, safe place, enjoying the holiday, as we did at the park.
We weren't low on the volunteer side though. Members of Peace Fresno, prompted by Ken Hudson's suggestion, came to help after a traditional Christmas Santa celebration on the Peace Corner. Co-founder Camille Russell brought her son and spent the whole morning in the Wesley United Methodist Church kitchen bringing an energy and spirit to us on Christmas that was a special gift indeed.
Starkly framed against the Facebook furor of frustrated Fresnans loudly bemoaning their lost opportunities to vote online repeatedly, New Year's Day at Roeding Park brought dozens of hungry visitors, but the day was notably devoid of new or irregular volunteers. Hardly unusual, volunteer attendance fluctuates more wildly than park attendance.
There was just something odd about the distinction between the extremely loud local media and social networking buzz around the issue of need, the desire to do something (much was done to raise money for the Community Food Bank) and the New Year's Day volunteer turnout for Food Not Bombs. Just another Saturday in the park.
Both holiday meals were great days to share with others, meeting new friends and old. Don't wait for the next holiday to fight a crowd of volunteers. Sneak in when they aren't looking. That's when the fun happens. Seriously.