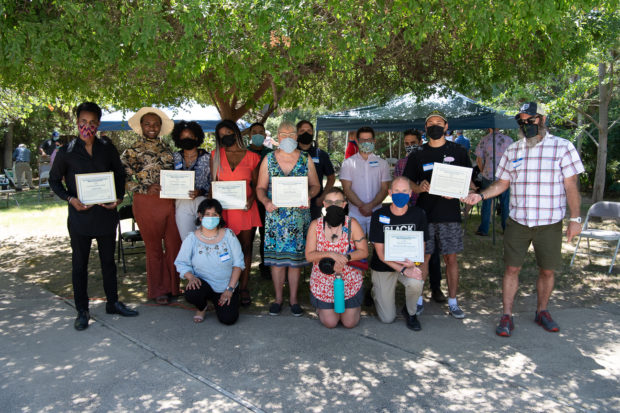 We honor and celebrate the 150th year (2019-2020) of Gandhi's birth the principles of peace and nonviolence sustained by those who are a part of the global struggle for freedom and justice.
By the order of the CA Governor Gavin Newsom, the Fresno Center for Nonviolence shall be closed due to expanding CONVID -19 virus crises.
Stay informed and we shall open once again when the coast and the valley is clearer.
---
Center's 28th Anniversary & Way of Peace Award
On July 11, 2020 from 10-12noon – on the hottest day of the year – we held our 28th Anniversary event in my backyard, observing social distancing and all wearing masks. We had about 35 people but I'd like to thank a lot of people for help before and during the event – starting with Gerry Bill, who brought chairs, tables, canopies, donated for the day by friends and members of the both the Center and Dakota Eco-Garden. Rita Bell successfully handled the M.C. roles, holding everything together, and Camille Russell helped me with pre-organizing the event. She even arrived, helping where she could with a very sore arm – she'd fallen the day before!
Others, like Teule Bell at the gate, Mike Rhodes, providing the microphone for us, Vanessa Russell (my granddaughter) working hard selling raffle tickets and Merlyn again helping where he could – all helped make the event the success it was.
Delicious appetizers were provided by Binh Nguyen of Tower Tea (to find him you'll have to visit the Center as his restaurant is in the same building with the door on McKinley. Our raffle, which included a bicycle, made a lot more than I thought it would, especially with just 35 people! Once again our 2020 Way of Peace awardees, pictured above, Rachel Bowman, Rev. Tim Kutzman of the Unitarian Universalist Church, Denise Rodgers-Heydt, D'Aungillique Jackson and Jason Slack, plus the Democratic Socialist of America. Peter Maiden took photos for us and some of these are below. This event has been filmed for those unable to attend and can be seen at:. https://youtu.be/8RQpyIwd4zoTo see the rest of the pictures taken goto:www.centerfornonviolence.org
Stir it, UP! Wednesday, August 12th at 3 pm on KFCF 88.1 FM.
This month Angela Price will host and her guest will be Kathleen Schock who host the Valley Edition and in the show, Kathleen and the Valley Public Radio news team explore issues that matter to the residents of Central California through engaging conversations and in-depth reporting.  She teaches journalism at Fresno City College.  The topic of today's show will be "Police Violence Against Journalists".  This is not a call-in show.  For more information, you can call the Center for Nonviolence at 559-237-3223 and leave a message.  We will also provide a link later for people who were not able to listen to it or want to listen again.
In July your host was Joshua Shurely and his guest was Marylia Kelley, Executive Director of Tri-Valley Cares. An organization that works to strengthen global security by stopping the development of new nuclear weapons in the U.S. and promoting the elimination of nuclear weapons globally. To hear it again go to: . https://youtu.be/8RQpyIwd4zo
Dedicated to Peace and Social Justice through
Simplicity | Justice Inclusiveness | Non-injury
1584 N. Van Ness Ave., 93728 – www.centerfornonviolence.org
email: info@centerfornonviolence.org (559)237-3223.
Editor: Richard Gomez