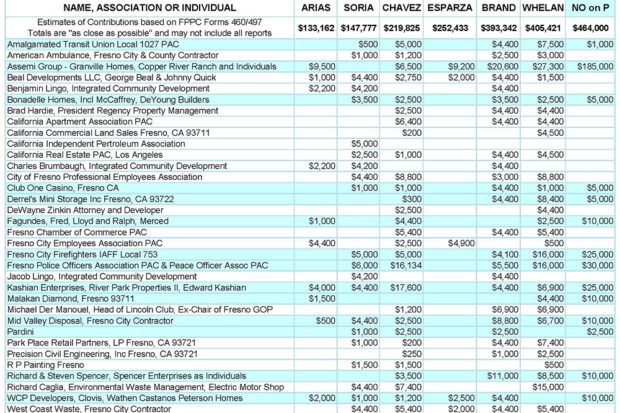 By Stan Santos
The 2018 local elections in Fresno had winners and losers. Regardless of particular races, powerful monied interests continue to rule on growth, investment and the living conditions for Fresno residents. The defeat of Measure P and Fresno for Clean, Safe Neighborhood Parks means they will also determine when and where poor and working-class families will enjoy that important quality of life brought by green spaces in their neighborhoods.
Who are the players?
Fresno's land investor class is a "who's who" of development and political capital. The entry-level builders include Lennar, Centex and KB Homes, but it is Assemi Brothers LLC, Spencer Enterprises, Lance-Kashian and Caglia Environmental who lead the pack in commercial projects. They join other historic figures and current operators in the evolution of Fresno's land development.
Assemi Brothers LLC, Granville Homes, Copper River: Farid and Darius Assemi immigrated from Iran in the late 1970s and built an empire of residential/commercial development and farming enterprises in the Valley. They also engage in humanitarian pursuits and speak out on political and social issues, including through their online news magazine, GV Wire.
In 2014, Granville Homes made $520,000 in political contributions, giving $32,400 for the National Republican Senatorial Committee and $20,200 to Rep. Jeff Denham (R–Turlock). Darius contributed heavily to City Council candidate Cary Catalano against Esmeralda Soria. Following Soria's victory, he hosted a fund-raiser to help her retire campaign debt.
Assemi operations and family members contributed more than $185,000 to defeat Measure P.
John Bonadelle, a former rancher, built early Fresno homes for first-time buyers, many of whom were returning World War II soldiers. He amassed more wealth than any other developer of his time.
Operation Rezone: In 1998, investigators found that lobbyists paid illegal bribes to local elected officials. Bonadelle, then 81 years old, was indicted and ordered to serve several months in a halfway house and pay hundreds of thousands of dollars in fines. But he was not alone; several other industry operators and elected officials were also indicted.
Jeff Roberts, vice president of Granville Homes: As Operation Rezone fades into the distant past, he continues to represent the housing and commercial development industry.
In 2014, during marathon public meetings on the Fresno 2035 General Plan Update Roberts articulated the case against infill and for "north Fresno sprawl." To the City Council's credit, and despite industry opposition, the majority voted for development that benefits inner-city residents.
McCaffrey Homes, Deyoung Properties and Bonadelle Neighborhoods: Despite his legal missteps, Bonadelle's legacy continued under his children and others. McCaffrey remains a prominent name in the housing industry despite some brushes with lawsuits over faulty foundations (2008) and allegations of false advertising, breach of fiduciary duty and constructive fraud (2011).
Richard Caglia of Caglia Environmental operates landfills, industrial waste, salvaging, recycling and related services in southwest Fresno. In January 2018, Caglia pushed through a permit application for a 110-acre industrial park in southwest Fresno over community concerns and the absence of an Environmental Impact Report. The Council denied the community the benefit of a fair hearing and voted 7-0 in favor. On Feb. 23, South Central Neighbors United sued and were joined by State Attorney General Xavier Becerra.
Richard Spencer of Spencer Enterprises and Harris Construction builds schools, hospitals and related projects. In 2012, Fresno Unified School District awarded Spencer $37 million to build Gaston Middle School. The FBI and a Grand Jury launched investigations over the lack of a competitive bid process. In 2015, the courts ruled that Fresno Unified violated the law.
Charles Brumbaugh, Benjamin and Jacob Lingo of Integrated Community Development (ICD), a diversified real estate development firm in Woodland Hills: Millionaire Brumbaugh operated the nonprofit Corporation for Better Housing (CBH), which received federal funds to build thousands of affordable housing units. CBH then paid millions to the Brumbaugh owned, for-profit Integrated Community Development (ICD) for building and renovation services.
In 2017, the Fresno City Council approved a $2.2 million package of loans and incentives for a $38 million low-income housing project to be built by Integrated Community Development near Blackstone and McKinley.
George Beal of Beal Developments LLC is a sort of "King of the Johnny Quicks," with 15 food and beverage stores and Chevron gas stations in the Fresno area. Beal has fought city staff and regulations for licenses to sell alcohol at his stores, with the latest on the corner of Belmont and Van Ness. In March, the City Council approved this site, despite three other liquor stores within 500 feet and a drug rehab center about 300 feet away.
Edward M Kashian, Lance-Kashian, River Park Properties III and Fancher Creek Properties LLC: Lance-Kashian owns and manages several large-scale commercial properties, including River Park on the corner of Blackstone and Nees in north Fresno.
River Park Properties III recently cancelled a lease with Fresno County for the District Attorney's Office due to the loss of a tax credit under the Trump tax reform. Kashian then upped the contract from $5 million to $7 million.
Fancher Creek Town Center, a multi-use commercial complex, will cover almost a million square feet near Clovis and Tulare at a potential cost of about $200 million over 10 years.
The Jeanne and Edward Kashian Family Foundation has donated thousands of dollars to Fresno projects to provide services to people with no home. Homeless advocate Mike Rhodes says the projects "created illusions that progress is being made to end homelessness while leaving the overwhelming majority of homeless people still on the streets."
Kashian contributed $25,000 to defeat Measure P.
Thomas G. Richards, CEO of The Penstar Group and 50% partner in Fancher Creek Properties, LLC, has been a builder in the Fresno area for around 40 years, starting Penstar Group in 1981. Richards is known for his civic interests and support for the University of California, public television and chairing efforts to end chronic homelessness.
Richards also serves as vice chair of the California High-Speed Rail Authority. High-speed rail (HSR) would bring California's public transportation into the 21st century along with China, France, Germany and more than a dozen other modern countries. HSR is a labor-empowering, green economic engine, placing Richards on opposite sides of Republican leaders and major conservative interests, particularly Ag.
Richards also has been the object of criticism by Rhodes over his role as chairperson of the committee to develop the 10-Year Plan to End Chronic Homelessness and Fresno First Steps Home. Penstar was awarded a $1 million consultancy contract for the homeless housing project.
Michael Der Manouel Jr., former chair of the Fresno County Republican Party, heads the Lincoln Club, a group of ultra-conservatives whose mission is "to advance the electoral prospects of fiscally conservative, pro-economic growth conservative candidates for office."
Der Manouel, a staunch supporter of Donald Trump, observed that he was pushing other candidates and the Republican Party further to the right. When Trump said that undocumented Mexican immigrants brought drugs and crime into the country and are rapists, Der Manouel said it wouldn't hurt Trump or the party because Latinos don't vote Republican anyway.
Richard Spencer and Darius Assemi, along with Der Manouel, have organized fund-raisers for House Majority Leader Kevin McCarthy (R–Bakersfield and Ivanka Trump in Fresno. During one such occasion, Spencer urged, "Your continued support is crucial to ensure that our members and candidates here in California, and across the country, have the resources to build winning campaigns to fend off Democratic challengers."
Whatever the outcome of the 2018 races, the future for Fresno residents remains uncertain and subject to the heavy influence of political contributions.
*****
Stan Santos is an activist in the labor and immigrant community. Contact Stan Santos at alianzadefresno@gmail.com.