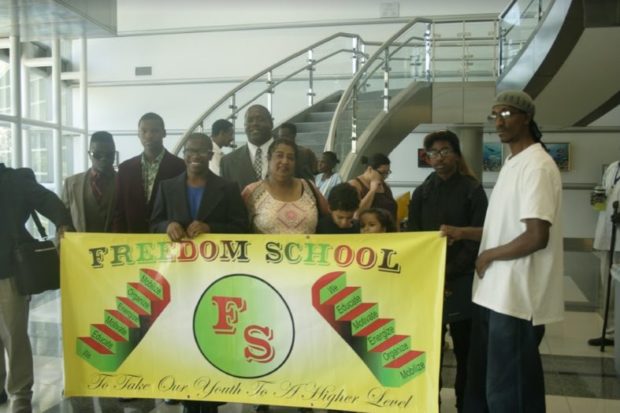 By Joel Diaz and Aline Reed
Cultivating excellence is the mission and Reverend Dr. Floyd D. Harris Jr.'s Freedom School is the place to be! This is the second year for Fresno's chapter of the Freedom School and organizers have prepared a six-week program full of summer activities.
Stemming from the success of last year's program, Rev. Dr. Harris promises again to deliver a food wise, science learning, community strong approach while mentoring the young men and women of the Freedom School. During the six-week program participants will learn how to plant and harvest vegetables, understand techniques in irrigation and water conservation, basic farm management, and other areas.
The Freedom School team includes Dr. Jean Kennedy from Atlanta, Georgia who is overseeing the STEM curriculum and Dr. Dvera Saxton from Fresno State with instruction in food preservation and peach canning. There is a strong focus around S.T.E.M. (Science, Technology, Engineering, and Mathematics). This year, the Freedom School is adding arts to go from S.T.E.M. to S.T.E.A.M. Dr. Jean Kennedy, a co-founder of the Freedom School vision, has created a pipeline to the State of Georgia. According to Dr. Kennedy, the students are being prepared for the Freedom School summer programs to be ready for the world outside of Fresno, where they will not be afraid to compete with young people from other regions.
The Freedom School's recipe for success is memorable; just ask fraternal twins Freddie Davon and Freddie Dashon Standifer, both participants of the 2015 Freedom School program.
Davon recalls his experience last year and learning from his mentor, "Dr. Harris teaches us to put our fist in the air and say our motto for the Freedom School; we educate, motivate, energize, organize and mobilize, to take us to a higher level. "At home, I get on my iPad and watch TV, but at the Freedom School, I farm and learn how to plant and grow vegetables, and how to give someone a firm handshake with good eye contact. Doing that with my friends shows respect and friendship," says Davon.
Twin brother Dashon highlights his memorable activities, "One difference between regular school and Freedom School is that we go outside more." says Dashon. "Dr. Harris took us on our first field trip to Kings Canyon National Park, Big Trees. I learned that forest fires help the trees to grow and how to make a tomato pie that we entered into a contest at the Fresno Fair. It's hard work. You need help stirring the eggs," says Dashon. "We won both first and second place. It felt good to win, and we received a check for $7 dollars. Jogging was also fun. We would jog around the block to get energized. I really enjoyed the trips and helping other people."
Porsha Brewster is Devon and Dashon's mother and she sees the Freedom School as a positive outlet. "I look forward to Freedom School for my kids because it offers a sense of growth; it's positive, and keeps them motivated. They're now more active, outgoing, ready, and driven. They're both excited about the program this summer and what they're going to be learning."
Ms. Brewster shared her point of view for parents considering the program. "I would tell parents that the program is important because the world is changing. As a single parent you want your child to be involved in something positive," says Ms. Brewster. "Freedom School helped them to learn and have fun and go to places to grow as a person and have a different horizon instead of seeing the same thing." Ms. Brewster also advises, "I would tell parents to love your kids and be involved in their growth. Being involved with my kids has allowed me to grow and life is always about growing and changing to be better."
Additional learning opportunities for the 2016 session include; automotive maintenance, book club, canning and preserving techniques, knitting, sewing and crochet, farming, introduction to video production and journalism, personal development, self-defense, and safety.
While Freedom School founder, Rev. Dr. Floyd Harris Jr., looks forward to the second year, he reminds everyone that, "We need specific donations for the farming unit of the program. Those items include: a wheel barrel, 5 leaf rakes, 5 iron rakes, 5 garden hoes', 15 pairs work gloves, a 100 ft. water hose, 10 straw hats, 2 -12 x 12 Canopy, 20 case water bottles."
The hard-working pastor also says, "All donations are tax deductible, and can be received by check made out to the Fresno Center Nonviolence, 1584 N. Van Ness Ave Fresno, Ca. 93728, or via our PayPal site: https://www.generosity.com/community-fundraising/freedom-school-farm-tractor-and-stove-partshttps://www.generosity.com/community-fundraising/freedom-school-farm-tractor-and-stove-parts. To learn more about our organization, please follow us on Facebook https://www.facebook.com/Freedom-School-428122270688847/https://www.facebook.com/Freedom-School-428122270688847/."
The Freedom School is open to school-age children and there is no charge to parents, but they are asked to volunteer for a minimum of two hours on one Saturday during the six-week duration of the program. Parents are urged to sign up early, as space is limited. Please contact Rev. Dr. Floyd D. Harris Jr. at 559-790-4277 or email: https://mg.mail.yahoo.com/neo/b/compose?to=xyfloyd@aol.comxyfloyd@aol.com to enroll. Freedom School staff and volunteers look forward to seeing you this summer at New Light For New Life Church of God 1106 W. Woodward Fresno, Ca. 93706.
****
Joel Diaz and Aline Reed are Freedom School volunteers. Rev. Dr. Floyd D. Harris Jr. received an award in June 2016 from the Fresno City Council for his work with the Freedom School.